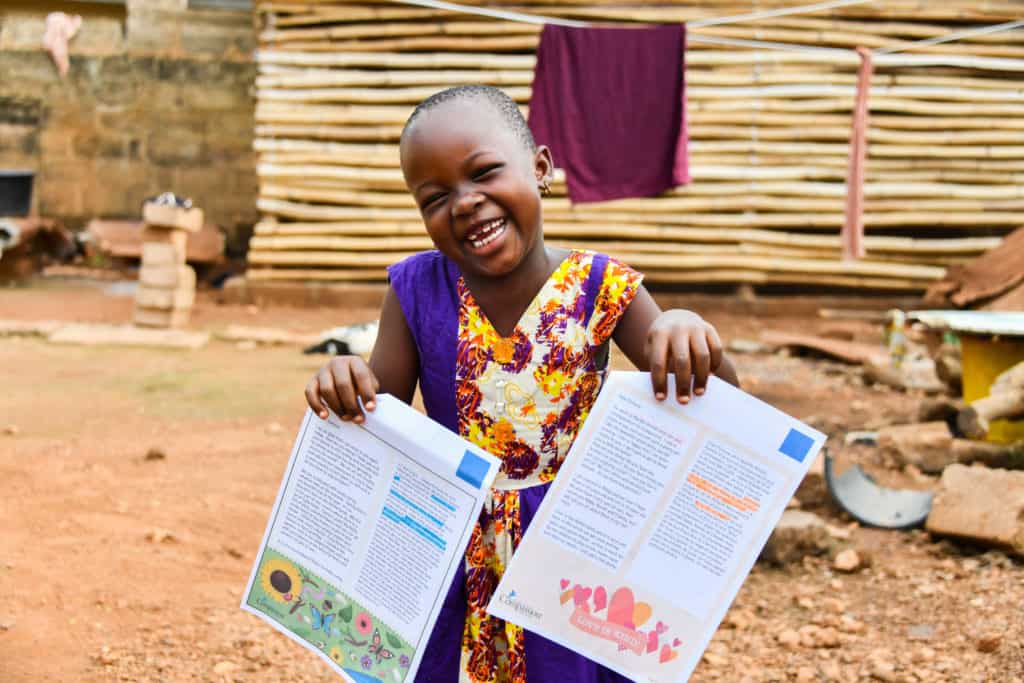 For the best letter writing tips, go straight to the experts: sponsors!
Recently we put out a call on our Facebook page asking for the best advice about writing to children in Compassion's program. People answered with great tips on things like:
Fun ideas for what to send.
What to ask and say.
When to write.
How to write (app, online, stationery, etc.).
Remembering or making time to write.
I've sponsored children through Compassion for almost nine years now, and I seriously would never have thought of some of these ideas. Some of the letter writing tips come from people who sponsor one or two children. Others come from correspondents who write to many children in Compassion's program.
From practical to unique, these letter writing tips will inspire you to send a note the child you sponsor — and remind you that your words of encouragement make a world of difference!
Artistic Exchanges
"I traced my hand and sent it along with a letter [where] I asked them to trace their hand and send it to me. I got a big hand from my teenage boy in Tanzania and small hands from my little girls."

Shirley
"I love sending the kids collages of their 'old' profile photos, artwork and/or extra photos that they've sent with their letters. These have been a big hit!!" — Hannah
"Draw a picture with elegant and beautiful flowers, use the background to address the child you sponsor. Everything to be well received should always be associated with beauty to show love." — Fredrick
"I have some younger children who just answer the few questions on a template. I usually add my answers next to theirs and send a copy back with my letter. I usually ask the kids what God is teaching them and share what I have been learning too. My kids enjoy sending artwork and sometimes I will include a coloring page or stickers." — Kathy
A Picture Is Worth …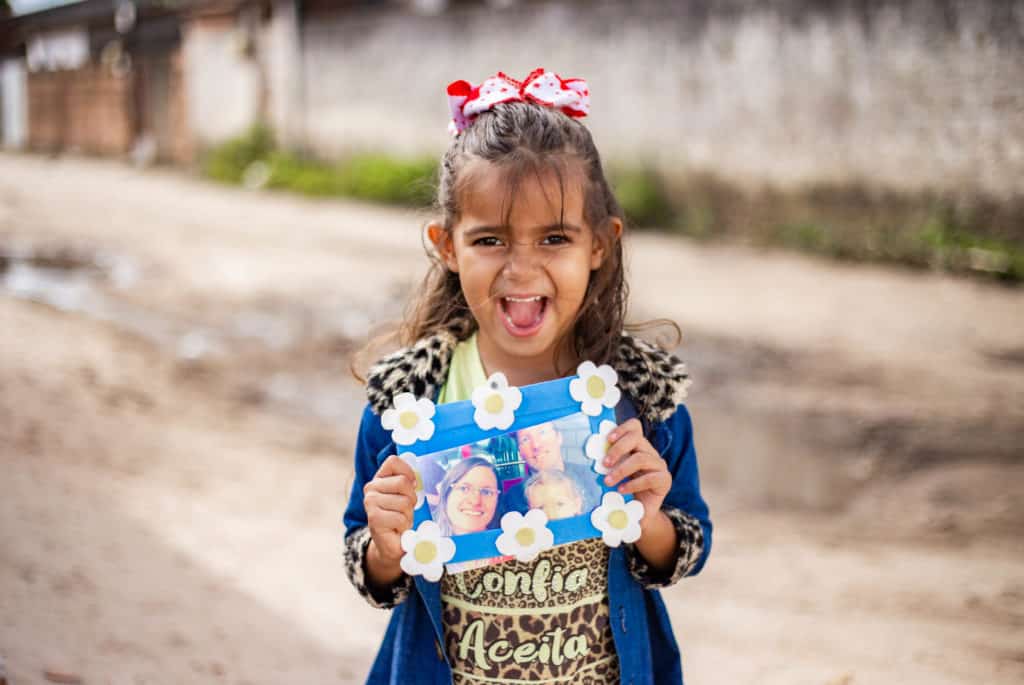 "I try to share pictures of something about Wisconsin, animals or scenery she may not experience otherwise. I bring it around to how amazing God is and how He created things and end with reminding her that God created her with an even bigger and more important purpose!" — Stef
"I usually send pictures of me, my family, my pets, or things they might not see in their home countries like certain flowers, animals, or buildings such as lighthouses." — Lydia
"I write every three weeks. I always send a picture. A lot of times it is of the nature around me as to not showcase possessions."

Teri
"My letters almost always have a theme that I can use for two pages full of photos — such as corn mazes, hot air balloons, strange insects, easy animals that they can draw by starting with a circle. … If their letters to me include a drawing, I either take a selfie of me holding the drawing, or copy the image into the letter (on the first page, not the photo pages)." — Mary
"I write my letters through the app. It makes it super easy to upload photos. For our kiddo, Janina, I think photos probably mean more than the letters themselves because she is younger. I also don't wait for a reply letter before I send another one, I send about 5 to her 1." — Kalen
App-reciation
"I use the app, but I often hand-write my letters and upload them. I always include words of love and encouragement, truths from scripture/scripture quotes (depending on the country), assurance of my daily prayers, news on my family, weather, celebrations, etc." — Debbie
"Love the app. I have a monthly event on my Google calendar to remind me." — Barb
"I also use the app. Super easy. I start with a little about the time of year I'm writing since there's a lag of when they receive it. I send pictures of my family activities and descriptions. I also remind her that God loves her and so do I."

Peggy
"I write to our sponsored child, Bruce, every month through the app. I just make sure that, at some point during each month, I write to him. Bruce is 5 and was born the exact same day as our 5-year-old son! Our son actually chose him to be his special friend. So I can relate a little to what is happening in his life because my son is the same age." — Bek
"I try to write to my kids every 2 to 3 weeks. I use the app to write the letters because it makes it easy to keep up with how long it has been since the last letter. Even though I don't get replies as often as I send letters, I think it's important to give them a steady flow of letters so they don't feel forgotten." — Lydia
GET THE APP: You can download the free Compassion app from the App Store or Google Play.
Essential Encouragement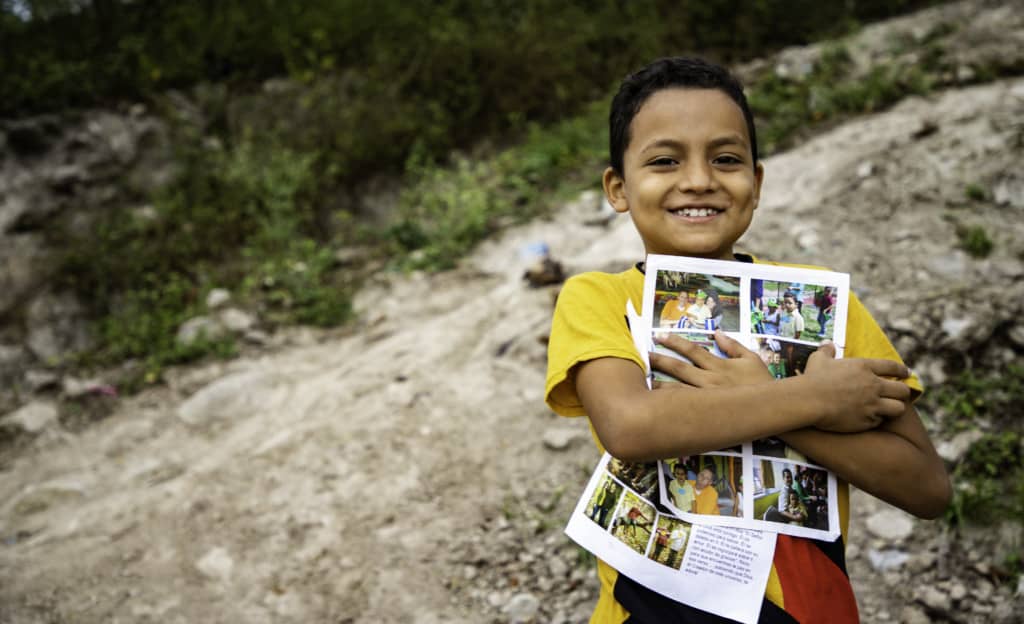 "They need to know that you love them and that you care, no matter what! Make sure you are fully committed and make sure you always let your child know how important they are to you." — Benjamin
"With letters being extremely slow at this time I have been dropping a card every month or two offering up encouragement, letting them know I am praying for them and sharing pictures of what I am doing." — Anna
"Letting them know they aren't alone and that Jesus loves them. Let them know you care about their well being."

Kevin
"Don't try to make the letter too long, complicated, or 'creative.' It is more important that your child is hearing from you — just a few sentences to express your care, prayers, support." — Jane
"I try to remember to share my challenges and struggles with my kids, not just the triumphs! I had a sponsored child who shared with me that he was having a hard time academically in school. I shared with him that I too had had some struggles when I was in law school, but that it was all part of the journey." — Emily
"We talk a lot about their interests and tell them that we pray for them every day to be in good health and good spirits. I end each letter with a question back to them to learn more about their dreams, questions, and hobbies." — Teri
Traveling "Together"
"I grab a postcard almost everywhere I travel … I think it's fun to send these and use them to launch a conversation."

Mallory
"I usually write about our trips — we just got back from Texas yesterday so I took many photos of the zoo, etc." — Mike
Keep the Faith
"If I am stuck about something to write, since I write about once a week, I will pull out a scripture verse, quote it, talk about what it means, and then how to apply it to their lives." — Jenny
"I enjoy using the paper letters, and will occasionally use the app. I send Bible verses and encourage them to send me a Bible verse. We have 5 grandchildren, the kids we sponsor are similar to their ages. I share stories about them." — Janiece
"I have started to pick a topic and write about it including a few verses, kind of a mini devotional. The first was how to love like Jesus."

Mike
"I include scripture of God's promises. We all need to be reminded of the truth!! Example: Psalms 139." — Laurie
"I have received the greatest enthusiasm from my children when I've written about Bible stories, where they pretended to be in the story and then I asked questions so they could consider how they might apply such to their lives." — Jan
"I enjoy writing out my prayers for my kids, or sending them prayers written by famous Christians like Thomas Merton, St. Patrick, or C.S. Lewis and letting the kids know that I prayed that prayer over them." — Katie
Group Effort
"Everyone in the family writes a letter at the same time. We address and stamp them and send one out each month." — Jessica
"We like to write paper letters, and when I say 'we' I mean a small group of ladies from our Soul Care Resource Centre support two children. And we all sign our names to the letters." — Judy
"Our 9 year old daughter loves to write to the kids we sponsor. She normally writes to the younger ones because they can relate to each other, while I write to the older ones. She writes in person [handwritten letters] because I think it's fun and personal for them to see her writing and I usually write online, otherwise I'm horrible at remembering!" — Tammy
Everybody Eats
"Food is a universal language. I once sent my child a picture of my dinner plate, a traditional southern meal of fried chicken, fried okra, corn, and beans. I explained that corn was the main export of my region, and that I eat it almost every day and I love it. I then took the opportunity to ask what her favorite food is. Let your child know if you try their food, too! … Compassion also has a list of recipes to try by country." — Mallory
Making the Time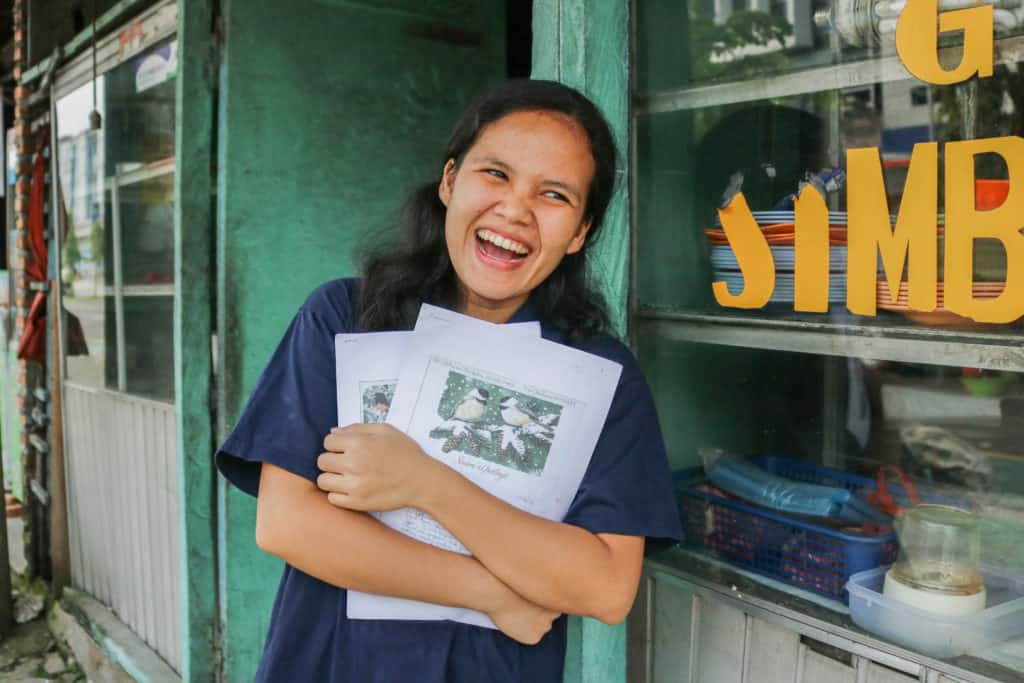 "I try to write back as soon as it comes in the mail, within that day. If I put it aside to think on the 'perfect' thing to say, it gets forgotten. And I'm sure my 'kids' enjoy a prompt reply!" — Kristin
"I do a template letter that sends to every child and also individual letters in between the template letters. … Lately I've also added in the new Sort by Birthday function [on the app] and used that to tell which kids have birthdays coming up in the next month so I make sure they get at least a birthday card." — Sarah
"The 1st of every month, drop a few lines along with a gift." — Adele
"I use a 'template' letter to ensure I write the kids I haven't heard from at least one or twice a month." — Mike
"I often go through letter writing spurts whether I will write several letters at once and then keep some in drafts to send in later. I have also based letters on the online stationery that Compassion offers on the app/website. If I see new stationery I like, I'll start writing a letter and leave it saved as a draft until I can think of more to say. Since I have multiple children, I write one letter and when I send it, I click on the button to use it for another child. Then I can change the name and edit things as needed before sending it out to the next child." — Cara
International photography by Hutama Limarta, Juana Ordonez Martinez, Sara Navarro and Gabriella Akpene Samaty.