We traveled with Cole LaBrant, of the LaBrant Fam, and John S. Grice to Bolivia. These two young men have a fiery desire to do the Lord's will and share about releasing children from poverty in Jesus' name. While in Bolivia we played. We laughed. And we gained a whole new understanding of family.
---
Aracely beamed onto our bus. There's no other way to describe her joy. She glowed. She radiated. She filled us with her passion for her ministry at Mission and Challenge Peniel Church outside of Santa Cruz in Montero, Bolivia.
As the Director of the Child Development Program, she greeted our little pilgrimage. We came to her Center to learn about God's work with the children through her staff. It was quickly clear that the staff at Peniel were not just people who worked to make sure the children in poverty in their community were known, loved and protected…they were a family.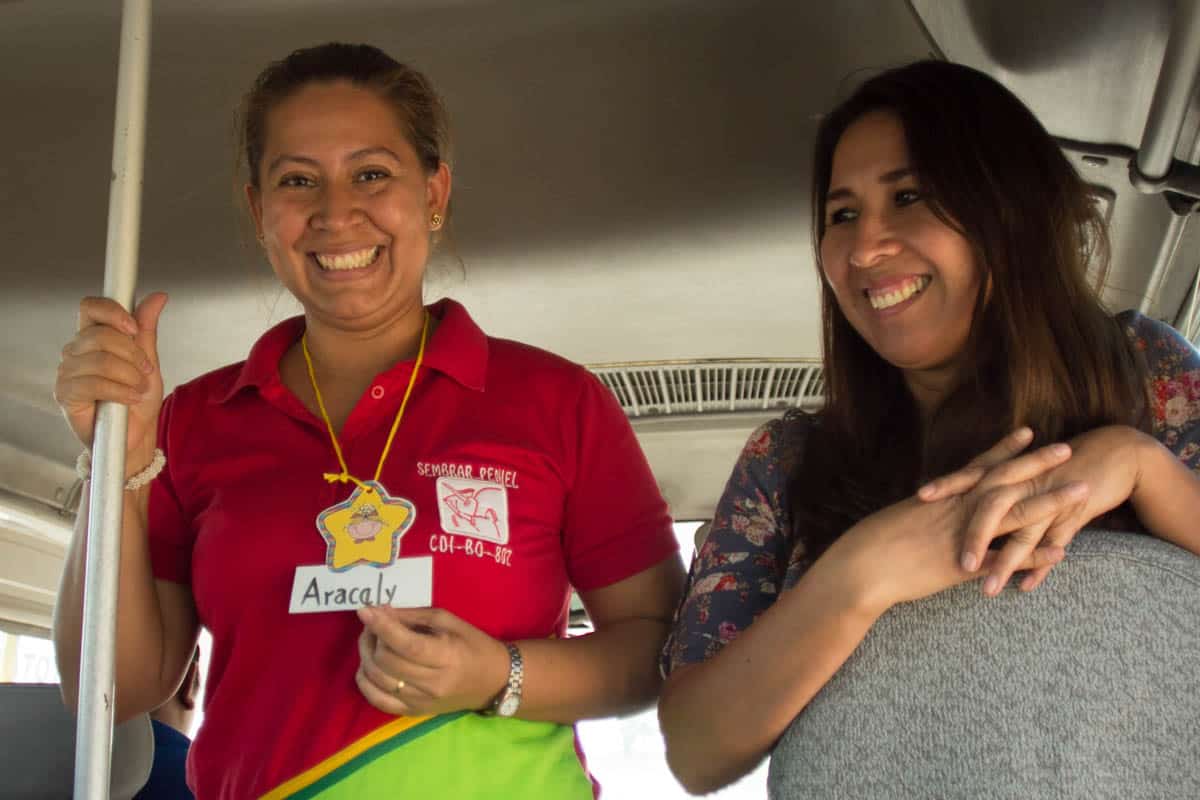 With the countenance of a proud mama, Aracely shared about the special people who are caring for the children you sponsor.
"The staff, we consider ourselves a family. A family that works together. It's true that everyone has a specific area but when we have to do bigger work, we all help each other. For example, if we have to support the youngest children we come out from the office and help them and the other way too.
"We have four people who are members of our church. Two others are from the mother church in Santa Cruz and we have two more that are former participants in our program who were sponsored that attend other churches.
"We borrowed them forever," she says with a laugh. "They attend their church on Sundays but our pastor connects with them and asks them if they are attending regularly and what they are learning. Because for us, their spiritual life is very important. Because we feel that's the base for the ministry.
"We started with a volunteer group but they are not with us today for different reasons that happen in life. We started praying and we asked the Lord to show us who the ideal people would be to work here. And that's how we made and built this marvelous team."
Peniel has grown and grown. They opened less than 2 years ago and they now have 396 children enrolled in the program. And because they are growing so fast, they have two new staff members in training.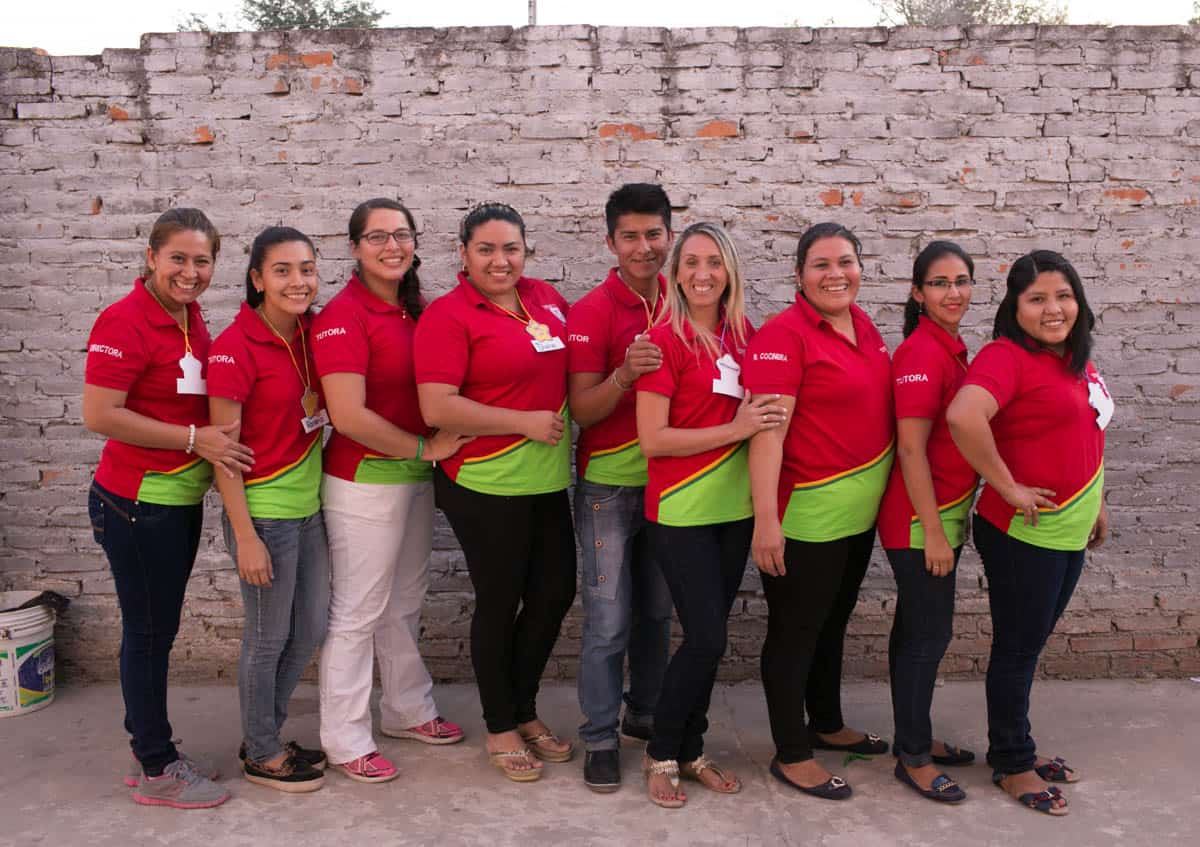 "We cry together. We laugh. We share. And we work. Every day.
"And sometimes we have to go the extra mile. They don't have to come but they are willing to do it. They have the calling to serve.
"We always do activities together. We pray for each other. And we support each other in what we can. It's wonderful.
"I pray that we can continue as a team and that the team can continue growing. That people would come who have a love for the children and a willingness to serve. I feel like what keeps this center going is the love they have for the children and their passion to serve."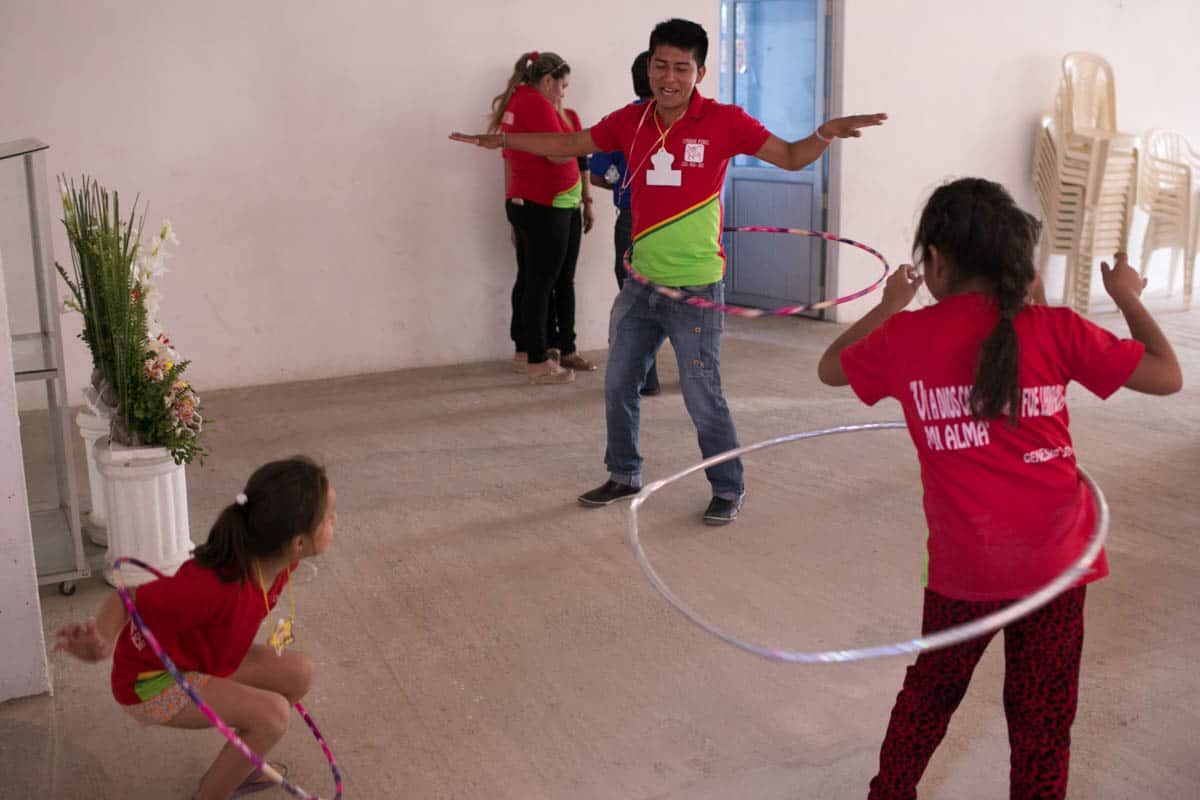 When I asked, "What are the qualities you look for in someone who works here," she didn't hesitate with her answer.
"First, it should be a person that loves the Lord. That loves to work with the children. The rest of the qualities are additional. The other qualities you develop as time goes by. With them we learned a lot. And from the children we learned a lot."
Alumni Who Give Back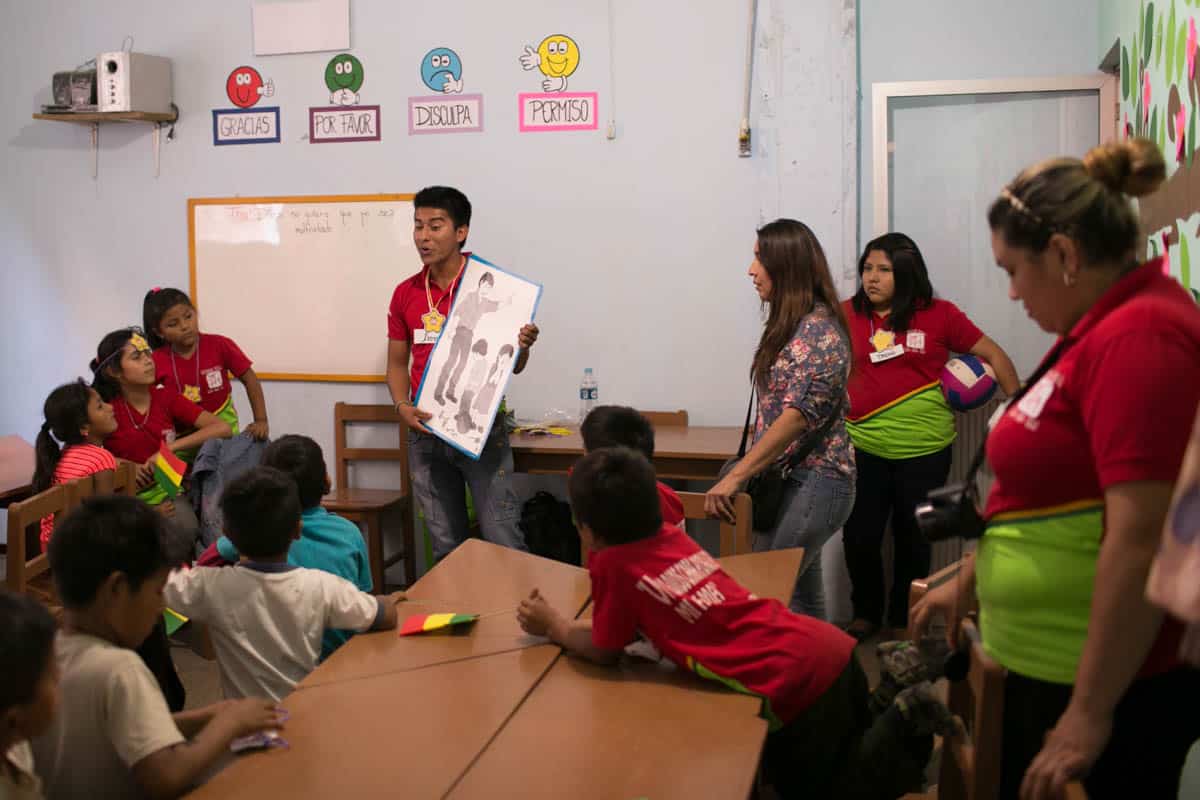 Faddy is an Alumni who was enrolled when he was seven years old and graduated the program at 19. He was sponsored by Patrick in the United States for the entire time he was in the program. He's now 22 years old and teaches the six to eight year olds.
Today, he showed us a lesson about how God feels about mistreatment and abuse. A lesson built to help the children recognize when they see or experience mistreatment by an adult.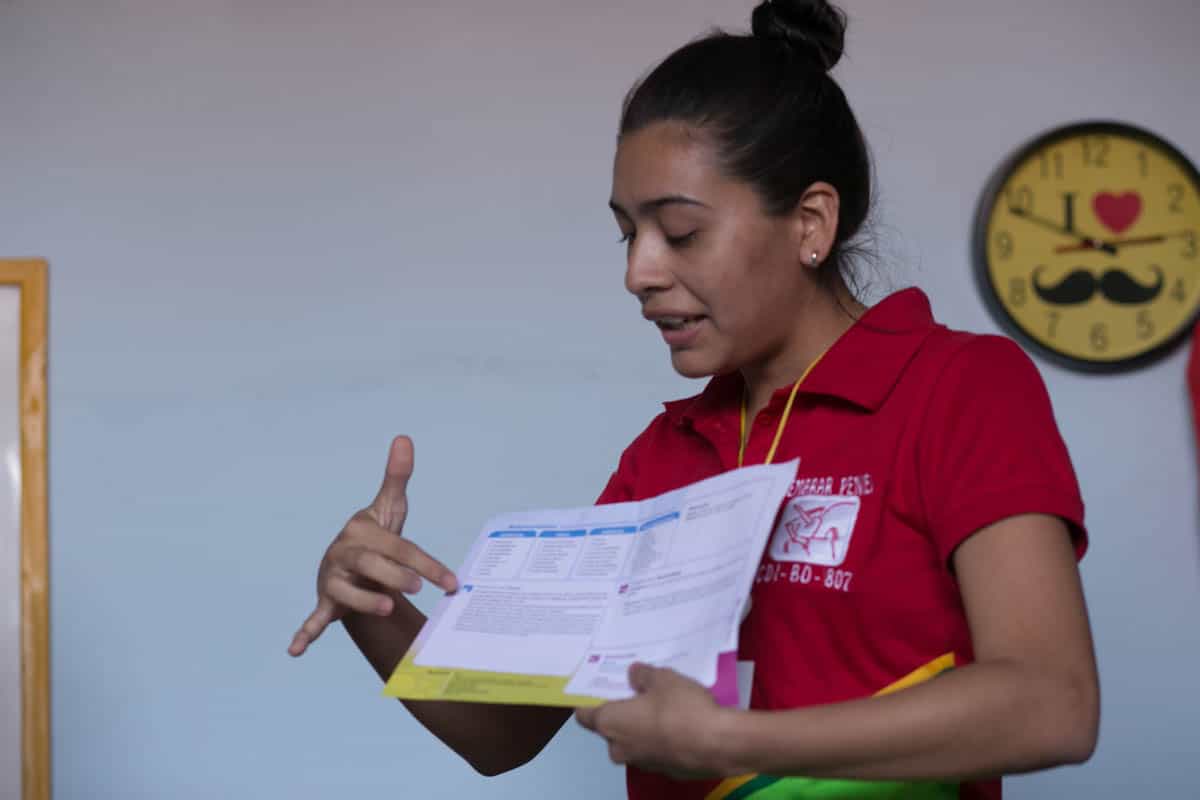 Rosario is an Alumni who teaches the three to five year olds. She demonstrated how she teaches lessons that focus on the four areas of development – cognitive, socio-emotional, physical and spiritual. She knew she wanted to teach these children ever since she was in Sunday School herself.
"Do you find that having tutors who are former participants in the program helpful?" I asked Aracely.
"It helps so much because they already know the work that we do. And they are giving part of what they have already received. They understand it. It's wonderful.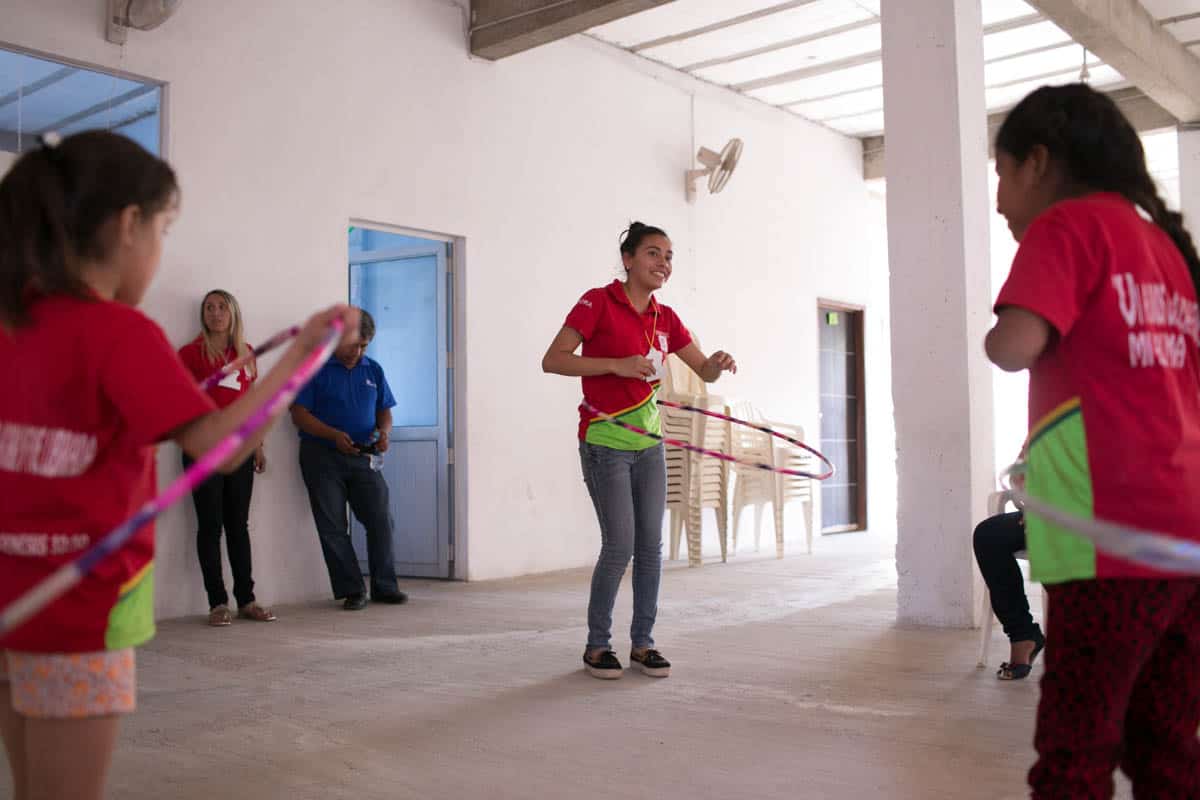 "In the case of Rosario, well, she's a very special person. She's always willing to serve and do things. She is a single mom of an 8-month-old. For me, she's a very brave person and very special.
"Faddy is starting at the University at night. He is making efforts to go ahead."
Dedicated Women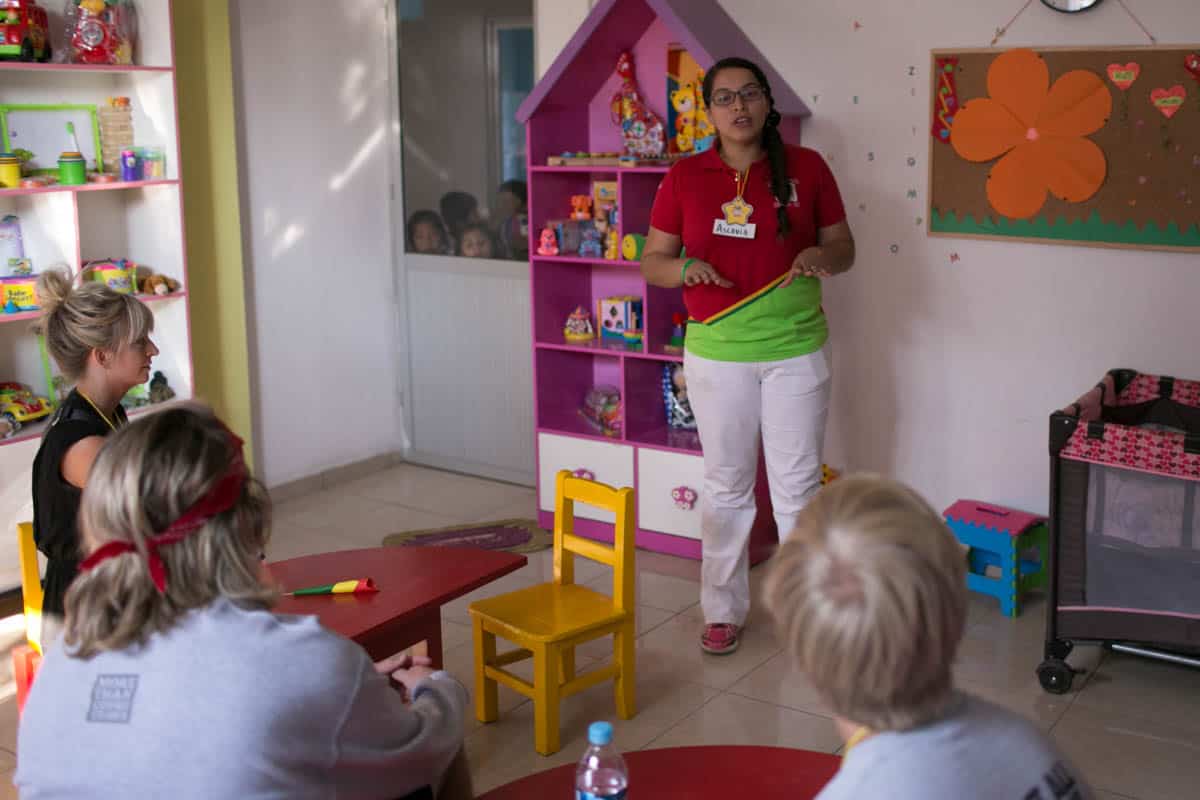 "The doctor paused her career and she's a great blessing." Aracely is referring to Ascavia. Ascavia took a break from her profession as a physician to work with the mothers and babies enrolled at the Center. She shared with us how she works with the moms on the healthy development of their child and parenting.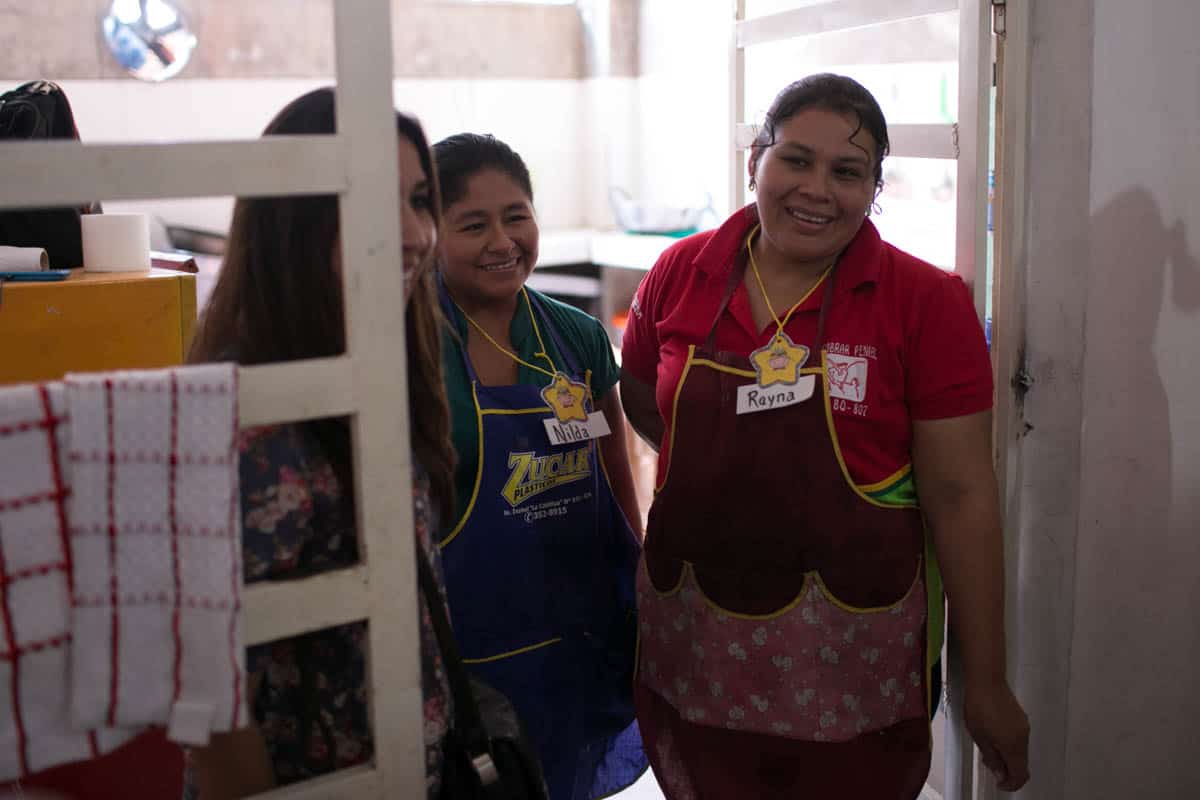 "The sisters from the kitchen are both single moms and are women who work hard. I know God will pay them back for the effort that they give here.
"Sister Marioli is also a single mom. Her husband went to the United States many years ago. She's in charge of her daughter. She's finishing in University.
"We have a team of brave women. And one man," she throws her head back and laughs again. "Fighters."
"I love this team very much. This wouldn't be possible if these people weren't here."
She fights through tears as she shares, "And behind us, there's a church praying all the time. All the time. If that wasn't like that, this wouldn't be possible because our strength isn't enough."
More Than a Director
"I'm not a single mom. My husband serves here when he has time because he is working. We have two daughters but we organize our time so that we can serve together. And it's not easy, but you know, to feel the children hugs…that sometimes they call you mom…they tell you they miss you. You can't trade that for anything."
And now the tears flow freely, "Two or three times I don't come in because I have meetings elsewhere and it's too much because I don't see them. I work in the office but I like to be with them. They are our children. They're precious.
"I don't have two daughters, I have almost 400 children."
"And thank you for all your support. Because without Compassion's support we wouldn't be able to do this. And thank you because the sponsors, without knowing us and knowing them, they support our work. They pray for them [the staff] and that supports us – that supports they're lives."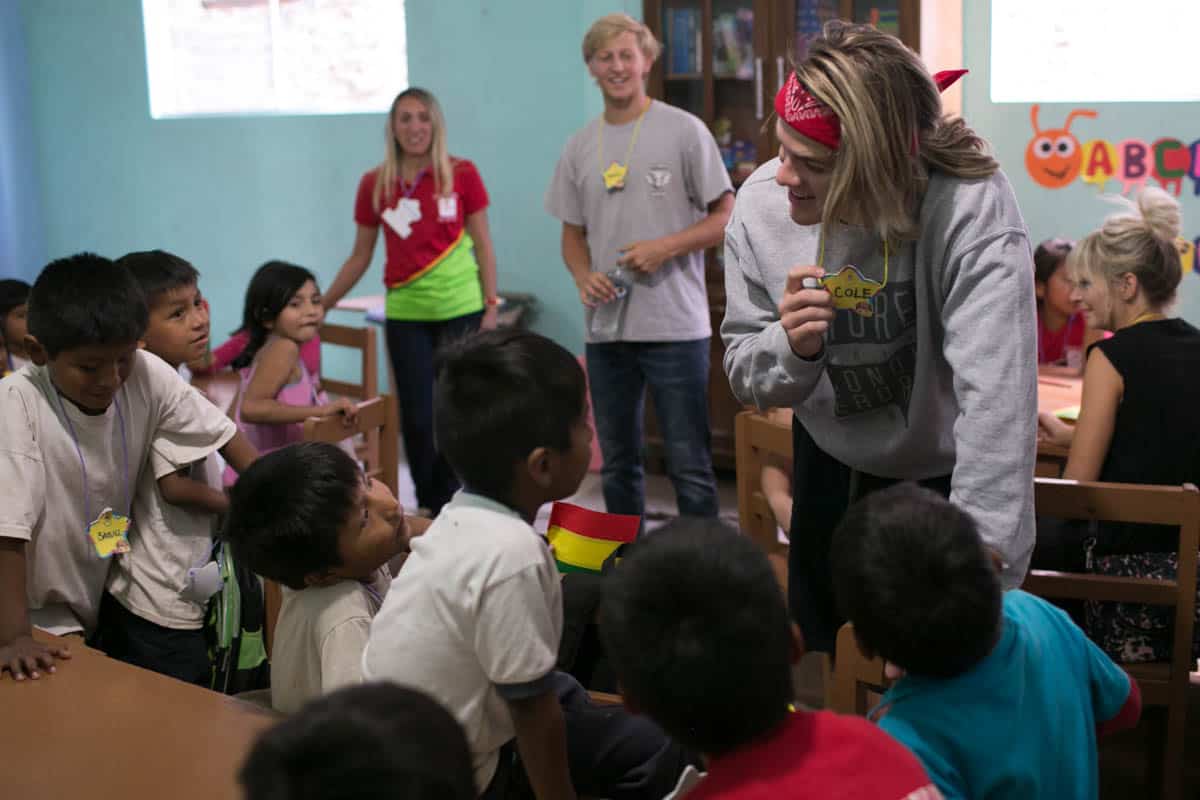 As Cole, John, Bri and I danced with the kids, let them beat us in soccer, held their hands in class as we listened to their teachers, one thing was certain: these kids knew the love of a family. Really knew what it was like to have a team of people who cared about who they are and who they would become.
On that day, we walked into Peniel as strangers and we left as family.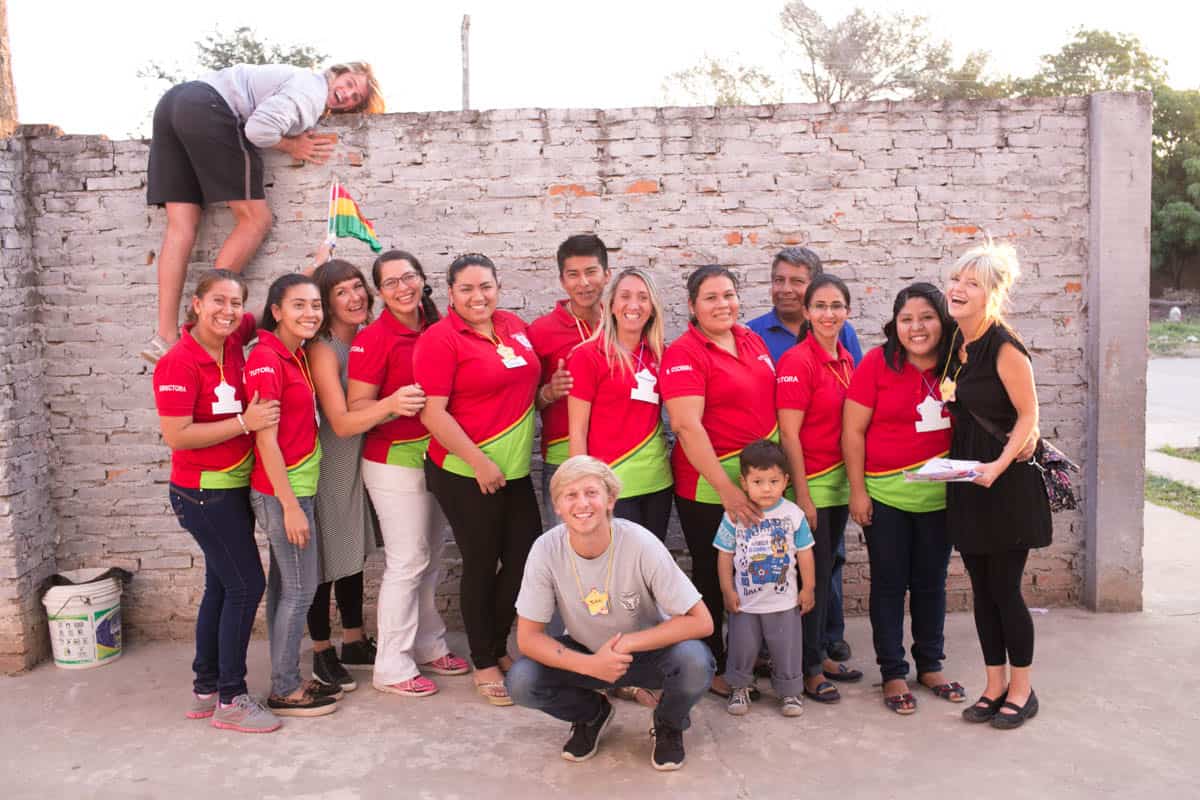 This family of staff and others in Bolivia need your support. They need our prayers to continue in the good work God has called them to. They need sponsors to come along side them, to fight for the heart and mind and soul of a child with them. To empower a child in poverty to become more than their circumstances. Will you pray for them? Will you join them?

By sponsoring a child in Bolivia, you are becoming part of this family who works together to release children from poverty in Jesus' name.
Sponsor a Child in Bolivia today! ›
---
Thank you for coming along our pilgrimage to Bolivia with Cole LaBrant and John Grice. Learn more about what inspired this trip with Cole and John!