Think back to the moment when you heard the news that one of our Compassion Alumni and Leadership Development Program graduates, Margaret Makhoha, had been elected as a member of parliament for Namayingo District, Uganda.
Perhaps like me, you felt like a stake went in the ground. A sense of great possibility swelled within my heart.
At Compassion, we seek to equip children to be all that God intended them to be. I have always believed that one day a former participant in our program will rise up as a leader of his or her nation.
Today, I believe that even more than ever before. Leaders of integrity, honesty, wisdom, courage, and deep faith are rising up and taking their place. Now more than ever, our world needs them to step out of the shadows of obscurity.
Margaret campaigned for election with the slogan, "It is possible!"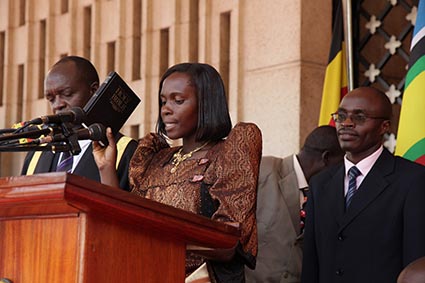 It's a sentiment we echo for each of the 1.2 million children currently registered in our child development centers throughout the world. It doesn't matter what circumstances a child is born into, God has a plan and a purpose for all our lives. He values and loves each and every one of His children.
When this revelation dawns in someone's eyes, heart, and mind, it becomes an unstoppable force. It allows them to believe that "It is possible!" Hopes and dreams really can become reality.
An awakening is taking place. More than 150,000 sponsored children put their faith in Jesus Christ in 2010. Tens of thousands of children are graduating each year and becoming a positive influence in their families and churches.
Whole communities are being transformed by the grace of God. Who knows what could happen to entire nations if we, by the grace of God, can enable more "Margarets" to fulfill their potential and find their voice. Just maybe, the cycle of poverty will be no more.
It is possible!
Jesus looked at them and said, "With man this is impossible, but not with God; all things are possible with God." —Mark 10:27, NIV
Prayer: Lord, by your grace and strength we pray we will be a people who continue to work tirelessly to see your kingdom advance on the earth and see the children we serve become all they can be. We trust and believe that you are able to do immeasurably more than we can ask or imagine. Amen.
---

ABOUT THE AUTHOR: Ian Hamilton serves as the Executive Director for Compassion UK.
Read all the One in Spirit devotionals.