One of the most encouraging things to me is when I hear about our field staff sponsoring children. It's quite a testament that those who know the work best, who see it firsthand, believe enough in the efficacy of the program to sponsor children themselves.
Staff and Compassion Alumni around the world have taken this step. And now we have our very own ministry Advocate in Colombia, María Ximena Marín!
An Advocate is someone who volunteers to help bring more sponsors into our ministry family — volunteering at events, speaking at churches or sharing the ministry with friends. These people are passionate and enthusiastic. (Confession: These people are so amazing that I'm highly intimidated by them!)
I first met María when she became the communications specialist for our Colombia office after she graduated with a degree in journalism. Living in Colombia, she knew about poverty from volunteering for the United Nations and from mission trips on which she had met people living in poverty.
Working as the communications specialist, she met and interviewed moms, teachers, pastors and sponsored children. She saw how people were overcoming their circumstances and actively building better families and communities.
"I learned how, brick by brick, you can construct big differences."
María also hosted sponsor and donor trips and observed the integrity with which the programs were run. Having seen this, she and her husband decided to sponsor a little boy, Andrés, in the city of Cucuta near the Venezuelan border.
María and her husband feel that they not only are helping Andrés, but they also are learning more themselves through letters and pictures from him. They are reminded of areas in which they need to reprioritize their lives and remember that it is all about Jesus after all.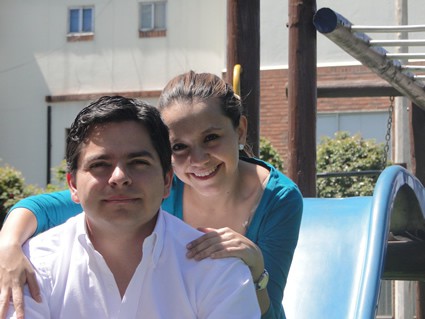 Last year, María left her job with the ministry to work for a Canadian oil company working in Colombia. Upon parting, one of her ministry co-workers encouraged her to listen to God's voice and be open to helping the ministry in the future.
One of the first sponsor tours María had organized was from Canada; she also had hosted the president of Compassion Canada and his wife on a trip. María decided that she indeed wanted to keep working for Compassion — but this time as a volunteer getting other Colombians to join in as sponsors to help release children from poverty in Jesus' name.
So María became the first international Advocate for Compassion Canada!
"Through my work in Compassion, I was witness to the transparency and excellent results Compassion makes in children's lives. But now I not only have the opportunity of working for this great organization, I also have the opportunity to share with others the incredible things God is doing and invite them to be part of this plan."
María's vision is big: She wants to be part of the difference God is making, part of a new generation of Latin Americans who are rising above their own difficulties to help others meet the eternal solution to poverty: Jesus.
María has already begun sharing her vision with friends and pastors and, together, they are coming up with plans to get more people involved.
"I discovered [that] people in Colombia are open and motivated to help since, in their daily lives, they see poverty and [that] the idea of contributing to the development of a new generation in our country and around the world is a great opportunity."
Colombia has the fourth-biggest economy in Latin America, but there is a huge gap between the haves and the have-nots.
"This is why I believe God wants to build a new generation who are aware of the reality that surrounds them and who want to take an active role in the solution — Colombian people helping kids around the world construct a better future full of hope and opportunities like the ones Compassion gives."
Find out more about being an Advocate for the U.S., Canada, Australia or United Kingdom.