David, now 30 years of age, joined our Child Sponsorship Program in 1990. Living in Masaka, Central Uganda, he grew up in a large family and could not afford to further his studies past high school. But David was firm that he would succeed in life.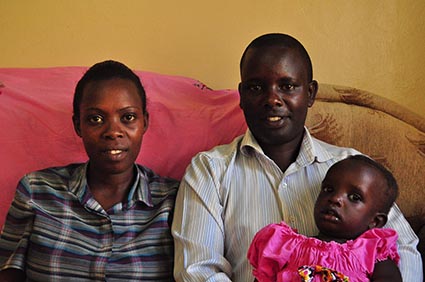 In our program, David learned carpentry, farming, and herding goats. Whenever he received money for Christmas gifts from his sponsor, David bought pigs and other animals. He developed a passion for farming and studied at the Mbuye Farm School, a less expensive option to formal education.
After three years of struggling to pay school fees, he finally completed his studies and became a veterinary officer.
Today, this tall, dark man with a gentle smile is famous in his little village of Kiwangala. David does not walk more than ten steps before someone stops him to greet him. Even those who are far away shout a greeting at him.
People love and respect David. Almost everyone calls him when they need veterinary services for their animals. Neighboring villages also seek out his help.
"After I became a veterinary officer, I went to my mother's village in Lwaggulwe to treat animals. I became very popular and people gave me a lot of business. This encouraged me to become self-employed.

I started out with a nursery bed for corono coffee and fruit trees. I would sell the plants and get money. I also continued to treat animals and both these ventures brought in money for me."
Recently, David earned enough profits from his business to start a shop. In his shop he sells seeds, fertilizers, herbicides, pesticides and fungicides. He has earned enough money from his shop to buy two motorcycles he uses for the business.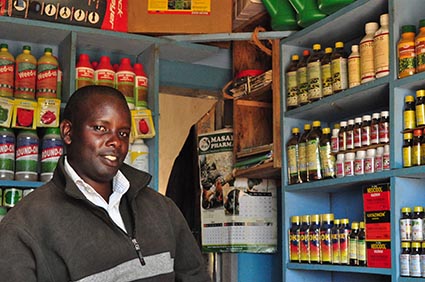 The success David has experienced made him realize that it is possible to get out of poverty and is an advocate helping others get out of poverty. As a way of giving back, he donates free coffee seedlings to churches so that they can grow coffee crops themselves.
David has a strong passion for youth and he teaches them not only about how to get out of poverty but about daily life issues like; the importance of abstinence from sex before marriage, staying away from pornography, knowing the role of a man and a woman in a home and many other topics.
Currently, David is writing a book in his local language entitled Okuva Mu Nsi Y'obwavu Okugenda Mu Nsi Bugagga which means, "getting out of the world of poverty into the world of riches."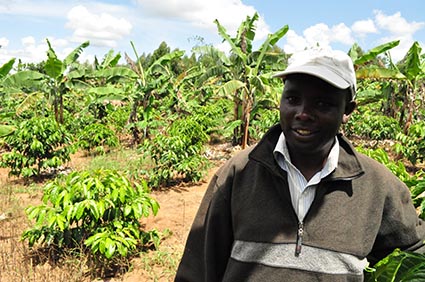 David has been released from poverty and is able to stand on his own. He is also helping people in his community to become fulfilled adults.