As we walked into a child development center in Cochabamba, Bolivia, we were welcomed by hundreds of children worshiping.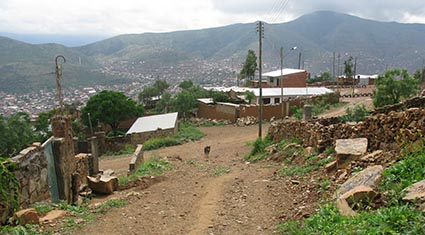 One kid in particular caught our eye. He was wearing a green shirt and was praising God with all he had.
Later on I met Jorge. He turned out to be the older brother of the "kid in the green shirt," who was called Richard, as I would find out years later.
Gradually, Jorge's story started to emerge. He was the oldest of three brothers, and his two younger siblings were attending one of our child development centers. Jorge was desperate to be part of the development center—but couldn't be.
The home of Jorge and Richard wasn't safe. Their father, in particular, was very abusive, and the cigarette burn marks on the faces of the boys were the horrific evidence of that. Every day, Jorge made sure that his brothers could attend the center, a place where they would be safe.
As I came home, Jorge continued to stay on my mind. I made several attempts to sponsor him, but to no avail. I put a picture of him in my office; I wanted to have a constant reminder of children around the world who aren't sponsored.
I returned to Cochabamba years later. We visited the same development center during Sunday service. As we were waiting to get in, I told our host, Maria, about Jorge and his brothers.
Fifteen minutes later, Maria stood next to me with a teenager—the "kid in the green shirt." His name was Richard. I was thrilled to hear how he had given his life to Christ and how the abusive climate at home had made a turn for the better. Five minutes before we were leaving for our hotel, Jorge turned up at the center.
Never in my mind had I anticipated meeting him again. It was truly a God-given moment. Only He knew my concern for these boys. God sent me a very comforting message that day: I care.
"In the same way your Father in heaven is not willing that any of these little ones should perish." —Matthew 18:14, NIV
Prayer: Father, thank you for your care. Let us care like you do.
---

ABOUT THE AUTHOR: Jan Willem Vink serves as the Marketing Director for Compassion Netherlands.
Read all the One in Spirit devotionals.