Kamrul starts his day very early in the morning. He leaves his bed just after sunrise and washes his face from the nearest pond. After having a little cold rice from the previous night, he leaves for work.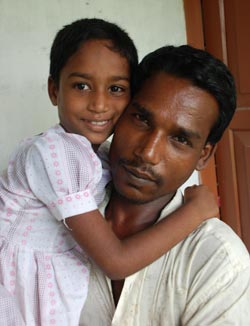 These days, Kamrul feels very relaxed. He doesn't have to pay rent to the cycle van owner daily. He has his own van now. It is the most useful gift for his family.
Kamrul has been blessed by your generosity. His new cycle van ensures a decent life for his family. Kamrul considers himself a fortunate father of a Compassion-assisted child. His 8-year-old daughter, Mukta, is the channel of blessings in his family.
Every morning, Kamrul drives to the nearest village market for passengers or a load to carry. If he is fortunate enough, he can get more than two passengers at a time and heavy stuff to carry. He earns 100-120 taka (U.S.$1.45-$1.74) per day by driving his cycle van.
"One hundred taka ($1.45) per day for me is the same as 100,000 taka ($1,450) for the rich people living in the big cities. This 100 taka allows me to buy food for my children and keep my family."
In the rainy and cold season he earns less than that, but the money is still adequate to buy food for his children. It wouldn't be possible if he didn't have his own cycle van.
Previously, he had to pay around 100-120 taka as rent for a cycle van. He had very little left for his family. To pay the owner on a regular basis was a Herculean task for Kamrul. It took eight out of his 11 hours of working to earn the money for the owner.
Now Kamrul believes that his bad days are over and he can do something more for his children and family.
Kamrul's working hours are now more flexible. To work eight hours throughout the day is enough for him to take care of his family.
Whenever he is on the road driving his cycle van, he keeps the faces of his children in his mind rather than the worry of paying the owner of the cycle van. You made this possible for him. (more…)
Continue Reading ›
Kamrul received the cycle van you bought him! He received it eight days ago.
---
It was another hot afternoon at Suagram, and Mukta ran to her grandmother's house. "Granny! Granny! Come out."
An elderly woman came out; Mukta said loudly, "I am going to have a cycle van tomorrow. Now my father will drive my own cycle van."
Her grandmother asked, "Who is giving you a cycle van?"
The 8-year-old girl replied proudly, "My Compassion center!"
The next day was very special for Mukta, her father, Kamrul, and their family. They were going to have a brand new van, as a gift from Compassion sponsors who read the U.S. blog.
Kamrul and his family dreamed about having their own cycle van for years. Although they considered Compassion as the great opportunity for their daughter's development, they never thought that their dream of a cycle van could come true through the Compassion center. However God had a different plan for this family, and He used Compassion to bring blessings to them.
I reached Suagram Child Development Center at 8 a.m. Kamrul was there, waiting for me. He grabbed my hand and said, "Thank you so much, for what you did for us."
I replied, "Don't thank me. Thank Almighty God for his grace and thank the sponsors who made it possible."
Kamrul said again, "I praised God thousands of times. Me and my family prayed for the sponsors and their families, that they could live a long, healthy and happy life."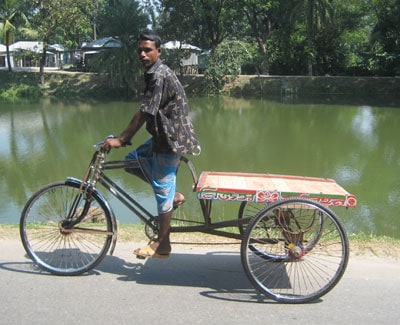 We went to the marketplace called "Ghaghar" to buy the cycle van. The child development center manager was also with us; he ordered the van the previous week. It was a nicely built cycle van.
The center manager was checking the cycle van, but I was observing the reaction on Kamrul's face. There was a deep satisfaction and peace.
The center manager paid the bill and asked Kamrul, "Are you happy?"
He answered, "I couldn't wish for more. This van will change the condition of my family."
Kamrul took us on his new cycle van as his first passengers. He was driving faster than the previous time I rode his van. I thought there might be two reasons. The new cycle van was excellently made, and at that time Kamrul was the happiest man on the earth and wanted to fly.
We reached his house and paid him. Kamrul strongly refused to take money from me, but I was able to make him understand that he should take it as his first income from the van.
At his house, Mukta was waiting for us. As soon as Kamrul parked the van, little Mukta hopped on the van. She stood on the van and silently made us believe that it was her van.
Kamrul and his wife Rehana were getting busy to entertain us. The center manager tried to stop them, but Kamrul answered, "We couldn't be able to give a treat to our beloved sponsors. So please let us entertain you with coconut water on behalf of the sponsors."
Coconut water is a special drink in the rural areas; only special guests are entertained with coconut water. Kamrul and Rehana prepared and served coconut water to us. It was one of the sweetest and most refreshing drinks I have ever had.
Kamrul, Rehana, Mukta and little Sihab (Mukta's younger brother) were sitting in front of us, and we were talking outside their house. A few neighbors also joined us.
I described to Kamrul and family about how our respected sponsors provided them the van. Kamrul shared his feelings:
"I am so pleased and amazed by the greatness of the Compassion sponsors. I struggled a lot with my family. Not even my own brother and sisters took care of us, but these people from thousands of miles away are thinking of our benefits.

This is amazing!

Now I can earn my own living and don't have to pay the van owner daily. If I can work everyday then I won't have any problem to maintain my family. At least I can buy food everyday for my children.

Please thank the sponsors on behalf of me and my family. Also tell them that their love is blessings for my family.

May God bless them and their children everyday!"
Rehana said, "Now my husband can work more freely. Hopefully we would overcome our difficult periods. Thanks to all the Compassion people and staff who made it possible for us. They think about us more than our own relatives."
Mukta was having fun on the van. She said, "This is my van, and I will let my father drive it."
Kamrul was laughing and replied, "Yes dear, it is your van."
Mukta thanked all the sponsors in her own words and said in Bengali, "Amake van kine debar jonno tomader sobaike onek onek dhonnobad." It means, "Many thanks to all of you for buying me this cycle van."
Kamrul took his whole family on the van and had a fun drive. Later he picked up Mukta from the project on his van and took her home.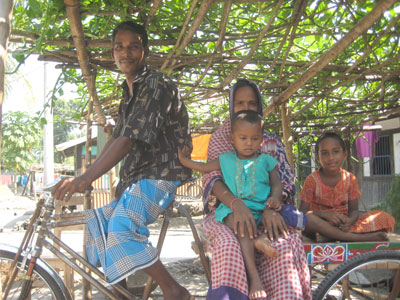 The gift amount was 10,200 Bangladeshi taka. The cycle van cost 9000 taka, and with the remaining 1,200 taka, the Compassion center bought a new pair of shoes for Mukta, a mosquito net, and two pillows for Kamrul's family — things Kamrul and Mukta asked for.
It was a big day for this family. The satisfaction on Kamrul and Mukta's face reminded me of the Grace of our heavenly Father.
Special thanks to all the sponsors who considered Kamrul as their own brother and Mukta as their own niece.
---
Today's post is a followup to the August 7, 2008 post, A Day in the Life of a Bangladeshi Cycle Van Driver.
Continue Reading ›
Kamrul opens his eyes and looks out the window. It is still dark outside. He gets up and goes outside his house.
Kamrul washes his face with the water from the nearest pond. He breaks a branch from a nearby neem tree, whose branches are thin and good for teeth, and begins to clean his teeth. He is wearing just a lungi, the traditional Bangladeshi skirt for a male. He prepares himself for the hard day ahead of him. Kamrul, the father of Compassion-registered* child Mukta, is a cycle van puller. (more…)
Continue Reading ›