Kamrul opens his eyes and looks out the window. It is still dark outside. He gets up and goes outside his house.
Kamrul washes his face with the water from the nearest pond. He breaks a branch from a nearby neem tree, whose branches are thin and good for teeth, and begins to clean his teeth. He is wearing just a lungi, the traditional Bangladeshi skirt for a male. He prepares himself for the hard day ahead of him. Kamrul, the father of Compassion-registered* child Mukta, is a cycle van puller.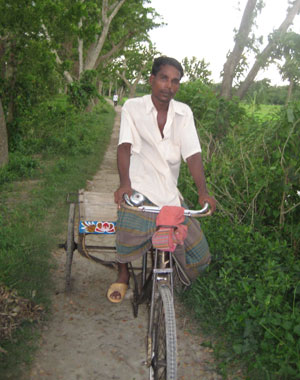 Kamrul reaches the garage near his house and gets the key to the lock of the van from the owner. The cycle van is a pedal-powered three-wheeler which can be used for carrying people or stuffs. A seat for the driver is at the front just behind the handle like a regular cycle. There is space for carrying people or goods at the back of the cycle van.
Cycle vans are an important part of transportation in the village areas of Bangladesh, as well as cities. It provides the daily wages for more than 100,000 people all over the country.
In cities, cycle vans are available near the furniture stores and market places to carry goods and furniture. There are more than 15,000 cycle vans in the capital city of Dhaka.
In the village areas, where Compassion-assisted child development centers are located, the cycle vans are essential for getting around. They are the only vehicle available to carry goods and people.
Kamrul earns 60-70 taka ($0.87 – $1.01) every day. Actually, he earns about 170-180 taka ($2.46 – $2.61) per day, but he has to pay the owner of the cycle van to use it. Kamrul wishes that he will have his own van one day.
He gets on the cycle van and starts to pedal like on a normal cycle. He reaches the nearest bazaar at Kotalipara. The buses from Dhaka stop here and drop people off, so it is possible for him to have some passengers.
30 to 40 minutes later, the first bus from Dhaka reaches Kotalipara, and Kamrul gets five passengers who want to go to Suagram. They agree to pay 10 taka ($0.14) each for the travel.
Suagram is five kilometers away; Kamrul starts his first trip of the day. Though he is strong enough, carrying five adult people for five kilometer is a hard job. He takes 40 minutes to reach the destination and earns his well deserved "50 bucks" ($0.72).
After a few minutes rest, he starts his journey back to Kotalipara. This time he is lucky enough to get a single passenger from Suagram who agrees to pay him 20 taka ($0.29) – to carry him and his goods to Kotalipara. On other days he has to return to Kotalipara with an empty van.
Kamrul's passenger is not gentle; he makes Kamrul go an extra kilometer but doesn't want to pay extra money. Kamrul argues with him but the cycle van puller and rickshaw puller are treated as the lower class in Bangladesh. The passenger pays only 2 taka ($0.03) more.
Kamrul is hurt by this, but what can he do? He is uneducated and realizes that there is no place for those people who can't read or write. He wishes that his daughter, Mukta, and his son, Masoom, will be highly educated and that no one will dare to treat them this way.
Up to noon he doesn't get any more passengers to carry. He gets hungry since he didn't have breakfast. He starts to count the money he has earned today. 72 taka ($1.04). That's all.
Kamrul buys a bit of bread for three taka ($0.04) and a cup of tea for two taka ($0.03). He has his lunch in front of the shop.
While eating he looks at his van; it is colored on the back side, which is used as the carrier. He made this colorful design by himself. A rope is hanging under the seat; it is used when he has to carry big stuffs. There is also a lantern under the seat that is useful at night. He always keeps a towel, called a gamcha in Bengali, in front of the handles to clean his sweat off. This is how he provides food for his family.
He gets another two trips at evening and earns 80 taka ($1.16) more. At 7 p.m. Kamrul meets the Compassion child development center manager at the market, who is buying rice for the center children.
Kamrul greets him and says, "Sir! Can I take you to the center?"
The project manager agrees; Kamrul lights the small lantern, called a haricane, and hangs it under the cycle van. He carries the manager to the center at Suagram, happy that he can help.
Kamrul is not ready to take money for his service, but the manager insists and gives him 50 taka ($0.72).
Kamrul returns to Kotalipara again but without any passengers.
He has 197 taka ($2.86) in his pocket. He earned 202 taka ($2.93) and spent five taka ($0.07) at lunch. He separates 120 taka ($1.74) for the owner of the cycle van and with the remaining 77 taka ($1.12) he buys rice, oil, a small fish and some vegetables for his family.
Kamrul returns the van to the owner's garage and heads home. Mukta comes to him running with a big smile. He grabs his little daughter and takes her on his shoulder. He gives the stuffs to his wife and asks her how her day was.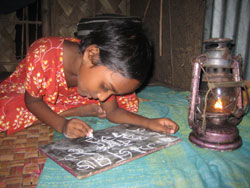 The family doesn't have electricity at home so they put on haricane lamps. Kamrul goes to the pond and takes a bath. When he gets inside the house he finds his daughter studying in the light of the lamp; this makes him happy.
Kamrul made a partition inside the house with an old metal sheet. On both sides they have two beds. He also made two shelves to keep pillows and bottles of oil, medicines and boxes. There are two pictures on the bamboo wall. One is of two little children wearing traditional dresses, and the other is of Kamrul's daughter and son. His wife, Rehana, cooks outside the house, but they keep all the cooking stuffs inside. They have a common latrine just behind their house.
Rehana completes her cooking and calls the family for dinner. Kamrul carries his son in, and they sit on the ground. Mukta has already completed her studies and joins them.
After dinner they go to sleep. Kamrul and his wife hang the mosquito net over their bed to keep them safe from bites. Kamrul is thinking of the whole day and is unhappy with the behavior of the rude passenger. But the generosity of the Compassion manager refreshes his mood. He is praying for his children that they will be highly educated and successful in life.
He closes his eyes and falls to sleep.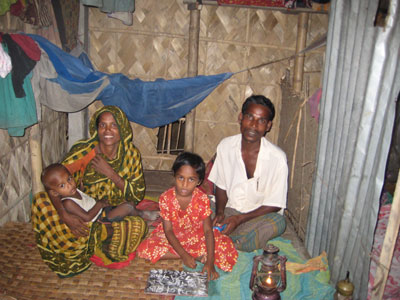 ---
*August 8, 2008 – Comments 26 and 30 discuss this term.