Kamrul starts his day very early in the morning. He leaves his bed just after sunrise and washes his face from the nearest pond. After having a little cold rice from the previous night, he leaves for work.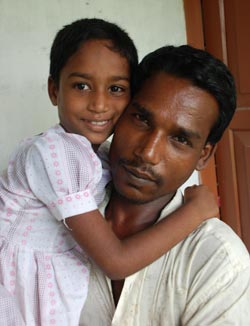 These days, Kamrul feels very relaxed. He doesn't have to pay rent to the cycle van owner daily. He has his own van now. It is the most useful gift for his family.
Kamrul has been blessed by your generosity. His new cycle van ensures a decent life for his family. Kamrul considers himself a fortunate father of a Compassion-assisted child. His 8-year-old daughter, Mukta, is the channel of blessings in his family.
Every morning, Kamrul drives to the nearest village market for passengers or a load to carry. If he is fortunate enough, he can get more than two passengers at a time and heavy stuff to carry. He earns 100-120 taka (U.S.$1.45-$1.74) per day by driving his cycle van.
"One hundred taka ($1.45) per day for me is the same as 100,000 taka ($1,450) for the rich people living in the big cities. This 100 taka allows me to buy food for my children and keep my family."
In the rainy and cold season he earns less than that, but the money is still adequate to buy food for his children. It wouldn't be possible if he didn't have his own cycle van.
Previously, he had to pay around 100-120 taka as rent for a cycle van. He had very little left for his family. To pay the owner on a regular basis was a Herculean task for Kamrul. It took eight out of his 11 hours of working to earn the money for the owner.
Now Kamrul believes that his bad days are over and he can do something more for his children and family.
Kamrul's working hours are now more flexible. To work eight hours throughout the day is enough for him to take care of his family.
Whenever he is on the road driving his cycle van, he keeps the faces of his children in his mind rather than the worry of paying the owner of the cycle van. You made this possible for him.
Kamrul had a bitter childhood. After the death of his father, his mother was kicked out of the house by his stepbrothers. His father married twice, and Kamrul's mother was the second wife.
It is common in Bangladesh for stepmothers not to be well-accepted by their stepchildren. Kamrul's mother had to struggle a lot to raise her children. She stayed in a different town from them and worked as a housemaid. She was unable to provide education for her children.
Kamrul grew up to become an illiterate rickshaw puller. He couldn't manage to live in another town, and seven years ago returned to his own village. His stebrothers didn't receive him warmly. He asked them to allow him to stay on his father's land, but they said no.
With help of the local people, he got a small piece of the land, but every day he has to face the anger of his vicious stepbrothers.
In his 30 years of life, Kamrul has never been well-treated by people, except for his mother. When he first came in touch with the Compassion staff, he was amazed by their compassionate attitude. Now Kamrul is astonished by your love for him and his family.
"From my childhood I got used to mistreatment. I never got love and sympathy from my stepbrothers or neighbors.

"But the love that the Compassion sponsors have shown to me is unconditional. They bought me a new cycle van just after knowing about my struggling. This is beyond my imagination. They improved our living. I am grateful to them."
Kamrul is very popular at the child development center because of his sincerity. The center manager and church pastor always call him whenever they need to carry goods a distance.
Kamrul carries all the sacks of rice, lentil, vegetables and chicken on his van for the center. It is very helpful for the church as well as for Kamrul. He is their "official" cycle van driver.
Seven months ago, Kamrul used to carry the stuff of other people on his rented cycle van. Many people used to buy goods and food stuffs from the local market, and Kamrul carried those on his van. He couldn't afford to buy stuff for his family. Conditions have changed. 🙂
He is now able to earn adequate money to buy products from the weekly market.
Last Friday he went to the market with his daughter, Mukta. He didn't take his cycle van with him as they had been there just for shopping. Kamrul bought cooking oil, potatoes, onions, spices, biscuits and soap.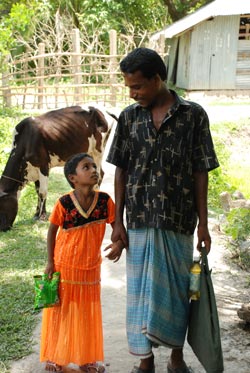 Mukta asked for potato chips, and Kamrul was happy to buy her a packet of potato chips. He was very satisfied while he was heading back to his home holding the hand of his daughter.
Kamrul is a very hardworking individual and always thinks about his family. He took a loan of 12,000 taka ($174) from a local organization. He invested the money to grow a paddy. This year he has received 420 kilograms of paddy, which provides five months of rice for his family. He has to pay the local organization 340 taka ($4.93) weekly.
With his new van, he is able to save 50 taka per day; at the end of the week he has 350 taka to pay his weekly debt. The paddy will ensure rice is available three times a day for his family.
Nowadays Mukta doesn't have to go hungry in the morning. Every morning her mother serves her steamy rice and vegetables before she leaves for the development center.
The new cycle van doesn't mean that all the problems are removed from Kamrul's life. He is still having some difficulties.
Last month his stepbrothers beat him and his wife badly in front of their children. They threatened them and told Kamrul to leave the land where he and his family are staying.
Kamrul and his wife were in great physical pain. Kamrul bought medicine for his wife. It wouldn't be possible for him to spend money for medicine if he didn't own the cycle van.
"I am always anxious about my house. The land belonged to my father so I have a small share on that land. But my stepbrothers and their sons want to deprive me.

"Compassion built a new house for us on that land after the cyclone disaster last year, but my stepbrothers want the land back, so they are trying to destroy my house.

"They have never taken care of my family but always try to push us toward the edge.

"Compassion took care of us by providing the van, which is the only earning way for me to survive. Even the medicine I bought for my wife were by the money I earned from the new cycle van."
Kamrul loves his children more than his own life. He has a great expectation for his daughter, Mukta.
Kamrul never got the opportunity to complete his studies. He wants both of his children to grow up as well-educated human beings.
From his childhood experience he knows how bitter it is to live without food as well as love. He loves his kids and tries to work at his level best to ensure they have food and clothes. He always worked hard, but now with his new cycle van he has started to work harder.
He knows he has commitments to keep to his family as well as to the sponsors of Compassion. Kamrul is trying to make the most of his cycle van because the more he drives the greater chance that his children will never go hungry.
Thank you for standing beside this responsible and hardworking father.