Many of us think we "know" what faith means. When it is time to put our faith in action, however, it's another story. Honestly, I have failed the faith test many times, but God's mercy helps me to stand up again and again.
Last year my family had to make a decision that would affect our lives permanently. We prayed together and agreed to pray individually for some weeks before getting together again. At first, I thought I was praying and trusting, but as the days passed, I was more anxious and weary.
At one point, I finally gave up and poured out my heart to God in prayer. He knew how far I could go. It was then when I began to see His hand working in guiding the decision we were about to make. My soul was finally at rest, and my faith grew stronger. An indescribable joy was flowing inside of me. I knew I passed the test this time. God answered our prayer.
At Compassion, we also get together every week to pray. A staff member once asked for prayer for a child's critical health. She said, "I know this is a group of anointed people, and God will hear your prayer." We prayed, and healing came to the child's body. God did it again! We rejoiced and our faith was strengthened.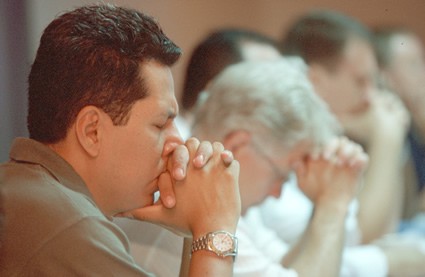 No doubt many difficulties have come along in this ministry. But God has placed anointed men and women who stand with confidence that God is in control to watch over the millions of children who will be released from poverty in Jesus' name. Some day they will join us in faith and intercede for others.
God is there for you; trust Him! You will see great results in your life and in this ministry.
Now faith is confidence in what we hope for and assurance about what we do not see. — Hebrews 11:1, NIV
Prayer: Help us, Father, to trust in You even when we don't see a way out. Amen!
---

Read all the One in Spirit devotionals.