When we asked you what you wanted to know about writing letters to the child you sponsor, one question rose to the top of your comments on Facebook, Instagram and the blog:
How long does it take to send and receive letters?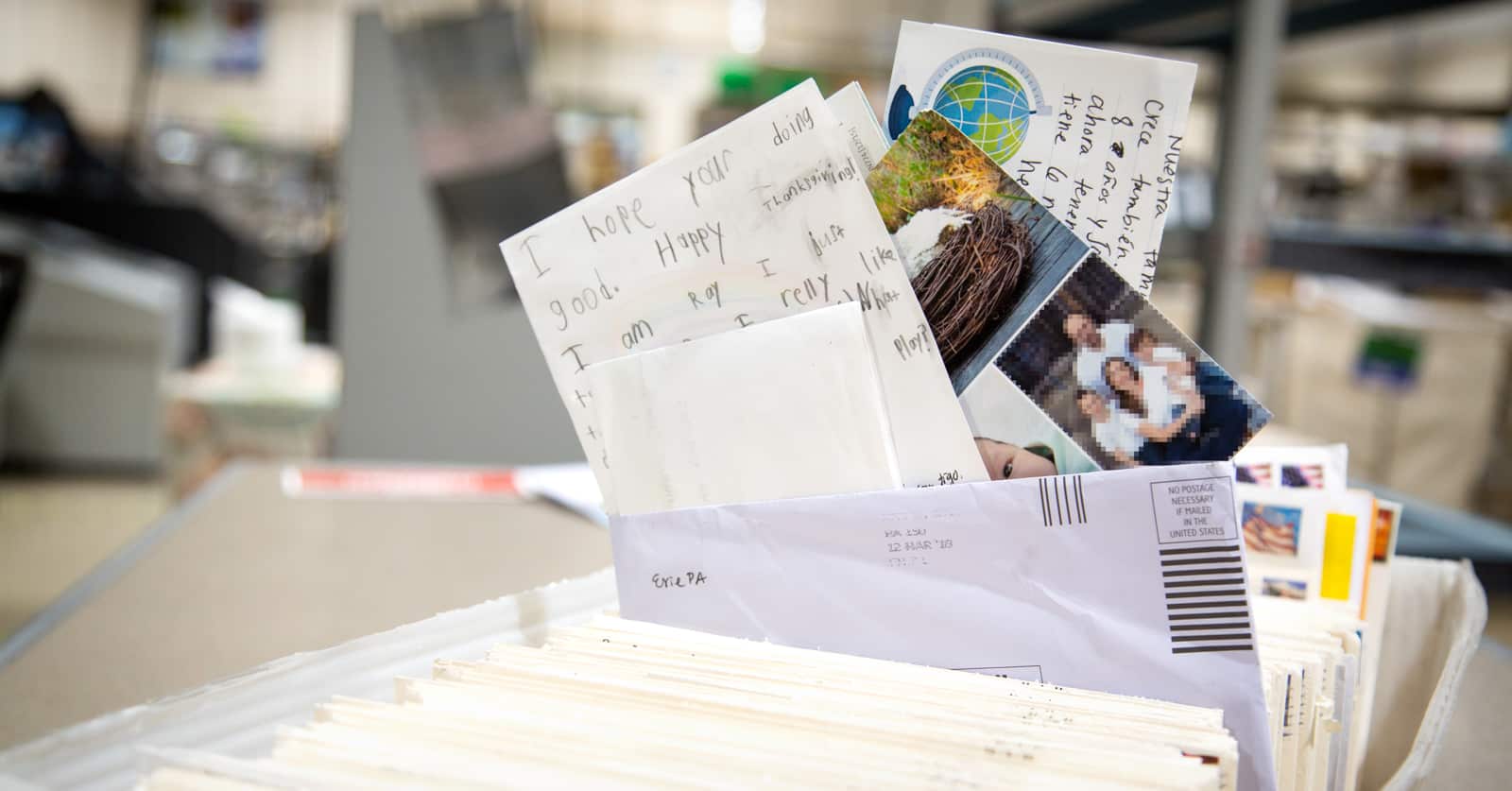 For this month's Compassion Letter Club, we chatted it up with folks on our Correspondence and Mail Processing Teams here at our headquarters in Colorado. Who better to give us the inside scoop on the U.S. side of the process?
They'll address some of your specific questions while walking us through what it takes to get your precious words to the country in which the child you sponsor lives. And even better, they'll share some pro tips for what we can do as sponsors to help the process go smoothly. Because let's be honest … receiving letters is such a joy, we all — including students in the program — want them to arrive yesterday!
Meet Aaron, Karen and Joe. They manage the teams that care for all of the physical letters from both sponsors and beneficiaries in our program.
"2017 was a record-breaking year for letter writing at Compassion. We received over 2 million individual letters from U.S. supporters and over 3 million letters from children in the program to their sponsors!" says Aaron Brown, Correspondence Fulfillment Manager.
"We have people here 16 hours a day to ensure that the process stays super fast. It takes a lot of work but we love to facilitate the relationship between the sponsor and the child."
WHERE DOES A LETTER GO?
"Does it [a letter] go to you first?" — @emily_loves_diy
There are three links in the chain that connect your correspondence to the child you sponsor: our U.S. headquarters, the Compassion office in the country where the child you sponsor lives, and the Compassion center he or she attends at his or her local church.
If you choose to write a letter through your account online or through the Compassion app, it doesn't come here to our U.S. headquarters. The letter is digitally received — almost immediately — in the office in the country in which the child lives. There it is translated and printed. Then the letter is delivered to the child's Compassion center and into his or her eager hands.
PRO TIP: Track the progress of your letter in your account. You're able to see when your letter is in transit, received, in translation and delivered!
Aarons shares, "Currently, about 35 percent of supporter letters are written online, either through the app or the website. This is excellent because it saves time and money in the processing."
But you can also mail physical letters to us which we will digitally scan to your account for you. This is where the Correspondence and Mail Processing Teams come in.
WHAT DO CHILDREN RECEIVE?
"Do the kids receive the original letters/cards or just photocopies of them?" — Sarah
Both sponsors and children expressed their desire for letters to travel back and forth quicker. And we heard them! This is why we now digitally scan and electronically deliver letters and photos. They are printed and mailed within the country rather than shipped internationally.
Joe Cammaroto, Mail Services and Warehouse Manager, shares, "Delivery of sponsor letters to the child has gone from months to weeks."
Scanning documents into your account also saves time in other ways. "Because we save images of the letters it really helps us sort out issues much faster! In the past, if a translator had a problem with a letter they would have to bring it back to the country office. Then the country office would have to mail it back to Colorado before we could see it and evaluate the problem. Now, that whole process that took weeks can take hours," says Aaron.
HOW LONG DOES IT TAKE TO DELIVER?
"Generally, how long does it take for a mailed letter or one typed online to be received by your child?" — @jennafifi_music
"Physical letters will take three to five days in the U.S. mail to get to us. Depending on the time of year and workload, letters are processed and scanned within 24 to 48 hours. The scanned documents go to the country within hours," shares Joe.
If you wrote your letter online, it's digitally delivered to the country office the same day.
Once the country office has received it, it can take anywhere from a few days to a few weeks for the letter to be delivered. A few factors can affect that timespan, like how close the Compassion center is to the office and how many letters the translators need to process.
(Teaser: We'll be talking to our amazing translators soon. So be sure to subscribe to the blog so you don't miss out!)
WHAT CAN I MAIL?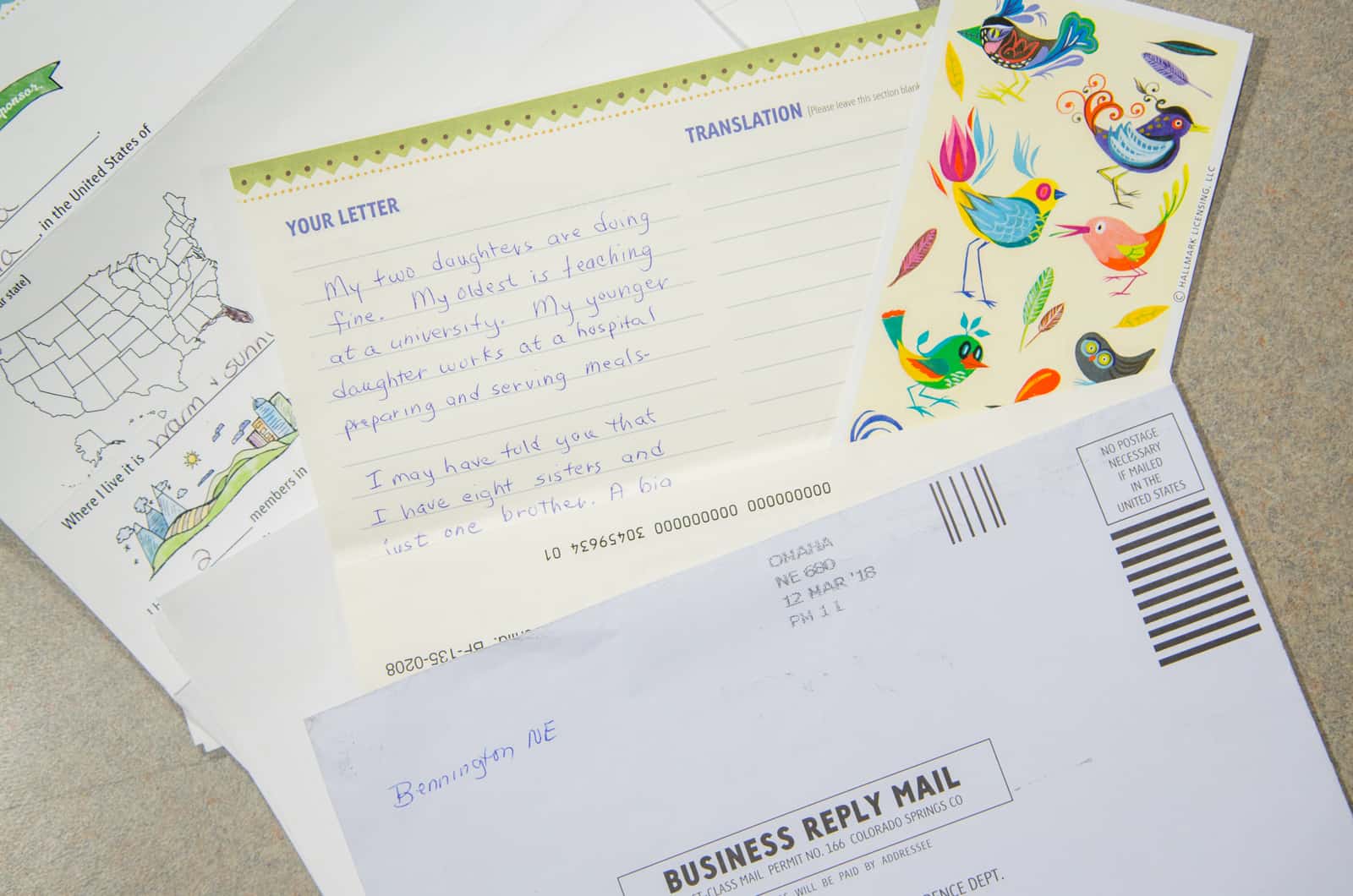 "In sending gifts together with a letter it says that one can only send things made of paper due to border control rules. Do you have examples on things to send?" — @annavernqvist
"When we ship a package to the field, we ship it as a 'document only' shipment. 'Document only' shipments clear customs quicker and with a minimum of assessed duties and taxes," Joe explains.
If you want what you send to get there as quickly as possible, we recommend only sending items that can be scanned – items like letters, photos, postcards, greeting cards, coloring pages and paper crafts. This eliminates the additional processing and shipping times of paper items that cannot be scanned and digitally delivered.
PRO-TIP: Consider sending a monetary gift.
Whether you give online or mail it to us, monetary gifts are always processed digitally so they don't have to be shipped. Monetary gifts stimulate the local economy and allow the child, along with his or her family and local Compassion staff, to pick a gift that benefits him or her.
HOW CAN I HELP THE PROCESS GO SMOOTHLY?
"What things do we send that hold up our letters from being sent quickly?" — Yvonne
If you'd like the letter you mail to us to get to that special kiddo quickly, here are some more pro tips to help things go smoothly.
PRO TIP: Use Compassion stationery and leave the translation box blank.
Aaron shares, "One of the best ways for a letter to get there ASAP is to use official Compassion stationery. Just don't write in the translation boxes — that will slow the process down by three to four days."
"If the letter is on personal stationery, or greeting cards, with handwritten child and sponsor numbers it will be slightly delayed as those need to go to a staff person for some manual processing. If child or sponsor numbers are missing, the letter goes into a research queue. Those letters can be delayed for days," says Joe.
PRO TIP: Only send flat paper items.
"One of our biggest problems is items that cannot be scanned or sent physically to the field. These items can cause many hours of labor. It is heartbreaking at times not to be able to send some of the really beautiful items that sponsors send. Our sponsors have big hearts!" explains Joe.
"If the item can't be sent, an email or letter is sent letting the sponsor know and the gift is donated," says Karen. But don't worry, your letter is still scanned and delivered!
HOW LONG DOES IT TAKE TO RECEIVE A LETTER?
Because correspondence from students is always scanned at the country office, it will show up in your online account right after it's been translated. But if you've chosen to receive a paper version of the letter also, the Correspondence team here prints and mails it to you, usually within 24 hours.
Right now, we print about 15,000 letters a day from students to their sponsors. So much love!!
"We have been breaking records nearly every month with letter volumes. We love it when people write!" says Aaron.
PRO TIP: If you'd like to go paperless, head to your account and choose "Child Letter Preferences" to select getting an email notification when a digital letter arrives.
Joe, Karen, Aaron and their teams are just one link in the international, multicultural chain of folks who help connect you with the child you've chosen to invest in. Now that you're in "the know," take a minute to send some encouragement to the child or teen you sponsor!
WRITE TODAY! ›››
We are committed to continually improving this process so we always value your feedback. Keep your questions coming!
---
For Compassion Letter Club ideas on what to write, join our Compassion Letter Club community board on Pinterest!
Originally published March 29, 2018.