So, you want to write a letter to the child you sponsor, but you don't speak his or her language. Who takes care of this? How do you make sure your original message still gets across? How does the translation process work?
Don't worry, this year on the Compassion Letter Club, we're taking your questions to the people in the know. And, the wonderful people who translate your letters are here to help!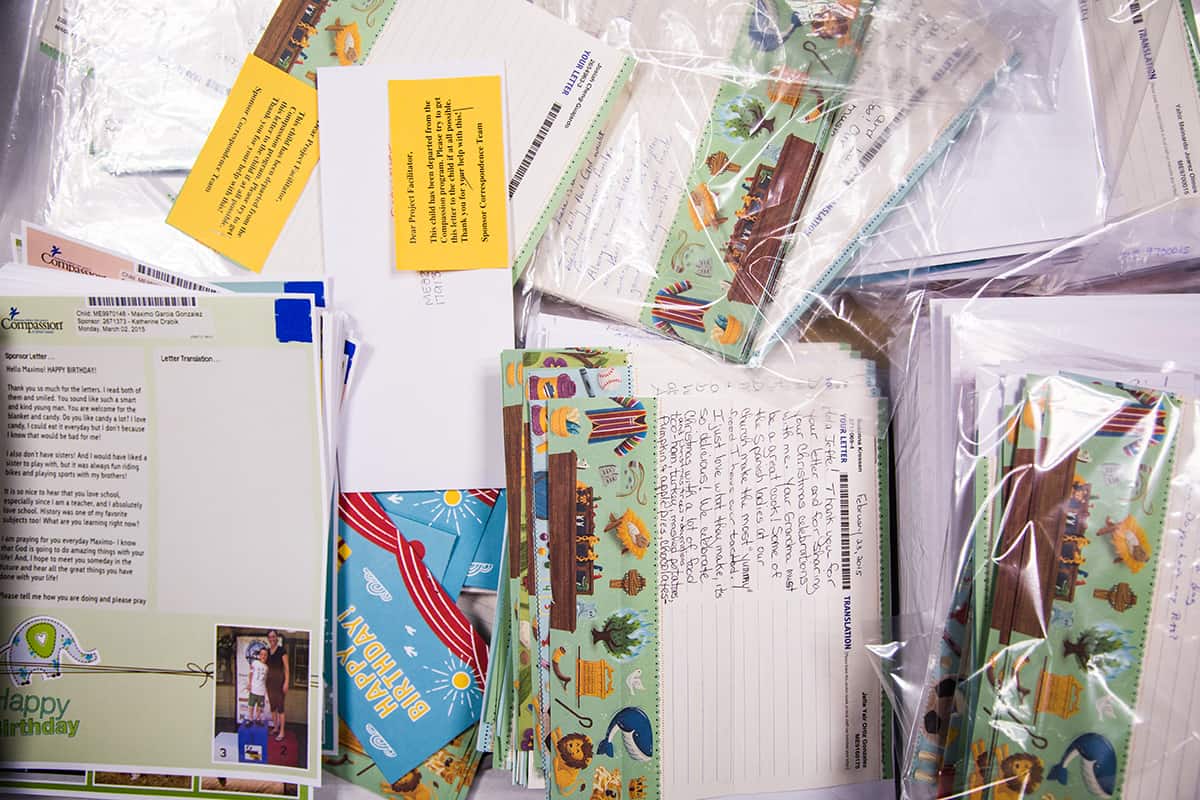 Here are some of your questions about letter translation.
Do we need to write the translation if our sponsor child speaks a different language? — @ellenfoleyy
No. You don't have to worry about that. We have staff and volunteers in 25 countries who are in your corner. Each day, we receive thousands of letters in dozens of different languages — each one carefully read and translated by a team of child advocates who share the same goal: helping you connect with the child your sponsor.
When you write a letter by hand or online, it's digitally delivered to one of our country offices. (Check out last month's Compassion Letter Club blog post to learn all about the delivery process!) Then, it's sent to a translator and converted into a language that the children can read and understand. Even if your native languages are different, one thing is the same: They can't wait to hear from you! Don't let language barriers keep your from writing!
Are the letters accompanied by a translated letter so they know what the letter says? — Susan Hagerman
Yes! When you write, the child you sponsor will receive a copy of your original letter alongside a translated version. The kids cherish these original letters, often as much as the translated ones — even if they can't read the words. They are a special reminder that someone on the other side of the world loves and cares about them.
Why does my letters go through a translation process if my child writes to me in English? — @lily.catherine_
Our translation team takes special care to not only translate your words, but ensure that the conversations shared are accurate, culturally appropriate, and aligned with our letter-writing standards. This helps encourage a growing relationship and protects you and other sponsors as well as the children who receive letters.
Hear from the translators themselves.
Want to learn more about our translation process? Get to know a few of the translators who help connect you with the child you sponsor!
Why did you become a translator for Compassion?
"Everything started as a normal job, but I could see through the letters the great and deep needs that our children experience. Being a Christian, I was deeply touched by everything I read and translated in these letters that I made the decision to start praying before I started working. I consider it a ministry. When I begin my work day, I kneel and thank God for allowing me to have one more day of blessing to do my translation work with love for the children and sponsors with love, loyalty, honesty, professionalism and accuracy." — Henry Amado, Colombia
How many letters are you able to translate each week?
"Every week I translate about 2,000 letters." — Caroline Nzau, Kenya
What's your favorite part about your job?
"My favorite part of the job is when I get to see how grateful and happy the children are to have a caring and loving sponsor." – Luis Chavarria, El Salvador
"I can be a link between a sponsor and his or her sponsored child. I can connect people through a message, even if the message is short." — Translator, Peru
"When I get to translate about the miracles that God has performed in the lives of the kids, to know about how much they learn at the centers in every area of their lives. And the encouraging words that the sponsors send to the children." — Johana Hildago, El Salvador
"My favorite part of my job is to read what children have to say to their sponsor. I have read very funny letters and sad letters, too. I also love how sponsors encourage children with wonderful verses from the Bible. This also helps me to get closer to God." – Angelica Quintero, Colombia
What is the hardest thing to translate?
"Personally, I believe that handwritten letters are special; however sometimes it is hard for us as translators to understand illegible handwriting. It could take us a lot of time trying to understand the message. I wish the sponsors knew that in case their handwriting is not neat, they could use some other strategies such as the online tools to send a message and therefore this would make it to come to the children exactly as they stated." – Paula Ossa, Colombia
"The most difficult parts could be when the sponsor uses idioms that do not have exact equivalents in Spanish or when they make cultural references that can be difficult to explain to young children." – Translator, Peru
Why is letter-writing important?
"The letters [you] write are a source of hope. For children who come from homes and backgrounds as difficult as the ones in our program, sometimes they only need to hear that someone loves them and believes in them, and that changes their whole focus in life. It's not just a letter, it's a lifeline.

There are children who never hear the words 'I love you' or 'you can do it!' in their homes. Hearing these words from a person they value, whom God has miraculously brought into their lives may help turn their whole outlook on life around. So I would say, write as much as you can." — Caroline Nzau, Kenya
How do you protect children through translation?
"[As a translator] you also become an advocate for the child and sponsor … protecting them from information that would harm them. It is a responsibility." – Rebekka Otrembo, Colombia
"[There are] things we should not translate. For example, when the sponsor asks the child for additional personal information or when they send pictures that are not suitable for the children. These types of cases are not very common, but we are prepared if at some point they happen." — Luis Chavarria, Peru
What's it like seeing relationships grow between sponsors and children?
"It really feels great to read that sometimes sponsors and children meet each other and get to do activities together. It also feels like even if I'm just sitting in front of my laptop, I'm 'talking' to them too. I would say that sometimes it is like reading an interesting book." — Veronica Vasquez, Colombia
What should sponsors write about?
"I think that the sponsor should put himself in the child's shoes and they should write about whatever thing they would like to hear about if they were a sponsored child. The main purpose of the letters is to build a relationship between each sponsor and his sponsored child." – Maria Catalina Morales, El Salvador
Are cultural differences a problem?
"I don't think that culture is a barrier for communication between children and sponsors. Our job as translators is to not only translate words, but to make the translated letters understandable for sponsors. In many cases we need to add some translator's notes to clear up some things for sponsors that they may not understand if we translate literally every word." – Sergio Escondon, Colombia
It's more than just translation.
"It isn't just a 'translating' activity but also finding the best way to translate and use the best words so that children feel as encouraged as their sponsors want them to be." — Veronica Vasquez, Colombia
Every time you write a letter to the child you sponsor, you're making a connection that brings you closer to each other — and closer to God. Don't worry about the language barriers. We're here to help your words not get lost in translation.
You can write the child you sponsor across the world, without worrying about how to translate your words of love to them.
WRITE A LETTER TODAY›
---
For ideas on what to write and more encouragement in your letter-writing journey, check out our Compassion Letter Club on Pinterest!