"Colors come to my mind in waves. They fill my sight and overflow my senses. I am not okay until I let them out…they only come out through my paintings," twelve-year-old Hector the artist explains. This is because Hector has a condition called synesthesia which enables him to see plain things as colors. Things like numbers and letters appear to him in color, even when they are black on a white page.
Continue Reading ›
On this day we hope you feel the presence of our Savior as we celebrate His grand love and His perfect will to move us closer to Himself.
"Behold, the virgin shall be with child and shall bear a Son, and they shall call His name Immanuel," which translated means, "God with us."

– Matthew 1:23, NASB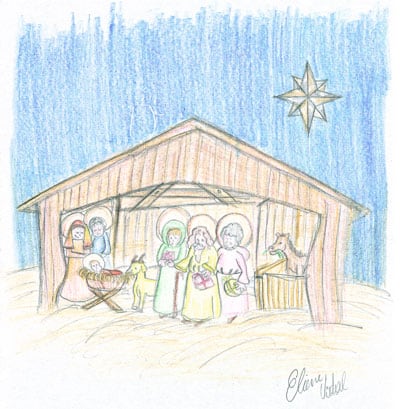 The artwork was drawn in 2003 by Elaine Vidal, a 10-year old sponsored child.
Continue Reading ›
Doesn't it just make your day when you get artwork from your child? Have you ever considered that your child would love to receive artwork from you?
Continue Reading ›
The Saturday program at Mathare Community Outreach begins by focusing on the spiritual development of the children. It starts with devotions and worship and is followed by 30 minutes of small group Bible study.
For the children who have accepted Christ as their Savior, the center staff conduct a discipleship class which occurs during the Bible study.
In addition to the spiritual development of the children, the center has programs to address the physical, social and economic needs of the children.
The key factor in creating a stable economic future for the children is education; education is the key.
But beyond focusing on excellence in school, the center staff help identify and develop the talents of the children, musically and artistically, so they have even greater opportunities to succeed.
The center has a cooking program, choir and music program and drama team and works with the children to develop their public speaking abilities.
Here's a sample of what the kids are producing.
Continue Reading ›
I've been working at Compassion for eight months, and I dig it. I dig it like Dig 'Em digs Honey Smacks. There's good people here, plenty of parking, a fantastic view of Pikes Peak, stellar lunch specials at the New Dehli Café and of course, a job that makes a difference.
Howwwever, I work on a computer. And I tend to work on that computer all day long, with nary a break. I don't often make it to the café to enjoy my self-serve special for $4.99, and it really is special because I have a hand that serves and serves and serves.
I also frequently forget to take a breath and enjoy the view or even say cheerio to my co-workers. I glue my rear to my seat and my eyes to my monitor and there I stay for the day. Ugh!
And when I'm in this all-work mode, I often lose sight of why I'm working. I only see trees, no forest.
But all throughout the Global Ministry Center hangs artwork created by children in our sponsorship program. It's amazing artwork, not only because of the talent it illustrates but because it exists.
What if Compassion wasn't in this child's life? Would this talent have had an opportunity to develop? Would the art be given the chance to enrich other people lives, like it does mine when I scrape my eyes from my computer screen?
Here's what I'm talking about.
[flickr-gallery mode="photoset" photoset="72157631992881294″]
Continue Reading ›