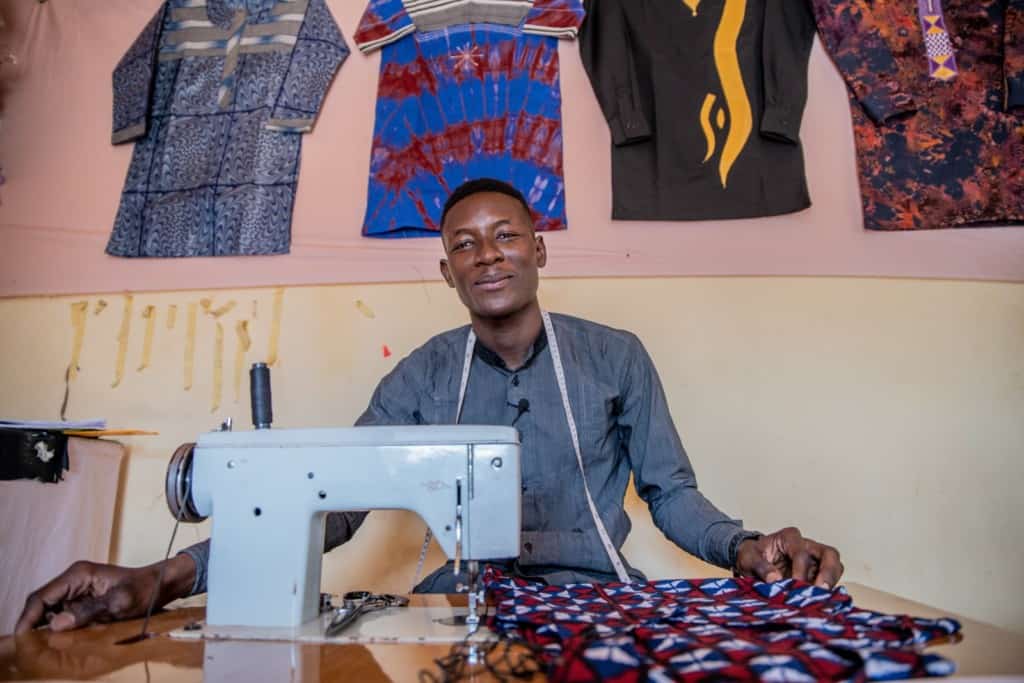 At Compassion, one of our highest goals is to help children grow to reach their full, God-given potential. Our Frontline Church Partners across the world invest deeply in each individual, helping them discover their talents and use their skills to escape poverty, bless those around them and glorify God.
Honore, Jandel and Karla are three extraordinarily talented young people from Compassion's programs. Each one, with the help and support of their local church, has discovered a passion, dreamed of how it could be expressed and worked to hone their skills. Read on to learn about how these youths are breaking the cycle of poverty and reaching their God-given potential.
Honore, Burkina Faso
Life was already challenging for Honore when he lost his father. Pegdewende, his mother, worked various part-time jobs to care for little Honore and his three siblings. Honore lived in a deeply impoverished region of Burkina Faso, and he needed to find his way to a better future.
As a teenager, Honore expressed a lot of interest in sewing clothes. "During school breaks, I enjoyed going into my brother's sewing workshop to help him. My sewing journey started in primary school," says Honore.
Throughout the years, Honore quickly improved his sewing skills; his desire was to start a fashion design business. His small income as an apprentice allowed him to afford his first sewing machine.
Thankfully, his local church's Compassion's center offered tremendous support to Honore in achieving his entrepreneurial dream. Participating in holiday youth camps allowed Honore to sharpen his skills in fashion design.
"The youth camp trainer realized that Honore was the most talented student," says Jude, the center director. "From there, we discovered his passion for sewing could allow him to become a great tailor. That is why the center provided two sewing machines for Honore to keep practicing and start a business."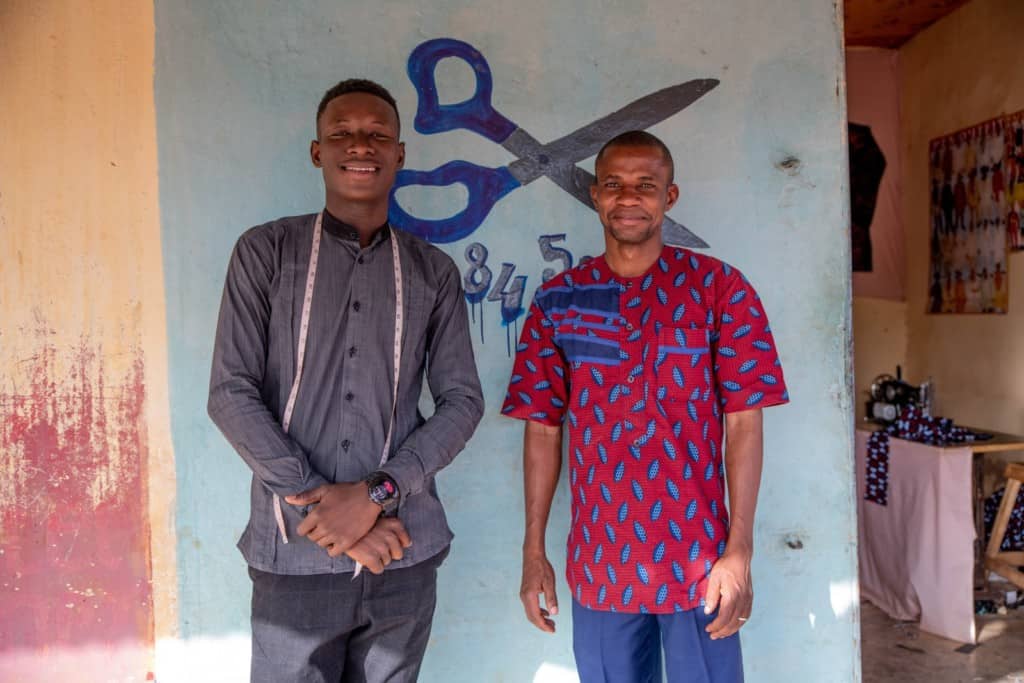 Honore reflects on the center's support: "I am happy that the center always walked alongside me in achieving my plans. The center director's thoughtful advice and encouragement allowed me to succeed in the national exams of sewing. I couldn't become a successful tailor without the unfailing support of the center staff."
Though the pandemic has wreaked havoc on many, Honore never gave up making his dreams come alive. And the center didn't give up either.
"I want the youth to have big dreams allowing them to reach their God-given potential," says Jude. "Honore was excited about fashion design and the church is ready to push him to the top of his ability."
Receiving the sewing machines has unlocked Honore's inspiration to become more creative in men's outfit design.
"It is my greatest joy and pleasure when I make new shirts for customers. I love to see people well dressed, so I spend my days taking customers' measurements and sewing beautiful African-style outfits with excellence to the satisfaction of customers," says Honore.
In November 2020, Honore was able to open his first workshop by the roadside. He says, "I thank God that my sewing business is growing well despite the current challenge of finding customers and the increasing prices of sewing materials due to the pandemic. But I have more than one reason to be happy and thankful. I have not only hired two people, but I can also contribute to the expenses of my family."
Honore's vision is to become one of the famous fashion designers in his city. "I am inspired by the work of a great fashion designer who makes clothes for famous people. I pray that my brand, HK Fashion, grows beyond the borders of Burkina Faso through quality work and its uniqueness," says Honore.
Because of the lack of job opportunities in his area, many young people are left hopeless and addicted to alcohol and drugs. But Honore is well prepared to exit the sponsorship program. He serves as a role model to other young people around him as he breaks the cycle of poverty within his family.
Jandel, the Philippines
The heavens declare the glory of God, and the sky above proclaims his handiwork.
— Psalm 19:1, ESV
To somehow capture God's magnificent work of art with our own frail human hands, through wistful brushstrokes and the lively combination of colors — this is Jandel's desire. He longs to use his brand of artwork as his voice, an expression of who he is and an agent to deliver the message of God and his faithfulness.
Jandel is 18 years old and a promising young artist and excellent STEM (science, technology, engineering and mathematics) student studying at a local public school in the Philippines. He hopes to combine these passions by becoming an architect someday.
"My favorite art style for now is surrealism and realism," he says. "What I love about these art forms is that there is no limit to what I can create. I can be playful with my ideas and just let my thoughts fly."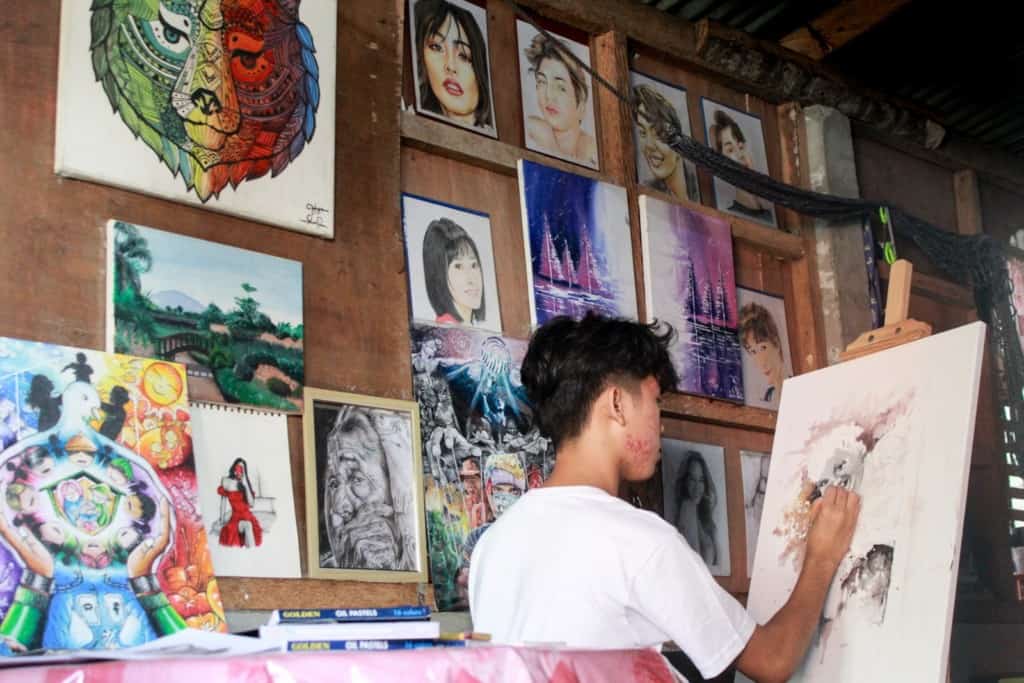 Jandel paints regularly, enters competitions and wins them, and even paints the plywood walls of his family's house. In 2019, he was the winner of Compassion Philippines' National Painting Competition. Yet, when he was little, he couldn't even finish a simple stick-house drawing.
"To be honest, I was not into art before," he says. "One day I asked my father, Jose, to teach me and show me how to draw. Little by little I fell in love with art. At 9 years old, I joined the Arts Club in my Compassion center. There I learned how important it was for me to use my God-given talent to glorify the Lord. And so I decided to practice and explore art to reflect God's glory."
Jandel is the youngest child of a hardworking farmer. Many Filipino farmers toil the land from sunrise to sunset with their trusted water buffalos using old, traditional farming tools. They earn very little, so Jandel's parents were delighted when their son was able to join Compassion's sponsorship program at 7 years old. For Jandel, it was the program that opened his eyes to the beauty of the arts.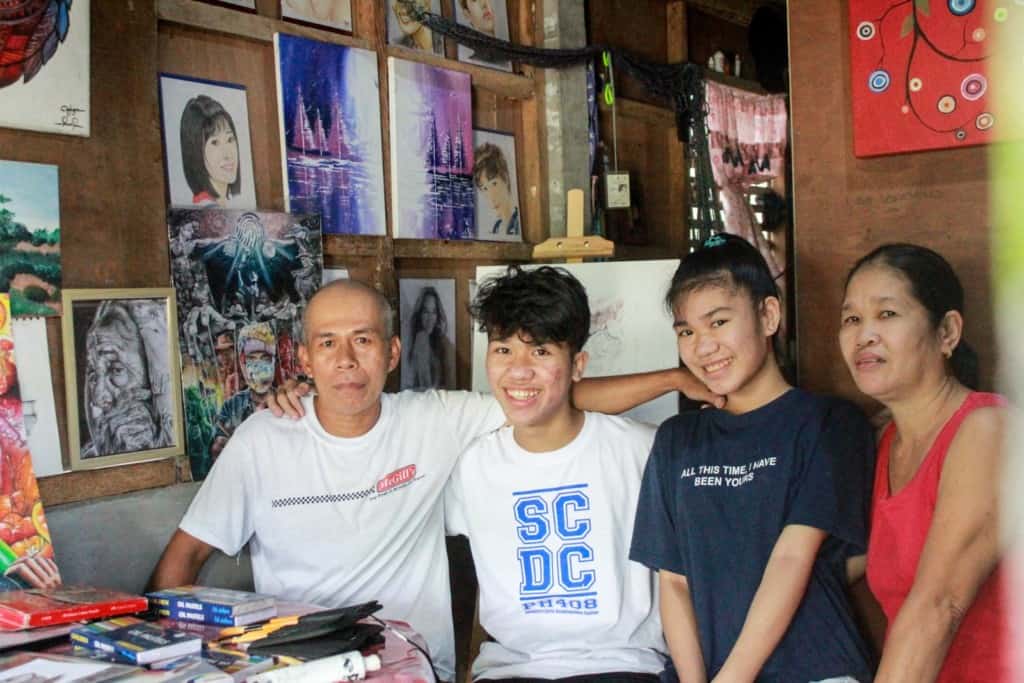 "The weekly art class at the Compassion center was my stepping stone," he says. "The staff supported me, and that enhanced my artistic skills and inclinations. They always encouraged me to enter art competitions, and that developed my self-confidence."
Today, Jandel is enjoying the opportunity to reach his potential and to express his "feelings and faith in [his] God" through his art, paintings and sketches.
Karla, Honduras
"Baking goes beyond the idea of sweet flavors to me. It's more about pouring love into each recipe," says Karla, a humble, smiley 15-year-old entrepreneur in Honduras. Karla developed a passion for baking as she watched cooking TV shows.
"Opening an oven with freshly baked pastry was all that I had in my mind, yet I lacked the experience."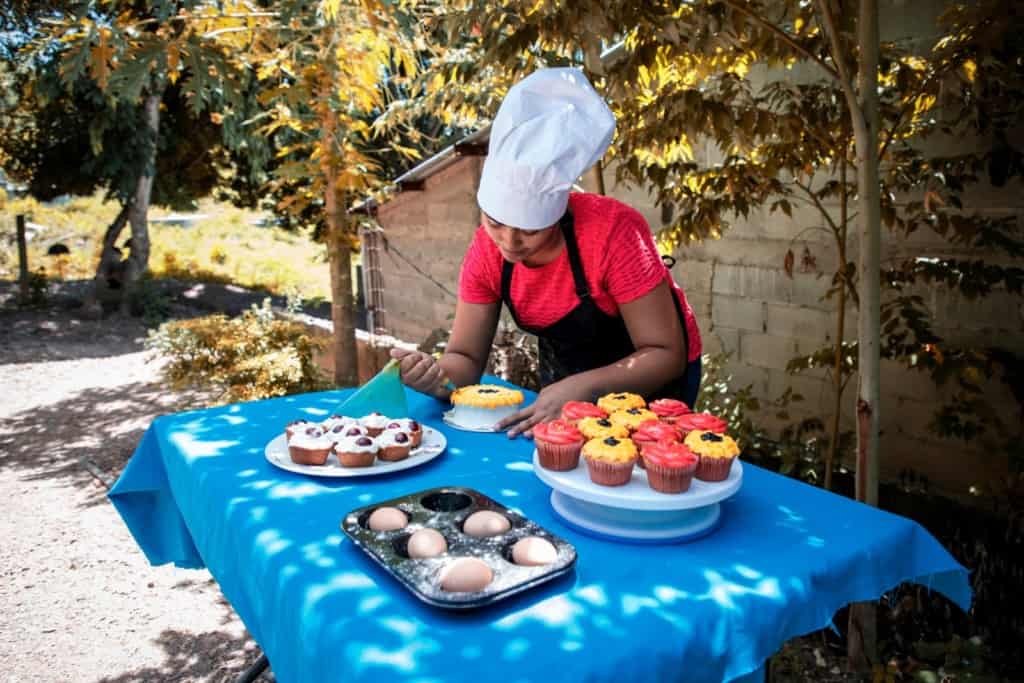 To fulfill her dream of making professional cakes and desserts, Karla wanted to study vocational training at a baking academy, but her family couldn't afford the costs. Karla's father is a construction worker, and he is the only provider for the family.
But Karla persisted in her pursuit of becoming a certified baker — with the help of her friends at the Compassion center. Youths in Compassion's program fill out a workbook called "My Plan for Tomorrow" in which they outline goals for their futures. They gain an opportunity that not many young people in poverty have — to reach their potential with the support of their tutors, church staff and sponsors.
"When I filled out my Compassion plan for the future, I stated that I'd love nothing more than to become a baker," says Karla. "From that moment forward, the center's staff has supported my dream."
Karla's talent, creativity and craftsmanship did not go unnoticed by the Compassion center's staff. Besides her baking, Karla is a talented painter, and art decorations came easily to her. But it was her work ethic and perseverance that convinced the staff that she would be a dedicated student.
"Karla is an inspiration to youths because she never gives up. Because of her perseverance and talent, she was granted a full scholarship to enroll in the bakery academy and she's thriving," says Johana, the center director.
Once a week, Karla takes a 30-minute bus ride from her community to the baking and pastry academy. Karla started her baking classes in February 2021, and her training has already paid off. Her cakes, danishes and more have become high-demand products for every local celebration.
As her bakery products became more popular, Karla was given access to an industrial stove at the Compassion center so she can now bake in bulk without delays.
Karla's sales and profits have helped her grow a thriving business. With the help of her father, Karla learned how to make detailed budgets that list her earnings and production expenses. Though Karla is still a teen entrepreneur baking at home, she's planning to launch a bakery shop in a couple of years.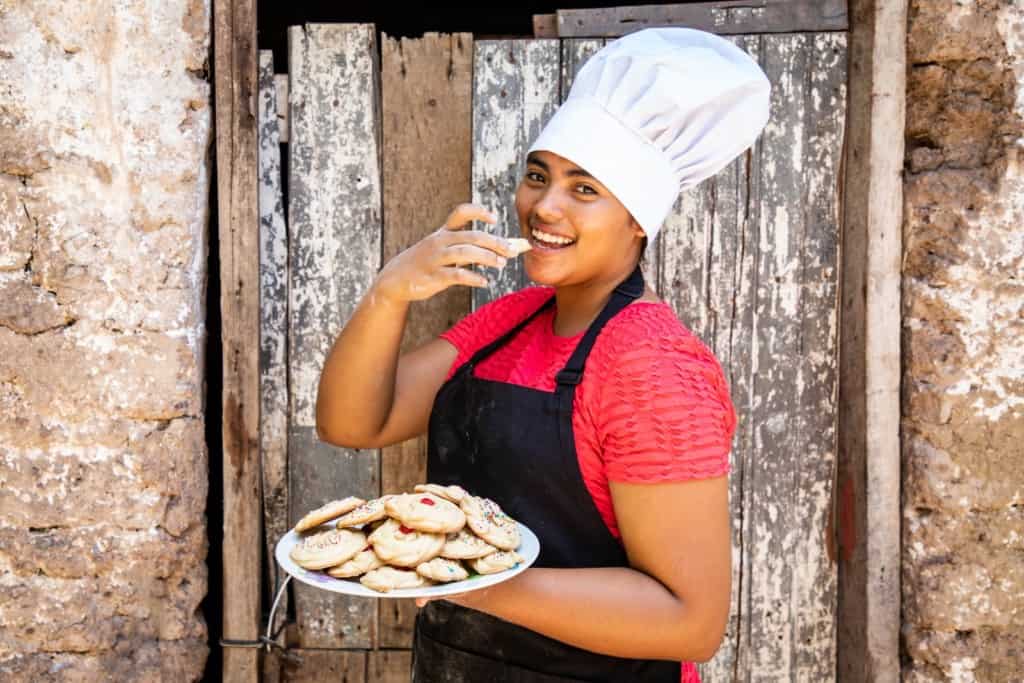 Besides cakes and pastries, Karla recently learned how to make pizza. Making pizza brings to mind good memories of her dear sponsor, Mary, who runs a restaurant of her own.
"I relate to my sponsor, Mary, because cooking is our thing. When I correspond with her through letters, I share my excitement when baking and making pizza and I know she gets me," says Karla.
Karla's childhood dream of putting on an apron and a baker's hat has come true. After a long day at the oven, Karla appreciates the flour and yeast stains on her apron because they represent how much she loves baking.
That, she says, is the reason why her cakes taste so good.
"My secret ingredients are love and dedication."
---
Reporting and photography by Edwin Estioko, Juana Ordonez Martinez and Jehojakim Sangare.