There are many sores in our society, but the one that plagues our world like no other is the AIDS pandemic. Those infected with HIV are treated like lepers and often ignored and shunned.
As the Body of Christ, caring about this disease, which is primarily spread through deviant behavior (though certainly not all the time), it is our chance to do the unexpected … to care for those infected with HIV, no matter the cause.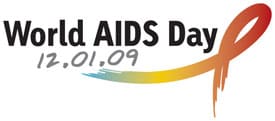 And with World AIDS Day next week, it's as good a time as any to act like the person who came to save us.
What Is AIDS?
Many people know the terms HIV and AIDS, and often use them interchangeably, and as a result, incorrectly.
HIV is a virus, the human immunodeficiency virus, one of the most persistent and complicated viruses of all time.
This virus causes the body to become immunodeficient, which means that it causes the body's immune system to be weakened, which makes the body's defense system not work as well as it could and as a result, become more susceptible to infections.
AIDS stands for acquired immune deficiency syndrome. AIDS is a result of HIV. It is the last stage of an HIV infection.
A person first gets HIV, and then later, usually years later, will develop AIDS.
A CD4 cell is a type of white blood cell sometimes called a T cell. A person is diagnosed as having AIDS when his or her CD4 cell count drops below a certain level, around 300 cells per millimeters cubed (mm3). The normal range is between 500-1,600 CD4 cells per mm3.
Over time, a person with HIV will lose these cells through destruction by HIV. Then that person will be more vulnerable to infections … opportunistic infections.
Without treatment, the opportunistic infections will eventually claim the life of a person infected with HIV. But treatment is available and it is called ART, which stands for antiretroviral therapy.
Because of the advent of ART, those who once were hopeless and waiting to die now have a second chance. But really why should we care about AIDS? (more…)
Continue Reading ›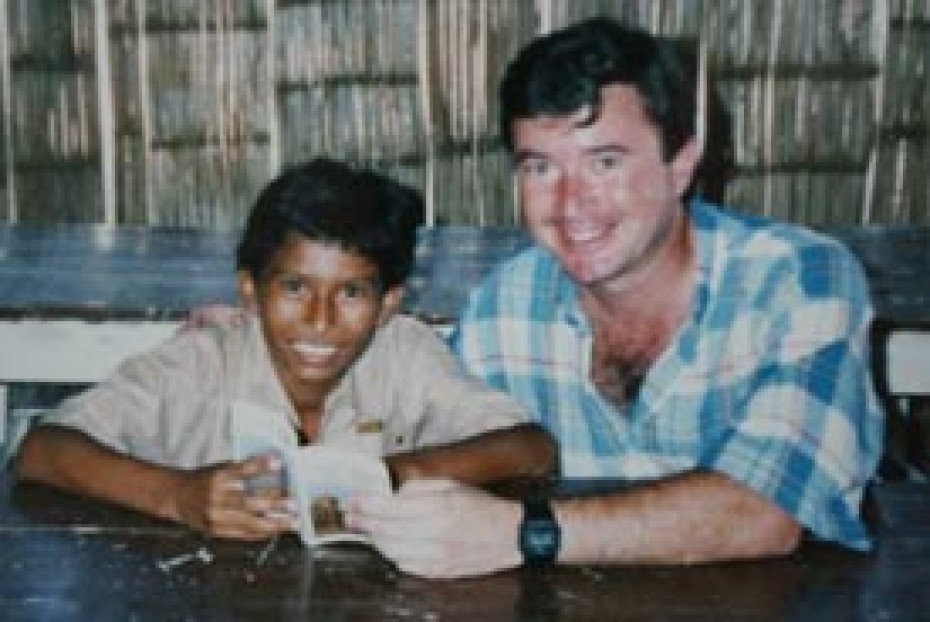 Allen Charles Graham is single, but he understands the meaning of the word "commitment." He started sponsoring children in 1989 when he lived in the United States, working at a TV network. Currently, he lives in Ecuador and is the Training Director at HCJB Global Voice radio station.
"This was something I always wanted to do ever since I looked at the advertising spaces in some magazines."
Allen had the opportunity to take a closer look to the blessing of sponsoring children when he came to Ecuador for the first time back in 1989 as a "working visitor" for HCJB. He was assigned a prayer partner, who happened to sponsor an Ecuadorian child.
When the prayer partner visited his sponsored child at the coastal city of Guayaquil (260 miles from Quito), he came back and he showed pictures to Allen and shared about that experience.
That was when Allen received that special motivation and knew he was going to commit to sponsor a child as soon as he went back to the United States.
Actually, that was one of the first things Allen did when he was back home. He looked for a Compassion ad in a magazine, cut the invitation to sponsor a child, filled it out, and sent it including this note: "I prefer an Ecuadorian child."
"In September 1989 I received a package with the information of a boy, Marcos from Guayaquil."
This boy, the first child he sponsored, was 10 years old.
Surprisingly, a couple of months later in 1990, Allen received an invitation to give some lectures at the English Fellowship Church in Quito. Of course, he took the opportunity to visit Marcos.
So in July of that year, Allen met Marcos in Guayaquil. Marcos was 11 years old by that time, and he just talked and talked all the time.
"I didn't speak Spanish and Álvaro, the translator, couldn't translate fast enough all the things Marcos said."
Sign language and, most of all, the language of love … hugs, tickles and smiles, let Allen and Marcos establish a strong friendship bond. When they were saying their good-byes at the airport, Marcos said, "I will pray a lot for you to come back to my country." … And God did answer his prayer!
Allen was called by God to move to Ecuador as a missionary. In March 1992, HCJB accepted his application and later that year he traveled to Costa Rica to learn Spanish.
August 19, 1993, is a day Allen will never forget since it was the day he arrived in Ecuador after a special call by God. He was not just willing to be a missionary with HCJB, but was yearning to see little Marcos again, for Marcos had stolen his heart, and God had listened to Marcos' innocent prayer.
Since that time, Allen has sponsored a half dozen children. He is currently sponsoring two children — a girl in Ecuador, Mariuxi, and a boy in Bolivia, Pedro.
From all those children, Marcos is the one who left a very deep imprint in the life of this communicator highly committed to children.
At the present time, Marcos is 30, and this sponsor/sponsored-child relationship has evolved almost into a father-son relationship. (more…)
Continue Reading ›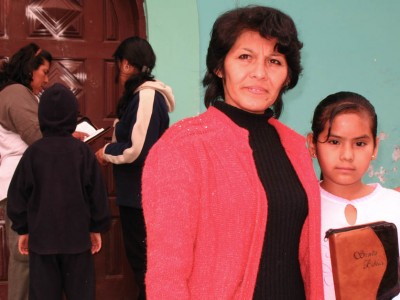 To talk about Easter is to talk about Christianity, and to talk about Easter in Peru is to talk about a variety of traditions in the country. The most common traditions began during the colonial times when the Spaniards brought their culture, and their religion, to Peru.
Continue Reading ›
Last week, I was able to attend the Willow Creek Association Leadership Summit at a satellite location here in Colorado Springs. It was so encouraging to hear many of the speakers talk about the need to lead people toward answering the Biblical mandate to speak up for and care for those in need.
Something Wendy Kopp said at the Summit struck me about how we approach leading others toward caring for those in need.
Wendy Kopp is the founder and CEO of Teach for America, a non-profit that asks college graduates to commit to two years of teaching in under-resourced schools.
She was asked how she approaches asking these graduates — some of who could otherwise accept six-figure jobs — to sacrifice so much, putting aside wealth and "success" to teach in schools many would avoid. She said (and this is paraphrased, as my little hand could only scribble so fast as she answered):
You're giving people an opportunity to be part of something larger, and of significance — people want that … are we afraid to ask people to sacrifice and set a high bar? Your own personal conviction about the work makes it easy to ask others to sacrifice because you're giving them a gift that will change their lives.
When we tell others about the opportunities to care for those in need, we might feel like we're putting a burden on them, but far from burdening them, we're giving them a gift. We're giving them the opportunity to enter into another aspect of our relationship with Jesus as we follow him.
Several times when talking with someone who has come across the book I wrote about responding to poverty, they say they're scared to read it. So many are scared of this issue of poverty, and understandably so — it's big and hairy and complicated. And God might ask us to do scary things.
But I think there's a third reason people are afraid of poverty — they're worried a big, fat load of guilt is going to be placed on their shoulders. We've been bombarded by so much guilt when it comes to poverty, seeing so many images that evoke guilt and being told "shame on you for drinking that Starbucks instead of caring for a baby."
Are we guilty for not responding to God's mandate to care for those in need? Yes, but God hasn't appointed us as judges of others. He has appointed us as messengers of his grace. And I think when we do approach others not with guilt but with grace, they grasp that helping those in need isn't about checking off a requirement on our good-Christian to-do list so that we can not feel so guilty. It's about our relationship with Christ — about following him, obeying him, and knowing him all the more as we become like him in our service to others.
"He defended the cause of the poor and needy, and so all went well. Is that not what it means to know me?" declares the Lord. (Jeremiah 22:16, NIV, emphasis added)
Continue Reading ›