My sister thinks I'm nuts. My friends think I'm developing an addiction. Truth be told, I just love writing letters to the kids I sponsor!
I find writing letters easy and fun, yet I've spoken to many sponsors who find it difficult. Fancy templates and ease of attaching photos are great, as are ideas about what to send with your letters. Compassion even has a Pinterest board to collect ideas. But all of this doesn't help if you struggle with finding words and putting them together.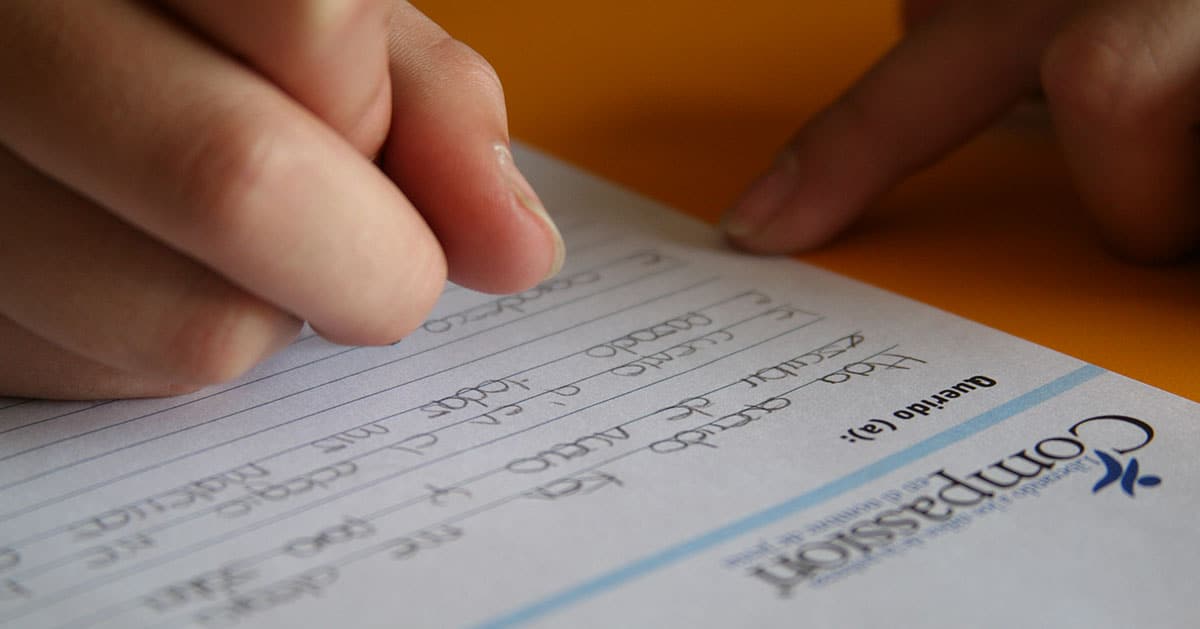 For sponsors who know the importance of letters but aren't good with words, encouragement to write can bring on the guilt. Feel guilty no more; here is a solution for you!
Below are a few sample letters I've written for you to COPY, (yes, you're allowed to be a copycat), and simply change the details, like names, to customize to your life.
If you also find letter writing a breeze, write a sample letter in the comments below, and between us there should be plenty of samples for others to choose from.
Dear Gasore,

Thank you for all your letters and drawings. I hope you and your family are well. I am well.

I have your picture on my desk at work. You are very handsome.

I have 2 cats. Seth is a black and white boy cat and Phoebe is a striped girl cat. Do you have any pets?

Love from Gail
(photo of cats could be attached)
Dear handsome Ruan,

Thank you for your letters. I enjoy hearing from you.

I pray for you and your family often. I hope you are all well.

I work for Compassion Australia. I work in an office as a Project Manager. What would you like to do for work when you grow up?

Please pray for me that I will do my best at work.
Love and hugs from Gail
To my beautiful Maria,

Thank you for your letters. I really like your drawings, particularly the princess one.

I have been reading in my Bible about Esther. She was a very brave queen who stood up for God. Have you learned about Esther?

I pray that God will help you be brave when you need to.
With love and hugs, Gail
(you may want to send an Esther coloring in sheet or book)
To my very clever Carlos,

Thank you for your letters and your prayers. I feel very special knowing that you pray for me. I pray for you too.

I am so proud of how well you are doing at school. I am well. It is summer here and very hot.

We live near the beach and go there on hot days to play in the cool water. Do you live near the beach or a lake?

Love and prayers from Gail
In my experience I've found that the first couple of letters to a child are fairly easy as you cover the basic facts: name, age, family introductions, what you do for work, favorites, pets. But after you've told them all that, what do you write next? Here are some samples for that as well.
Hello my Manuel

G'day from Australia! I pray that you and your family are well. Thank you for your drawings and letters. You are very good at drawing!

I have been studying the life of Joseph in the Bible. He is one of my favorites because even though his life had some very horrible times, like being a slave and being in prison unfairly, he still trusted in God and believed that God would bring his dreams to pass. My favorite memory verse about Joseph is Genesis 50: 20 where Joseph says: "You meant to harm me, but God meant it for good."

I hope you like the postcard of the wombat I am sending you. Wombats are the size of a jelly bean when they are born but grow to 1 metre long. They live in burrows in the ground and come out at night or on cloudy days to find grass and roots to eat. We rarely see wombats in the city, but country people see them sometimes. I have seen some at the zoo.

With lots of love to my precious Manuel! Gail
(postcard or picture of wombat attached)
Hello my very special Kirubel

I am very proud of you for doing so well in your school work. I pray that God will help you in your studies. Please pray for me to do well at my university studies too.

With this letter I am sending you a photo of my brother Paul and my mom and dad. This photo was taken when my brother Paul graduated from college. He got his diploma in outdoor recreation. Paul doesn't like doing school work very much, so this was a big challenge for him. We were so proud of him for finishing his course.

Do you like school? What is your favorite subject? My favorite subject was history, and I didn't really like math.

Please tell your family I love them and pray for them.

I love you heaps! Gail
(photo of graduation attached)
Please share this with all your sponsor friends and let's see more children receiving letters!
If you're not already in a loving relationship with a child in our holistic child development program through sponsorship, consider sponsoring a child today. Your financial support and encouragement through letter-writing can make an eternal difference for a child living under the weight of extreme poverty.
---
We originally published this post on December 7, 2011.