Young women around the world are affected by what's referred to as period poverty. Being unable to afford feminine hygiene products can lead to serious problems for these girls. But this community in Uganda is combatting period poverty – even the men are getting involved to support their wives and daughters!
Continue Reading ›
Have you ever wondered if the child you support has multiple sponsors? We've found our approach to be transformational to every child and sponsor.
Continue Reading ›
I'm not sure that I should be admitting that given that I work for Compassion, but there it is. At 31, I'm part of a generation of Canadians for whom letter writing is virtually a foreign concept.
Facebook? No problem. Twitter? Easy. E-mail? Sure. But to sit down and write a letter? That's different.
Continue Reading ›

Hey all, Aaron from Compassion Canada here.
We recently asked Pastor Tim Bailey of Hillside Church in London, ON, the question "What is compassion?" We liked his answer so much that we wanted to share it with all of you. Enjoy!
Her bottom lip quivered as her fingers nervously played with her hair band. Her eyes glanced quickly from side to side, as if expecting to run at any moment. Her knee bounced to the beat of her heart as she listened passively to my questions.

She was a Restavek child from the depths of Port-au-Prince, Haiti, and without the knowledge of her owners, she was meeting with us to tell her story.

It was the story of a concrete mattress, early morning chores and constant abuse. It was a story of an uncle who was using her as his own personal slave.
Continue Reading ›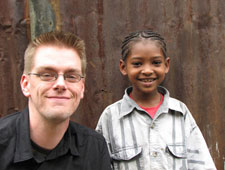 Hello Compassion Blog readers. My name is Aaron, and I'm a member of the marketing and media communications team at Compassion Canada.
I'll be honest, I feel a little strange writing on a blog — I normally spend a lot of time teasing the "pajama-hadin" (Google it and thank me later).
I never thought I'd become a part of it. Please pray for me. Winter's barely started, and I'm already feeling a little cagey.
Anyway, the reason I'm here is to let you know about a new feature we've introduced in the latest issue of Compassion Today, Heart of Compassion.
Heart of Compassion gives you an opportunity to share your stories! How did you become a sponsor? What's something really unique about the relationship between you and your sponsored child? How has sponsorship affected your life, for God's glory and your joy?
We want to know your story! Post your story in the comments section here or e-mail them to think@compassion.ca. We'll publish our favorites in an upcoming issue of Compassion Today.
Happy Monday.
Aaron
Continue Reading ›