"Carpentry is not very common for women here in Guatemala. It has been long considered a male profession. That can trigger thoughts like … 'I shouldn't be there, I'm not supposed to do that.'" – Elby Rivas, Compassion Program Director
A Devoted Servant
Elby Rivas, Compassion Program Director for Getsemani Christian School in San Pedro Necta, Guatemala, has devoted her life to providing children with opportunities to thrive. She also teaches students at the local high school and knows the importance of investing in young women. And the impact of encouraging them to break social occupational norms.
So, through the youth development program, Elby's Compassion center decided to open a wood shop and provide an income-generating class for interested young adults. Despite the cultural perspectives of women in such roles, they encouraged both boys and girls to enroll.
A major problem in her community is that many young people graduate without a prospect of any kind of career.
"The children that participate in the program are poor. Their fathers are peasants, and their mothers are housewives. They don't have a steady job," she says.
Therefore, convincing the girls at the center to overcome their insecurities of social norms could be life-changing and help them establish a sustainable future.
At first, Elby found it difficult to convince the girls that the class and profession wasn't just for boys, but for them, as well. But once the girls tried it, bravely stepped out and swung a hammer of their own, they couldn't stop. The students are passionate about what they're learning and the skills they're acquiring. Now, they can't get enough of it!
An Impressive Student
When thinking of passion, no student stands out more to Elby than Lucerito — a young woman who's taken quickly and competently to crafting handmade furniture. She's turning heads with what she's able to make in the shop.
But her story didn't start off this way. Lucerito faced a time in her life that may have held her back from ever seeing her full potential.
"Lucerito comes from a very poor family. Her most supportive family member is her mother. We've heard very little of her father. There was a time when she was about to abandon the program," says Elby.
Lucerito described it as a time when she "became a bit rebellious." Like most children, she didn't want to do what her parents told her. So if that was to spend time at the local church and take more classes, she'd rather do anything but that. But her loving mother and Elby wouldn't give up on her.
"We started talking with her mother, and together we were able to motivate Lucerito to come back to the program. Since then, she has excelled due to her relentless attendance and involvement in the program," shares Elby.
Once she got her hands on a sanding block, a lathe and the right saw blade, she was hooked. She really began to stand out among her peers with what her hands were able to create!
"I like everything about carpentry, whether it's sanding or trimming or working on designs for what we're going to do," Lucerito says.
A Helpful Guide
But Lucerito couldn't have done it alone. Every accomplished student needs a great teacher. And for these students it's Alfredo Villatoro. He's the guiding force that is training and challenging them to achieve their goals.
"You have to have patience because … not everyone works the same way. … So mostly patience and love … for those kids are required for the job." – Alfredo Villatoro, Carpentry Instructor
Alfredo has a diverse repertoire of skills — woodwork, masonry, mechanics and even electrical work. Like Elby, Alfredo recognizes the need to provide children with strong career-centered skills. That's why he's excited to see such exceptional potential in Lucerito to become a master carpenter.
A Focused Program
"It's clear that before, women were often discriminated against. I think it's very important that women, alongside men, learn a great career like carpentry. If a man is a pilot, why can't a woman be a pilot too?" asks Alfredo.
The skills-training offered at Getsemani Christian School help challenges the misconceptions in their community that women shouldn't perform certain roles. Historically male-occupied professions — including farming, agriculture, woodwork, masonry or raising livestock — are being taught to boys and girls and offered up as career paths to whoever may be interested.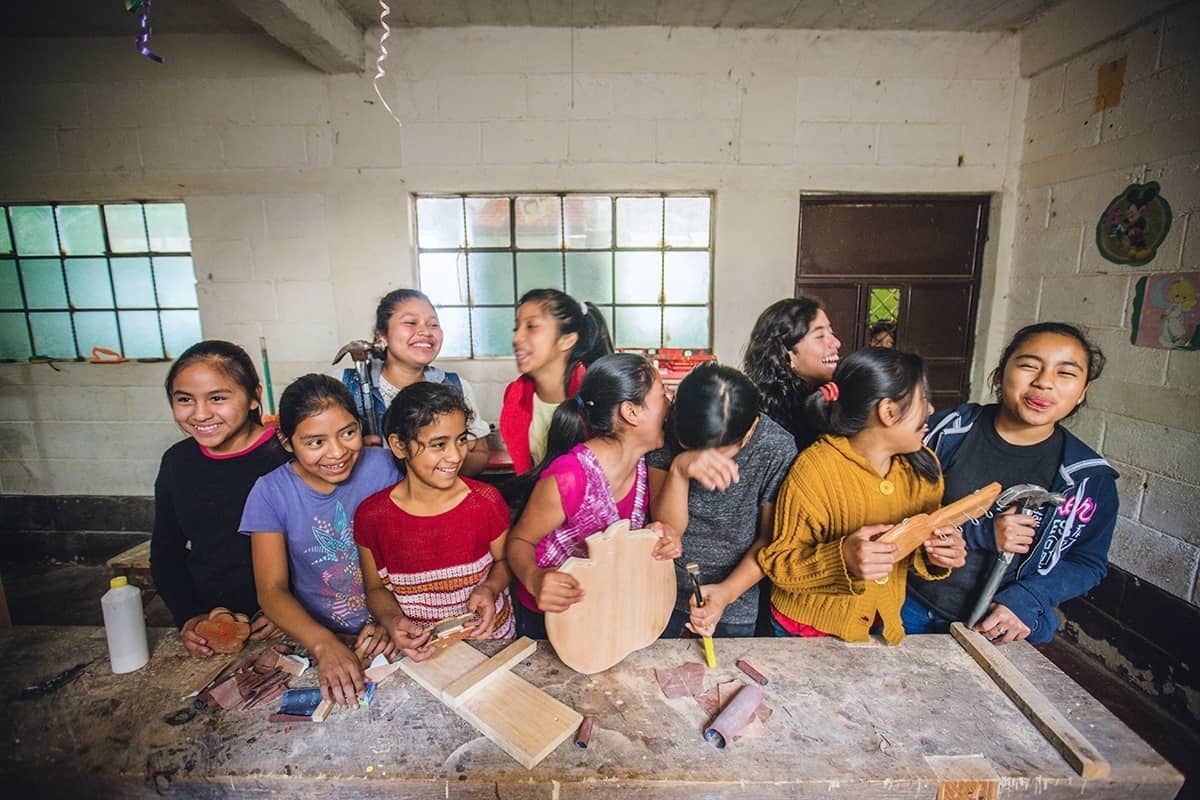 "The carpentry workshop breaks the barrier that says, 'a child's fate is the poverty of the parents, and they will follow in their footsteps,'" says Elby.
A Support to Families
The students offered not only training for their future, but also a way to provide for their family. Half of every sale goes to buying materials to make more furniture and the rest goes to the carpenter who crafted it. This allows them to help provide for their families' immediate needs or save for their future careers.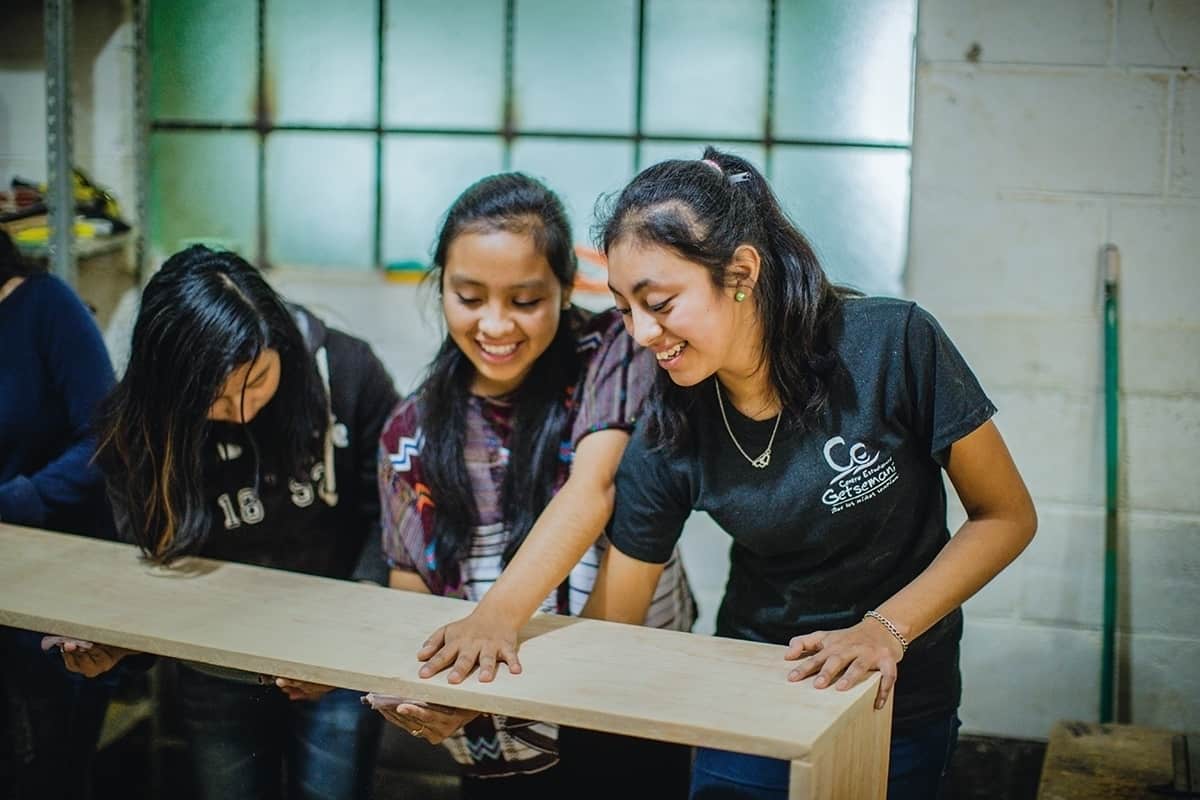 "It gives me great joy because I feel confident. I really can do it and, in the future, I will continue to see what I can create to help others," Lucerito says.
Watch Lucerito's Story
Watch Lucerito's Story and subscribe to Compassion YouTube for more stories.
Give Young Adults Tools for Life
When you donate to the Youth Development Fund, you give students the additional support and education they need to build a thriving future and achieve their potential. You are providing them the tools they need to succeed!
Help students build a better future >>>