As I look into my life, one thing stands true. God is faithful, and He knows the plan He has for each and every one of us. Jeremiah 29:11 has come true in my life.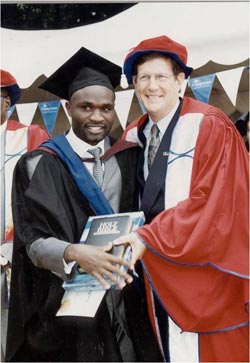 I graduated in 2005 from Daystar University with a degree in community development. Upon graduating, I became a volunteer at my local child development center, helping Compassion kids with letter writing, doing devotions and sharing my Compassion story as a way of encouraging them.
I also worked on a part-time basis with Compassion Kenya as a research assistant. Among the research I helped coordinate was a study on the impact of Compassion's programs on its graduates.
Between July to October 2006, God opened an opportunity through Compassion for me to be a voice for the voiceless in various venues and forums throughout the United States, speaking on behalf of children living in poverty in today's world, drawing upon my experiences as a former participant in Compassion's sponsorship program.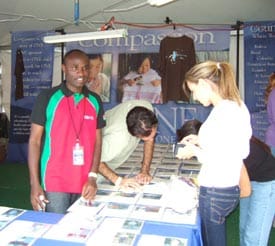 My role as an ambassador was to speak on behalf of Compassion International in seeking to acquire new sponsorships and deepen the level of trust among current sponsors and donors.
I thank God, because more than 1,000 new sponsorships were acquired during the speaking engagements in the United States.
In February 2008, I had the opportunity to engage in a series of speaking engagements with Tear Fund NZ. I was hosted as a guest in one of the Christian media houses during Compassion Day and also spoke in different churches and institutions on the need and benefit of child sponsorship.
God has been preparing me to embrace a great vision; I thank God for ordering my steps in life. I am currently working as a community development manager with a nonprofit based in Kenya with its head offices in Atlanta: 410 Bridge Ministry.
Read the

July 2007 LDP Newsflash

featuring Paul's post-LDP work at 410 Bridge Ministry.
I have observed with varying degrees of frustration how lack of Godly leadership has plunged Africa into a myriad of problems, as children continue to suffer innocently and give up on their dreams.
I am ready to be used by God to transform Africa to become a continent after God's heart.
I believe that each child should be given an opportunity to live his or her dream; we should not allow poverty to rob, crush and destroy the God-given potential of any child. Those who do not live their dreams often become cynical about their future as poverty robs them of childhood hopes and expectations.
I consider myself a voice for the voiceless, bearing testimony to the biblical truths that God has the best plan for children. It goes without saying that if you invest in the life of a child, you touch a family. If you touch a family, you transform the society. If you transform the society, you change the nation. And if you change a nation, you make the world a better place to live in.
*This content honors our historical Leadership Development Program. To learn more about our current youth development opportunities, click here.
Continue Reading ›
From yesterday's post:
By the time I had completed high school, I did not know what the next step would be for me, because in Kenya at the age of 18 years I was due for graduation from the Compassion program and that was it.
---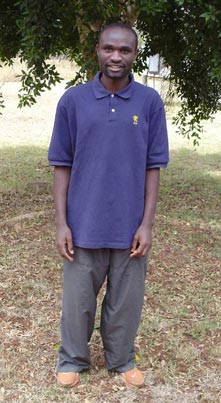 I heard of the Leadership Development Program* (LDP) from the social workers at the child development center at a time that I was praying and trusting in God to take me to college.
I had done well in my exams, and Compassion was looking for young outstanding Christian men and women who had been through the Child Sponsorship Program to develop through educating, training and discipling them into servant leaders.
The aim was to equip the people to impact their community in their various spheres of influence.
I thought this would give me an opportunity to pursue my dream. I did not hesitate to apply after getting the recommendation letters from my pastor and social worker at the program center.
The challenge was that the Leadership Development Program in Kenya could only take 20 students, yet there were many child development centers in Kenya with equally outstanding Christian young men and women with great potential.
The interviews were vigorous; candidates were to exhibit Christ-like character, commitment to a local church, outstanding academic performance, and leadership ability, among other things.
Joining the program as one of the first 20 students in LDP-Kenya was nothing short of a miracle.
I remember joining Daystar University in Kenya to pursue a degree in community development. That was a great achievement not only for me, but also for my family, church and community. So many people started looking up to me to help them make decisions in almost all areas of life.
The church had me serve in Sunday School, Mission and Outreach Board, School Board and Clinic Board. My dad made a habit of consulting me always in the major decisions that concerned the family — that is not so common in Kenya.
Missions and outreach activities that were organized by LDP-Kenya in rural parts of the country are memories that I still hold dear, even after graduating from the program.
We would go to the villages as LDP students, do door-to-door evangelism and do community service like helping with digging, washing clothes and dishes, and fetching water and firewood.
The most exciting moments were seeing the villagers come to accept Christ as Lord and Savior of their lives. They were often humbled by the way university students would come to their level and just be friends.
Being linked to a mentor to walk me through my spiritual and career life was also something memorable. Training workshops organized by Compassion and also opportunities to meet other LDP students from neighboring countries like Uganda and Ethiopia are memories that will not fade easily.
The opportunity to serve as the first LDP-Kenya student leader was a good training ground for me in taking up future leadership roles in the community, the country and Africa — transforming lives of many in a godly way.
Still as LDP students, we undertook to sponsor a girl from another country through Compassion as a sign of giving back; we still sponsor the young girl — from sponsored children to sponsors of children!
Finally, winning a scholarship for an exchange program between Daystar University and Gordon College in Wenham, Massachusetts, for a semester in 2003 was a life-changing experience as well that I am grateful to God for.
*This content honors our historical Leadership Development Program. To learn more about our current youth development opportunities, click here.
Continue Reading ›
From yesterday's post:
I was among the first lucky ones to get a sponsor, and when I did I had a new family — the Pendleton Browns from Atlanta, Georgia.

Every Saturday I attended the Compassion Saturday program. When I was first enrolled I knew for sure the weekly meetings would interfere with my soccer time, which was also on Saturdays. But when sports were introduced I became comfortable with the idea of attending.
---
As a kid, I often played at the dumping site and scavenged for edibles that the various companies and airlines disposed of at the site. My friends and I named the dumping site "Chombo." Chombo is a Swahili word meaning machine.
We named the dump "Chombo" because we found biscuits disposed of by factories that the machine did not cut into the correct shape. Most boys ended up not going to school, but found a home in "Chombo."
Not many kids made it to high school in my neighborhood, basically because of two reasons; one, to make it to high school, there is a national exam that one has to take. Passing this exam is not easy as such, and if one never makes it in the exam, then there is no place for him or her in high school.
Another reason is that, even if some make it in the exam, they fail to join high school because they cannot afford the school fees.
I thank God for Compassion because it ensured that my school fees were paid for in high school. My sponsor family also encouraged and believed in me, hence I did so well in my exams and joined a government high school.
Some of the kids I grew up with did not get the opportunity to join high school. Most boys went into drug addiction and to nurse their drug addiction, they turned to crime.
Ladies turned to prostitution, and most of them had babies as early as 14 years old.
I saw more than 15 boys I grew up with either being shot down by the police or being stoned to death by mob justice. The community was just fed up with crime and took the law into its own hands.
An event that turned my life is when I saw one of the young men I grew up with and even shared classes with being chased down the streets. Later, the crowd caught up with him, stoned him to death, and set his body ablaze.
I later learned that this young man had stolen an electronic gadget worth maybe less than $100. It saddened me seeing my friend die in the hands of an angry mob.
For a long time I blamed myself for not sharing my faith with him. I resolved to join an evangelism and discipleship class in church popularly known as Campus Crusade for Christ. Here I had opportunity to learn how to share my faith and I saw my friends come to Christ, though some rejected.
By the time I had completed high school, I did not know what the next step would be for me, because in Kenya at the age of 18 years I was due for graduation from the Compassion program and that was it.
For sure, high school education alone could not help me achieve my dreams. I became sad. I really had the desire to proceed with my education, but I knew without the help of Compassion I was not going to make it.
One thing surprised me, though; I did well again in my Kenya Certificate of Secondary Education exams. I became a role model in my community, and I often had parents send their kids to me to talk to them.
I had an interest in teaching kids in church; I found it fun singing with 8- and 9-year-olds and teaching them Bible stories. I also continued sharing my faith in the neighborhood through door-to-door evangelism.
Continue Reading ›