As I look into my life, one thing stands true. God is faithful, and He knows the plan He has for each and every one of us. Jeremiah 29:11 has come true in my life.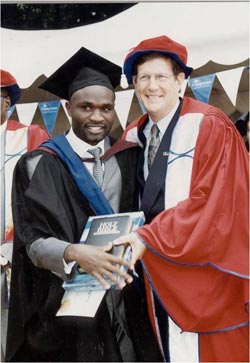 I graduated in 2005 from Daystar University with a degree in community development. Upon graduating, I became a volunteer at my local child development center, helping Compassion kids with letter writing, doing devotions and sharing my Compassion story as a way of encouraging them.
I also worked on a part-time basis with Compassion Kenya as a research assistant. Among the research I helped coordinate was a study on the impact of Compassion's programs on its graduates.
Between July to October 2006, God opened an opportunity through Compassion for me to be a voice for the voiceless in various venues and forums throughout the United States, speaking on behalf of children living in poverty in today's world, drawing upon my experiences as a former participant in Compassion's sponsorship program.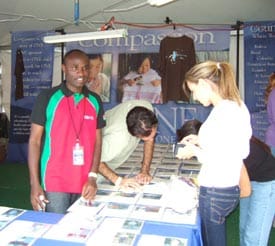 My role as an ambassador was to speak on behalf of Compassion International in seeking to acquire new sponsorships and deepen the level of trust among current sponsors and donors.
I thank God, because more than 1,000 new sponsorships were acquired during the speaking engagements in the United States.
In February 2008, I had the opportunity to engage in a series of speaking engagements with Tear Fund NZ. I was hosted as a guest in one of the Christian media houses during Compassion Day and also spoke in different churches and institutions on the need and benefit of child sponsorship.
God has been preparing me to embrace a great vision; I thank God for ordering my steps in life. I am currently working as a community development manager with a nonprofit based in Kenya with its head offices in Atlanta: 410 Bridge Ministry.
Read the

July 2007 LDP Newsflash

featuring Paul's post-LDP work at 410 Bridge Ministry.
I have observed with varying degrees of frustration how lack of Godly leadership has plunged Africa into a myriad of problems, as children continue to suffer innocently and give up on their dreams.
I am ready to be used by God to transform Africa to become a continent after God's heart.
I believe that each child should be given an opportunity to live his or her dream; we should not allow poverty to rob, crush and destroy the God-given potential of any child. Those who do not live their dreams often become cynical about their future as poverty robs them of childhood hopes and expectations.
I consider myself a voice for the voiceless, bearing testimony to the biblical truths that God has the best plan for children. It goes without saying that if you invest in the life of a child, you touch a family. If you touch a family, you transform the society. If you transform the society, you change the nation. And if you change a nation, you make the world a better place to live in.
*This content honors our historical Leadership Development Program. To learn more about our current youth development opportunities, click here.