From yesterday's post:
Compassion staff decided to extend grace and enroll ages 4 to 12 years.

That was the moment I knew I was now completely netted. I could see my mother smiling broadly after the pronouncement. She had her fingers crossed all this time.
---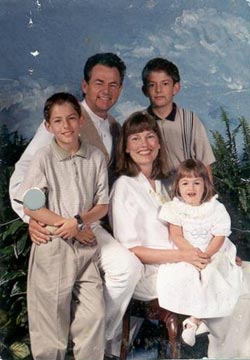 I was among the first lucky ones to get a sponsor, and when I did I had a new family — the Pendleton Browns from Atlanta, Georgia. I became a big brother.
They had two sons: Eliakim, who was 5 at the time, and Ace, who was 4. Later my sister, Hossanah Joy Brown, was born.
I remember going to school with the family photo they had sent me, and when I showed it to my friends, they asked me, "Who are those?"
I answered them with so much joy — "My family in Atlanta!"
One of the kids gave me a mean look, then replied, "Hmm … they're white and you're black."
Sure enough, it did not matter to me what color they were or what color I was not. All I knew is that I had found a family. I cherished every single letter they wrote me.
Every Saturday I attended the Compassion Saturday program. When I was first enrolled I knew for sure the weekly meetings would interfere with my soccer time, which was also on Saturdays. But when sports were introduced I became comfortable with the idea of attending.
I looked forward to receiving a letter or photo from my family, and if I did not get one, I went home unhappy thinking that maybe I did not do a good job in replying to their last letter.
Compassion took care of my educational needs by buying school uniforms, books, clothes and other necessities. This played a big role in restoring my self-image because I used to go to school in a torn pair of shorts that had patches all over and some of my classmates made fun of me.
Medical care was also provided by Compassion, which played a great role in ensuring that we had access to better medical facilities.
Health screenings at the child development center ensured monitoring of health conditions and those cases were referred to the medical facility before it was too late.
Spiritual development through the Saturday devotion program and Bible study at the child development center facilitated my decision to receive Christ as my personal Savior at the age of 15 when I was in high school.
I became an active Bible Study leader and during Compassion Sunday, I got a couple of opportunities to preach and share my testimony before the congregation in church.
During the vacation, the child development center organized camps, hikes and game park tours. My social life was now active through exposure from various activities offered by the center.
Life skills training also became an integral part of life at the child development center. I learned soon how to cook, weave and how to operate computer applications.