From yesterday's post:
By the time I had completed high school, I did not know what the next step would be for me, because in Kenya at the age of 18 years I was due for graduation from the Compassion program and that was it.
---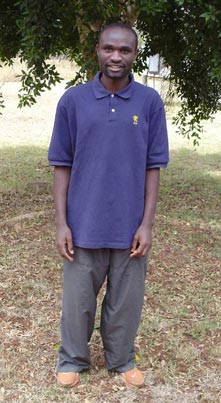 I heard of the Leadership Development Program* (LDP) from the social workers at the child development center at a time that I was praying and trusting in God to take me to college.
I had done well in my exams, and Compassion was looking for young outstanding Christian men and women who had been through the Child Sponsorship Program to develop through educating, training and discipling them into servant leaders.
The aim was to equip the people to impact their community in their various spheres of influence.
I thought this would give me an opportunity to pursue my dream. I did not hesitate to apply after getting the recommendation letters from my pastor and social worker at the program center.
The challenge was that the Leadership Development Program in Kenya could only take 20 students, yet there were many child development centers in Kenya with equally outstanding Christian young men and women with great potential.
The interviews were vigorous; candidates were to exhibit Christ-like character, commitment to a local church, outstanding academic performance, and leadership ability, among other things.
Joining the program as one of the first 20 students in LDP-Kenya was nothing short of a miracle.
I remember joining Daystar University in Kenya to pursue a degree in community development. That was a great achievement not only for me, but also for my family, church and community. So many people started looking up to me to help them make decisions in almost all areas of life.
The church had me serve in Sunday School, Mission and Outreach Board, School Board and Clinic Board. My dad made a habit of consulting me always in the major decisions that concerned the family — that is not so common in Kenya.
Missions and outreach activities that were organized by LDP-Kenya in rural parts of the country are memories that I still hold dear, even after graduating from the program.
We would go to the villages as LDP students, do door-to-door evangelism and do community service like helping with digging, washing clothes and dishes, and fetching water and firewood.
The most exciting moments were seeing the villagers come to accept Christ as Lord and Savior of their lives. They were often humbled by the way university students would come to their level and just be friends.
Being linked to a mentor to walk me through my spiritual and career life was also something memorable. Training workshops organized by Compassion and also opportunities to meet other LDP students from neighboring countries like Uganda and Ethiopia are memories that will not fade easily.
The opportunity to serve as the first LDP-Kenya student leader was a good training ground for me in taking up future leadership roles in the community, the country and Africa — transforming lives of many in a godly way.
Still as LDP students, we undertook to sponsor a girl from another country through Compassion as a sign of giving back; we still sponsor the young girl — from sponsored children to sponsors of children!
Finally, winning a scholarship for an exchange program between Daystar University and Gordon College in Wenham, Massachusetts, for a semester in 2003 was a life-changing experience as well that I am grateful to God for.
*This content honors our historical Leadership Development Program. To learn more about our current youth development opportunities, click here.