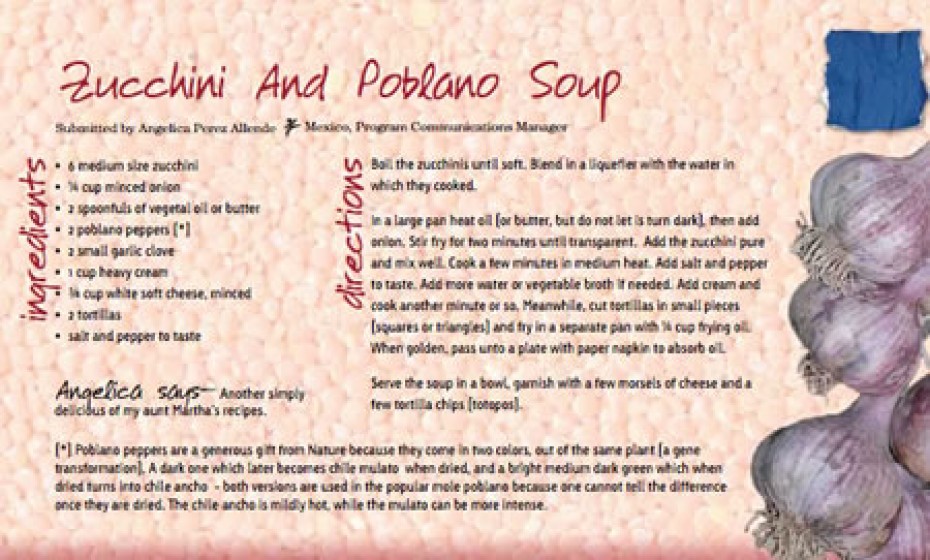 While making zucchini and poblano soup, Becky got in touch with her inner celebrity chef and took some creative license with the recipe. Which means — she winged it!
Continue Reading ›
I know so many of us are riveted to the news, to our emails, to Facebook, or wherever else we can scrap together some information about the Haiti earthquake. Many of us are wishing there was something more we could do to help, some way to respond to the unimaginable things we are seeing.
There is one vital action that is always open to us: Prayer.
"And pray in the Spirit on all occasions with all kinds of prayers and requests. With this in mind, be alert and always keep on praying for all the saints." – Ephesians 6:18 (NIV)
If you're trying to find someway to respond, consider calling together a prayer group. Spend the night praying for Haiti and make one of the most traditional Haitian dishes, Soup Joumou, which they use to celebrate the new year.
Things to Pray:
For the safety and rescue of David Hames and for peace and encouragement for his family
For those still trapped in the rubble
For those working to rescue people
That roads would be passable to get in water, food, medicine, and other aid
For our staff, church partners, and children
That reliable communication channels can be established
For efficient and strategic responses to the crisis
For God's will to be done
For God to get all the glory
Ask your friends to each bring $5 or $10 to help pay for the soup and give the rest of the money to relief or rebuilding efforts. You can cook the soup together and use it as a time to build relationships, share prayer requests, and support one another.
Soup Joumou (Pumpkin Soup) (more…)
Continue Reading ›