There are nearly 6 million children worldwide with potentially treatable congenital and acquired heart defects that do not have access to care. In 2009, of the estimated 6,000 children in Uganda in need of cardiac intervention, only 172 received treatment (Uganda Heart Institute).
Alex was one of the statistics — a child with a heart problem with seemingly no hope for treatment. Alex's father recalls:
"It started as a fever. My wife and I took my son, Alex, to the hospital, but it did not get any better. And when we took him to a bigger hospital, his symptoms baffled the doctors. They had no solution for us but to refer us to the Mulago Heart Institute where we started on a course of treatment.

"This went on for three years with no change. At that point I started to pray to God, saying if it is God's will to take him away from us then so be it. I spoke to Alex as well and he was of the same mind. Because the doctors saw that I was poor they feared to tell me about the operation abroad because they knew I could not afford it."
Like many children whose heart conditions go untreated, Alex and his family prepared for the worst. (more…)
Continue Reading ›
In July 2009, a cry for help went up in parts of northern and eastern Uganda as many people succumbed to the severe and persistent drought that swept across half of the nation. Soroti district was one of the localities that was hardest hit. However, this cry was not new to this part of the country.
Every year Soroti district is listed as a statistic for emergency help. It is said to be one of the districts with the highest levels of poverty in the country, with a very low education level and inhabitants ignorant of cultivation skills. Many have painful memories of war.
With unpredictable weather, from hot and dry conditions that lead to drought and famine, to strong winds and rain that destroy homes and crops, the inhabitants of the land never know what to expect of fickle nature and how to overcome the damage left behind.
To the local inhabitants, the hunger and famine that come with the changing seasons is a leopard looking for the helpless and hopeless to devour. But for a few people in the community, it is time to fight back.
For the beneficiaries of the Asuret and Victory Outreach Orwadai Child Development Centers, it is time to hunt down and chase the "leopard," and banish it for good.
Continue Reading ›
In Uganda, the name "Makerere" is synonymous with Uganda's oldest and most prestigious institute of higher learning: Makerere University. The university sits on Makerere Hill and is not only revered for its students' academic proficiency and health education, but also for the spacious, manicured lawns and modern buildings that constitute this seat of learning.
In the slum community of Makerere Kivulu that lies in the shadow of this prominent institute, the storm drains overflow with filth and stinking water between rows of shacks made of planks and rusty iron sheets. The dilapidation of these structures is set off by the stable buildings surrounded by high stone walls that dot the area.
Many of the people in the community are unemployed, and even those who are employed are underemployed, dealing in small businesses like hawking goods, frying and roasting food like cassava, and selling vegetables like tomatoes and eggplants.
Most of them earn a maximum of about a dollar a day. In despair, many of the women look to prostitution to earn a living, and the men resort to alcohol and spend their days drunk. The youth form gangs and go about stealing and indulging in drugs.
It is this community that 13-year-old Brenda wakes up to every morning at 6 a.m. (more…)
Continue Reading ›
Uganda is often held up as a model for Africa in the fight against HIV and AIDS. Strong government leadership, broad-based partnerships and effective public education campaigns all contributed to a decline in the number of people living with HIV and AIDS in the 1990s.
Despite this impressive reduction in the spread of AIDS in Uganda (from 30 percent in the 1980s to 6.5 percent to date), AIDS is still infecting and killing many Ugandans. Uganda's HIV prevalence rate has stagnated over the past four years, meaning that the country is not managing to reduce the number of new HIV infections.
Damalie Andabati, the health specialist in our Uganda Country Office, says,
"Currently 6.3 percent of Uganda's population is infected with HIV, and a new issue that has been discovered by the Uganda Virus Research Institute is that 66 percent of the new infections are among married couples."
The reason for the high percentage in this unexpected group is not yet certain.
It is feared that HIV prevalence in Uganda may be rising again. It has been suggested that antiretroviral drugs have changed the perception of AIDS from a death sentence to a treatable disease. This perception may have reduced the fear surrounding HIV.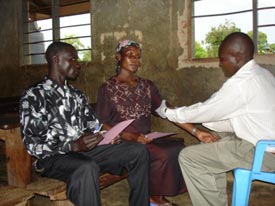 As part of our holistic outcomes around health, voluntary counseling and testing (VCT) for HIV is part of the regular health screenings conducted for the parents and children at the child development centers.
Kansanga Child Development Center carried out a VCT session back in March and 233 caregivers and children were tested, which is one of the best success stories of beneficiaries being tested for HIV by Compassion Uganda.
Kansanga, a red-light district of Kampala, is a community in the slum areas, and the child development center is located one kilometer away. Much effort has been put in clearing this district of prostitution and raising awareness about preventing HIV. Many fear being seen going for the test or seeing the results they will receive from the test.
More than 60 percent of Uganda's population is illiterate and ignorant, and others are even too poor to own radios from which they would hear information on where to go for testing. Our church partner staff, and government officials, are hopeful for the future — that with tireless effort in community training and sensitization this figure will be adjusted.
Continue Reading ›