There are nearly 6 million children worldwide with potentially treatable congenital and acquired heart defects that do not have access to care. In 2009, of the estimated 6,000 children in Uganda in need of cardiac intervention, only 172 received treatment (Uganda Heart Institute).
Alex was one of the statistics — a child with a heart problem with seemingly no hope for treatment. Alex's father recalls: 
"It started as a fever. My wife and I took my son, Alex, to the hospital, but it did not get any better. And when we took him to a bigger hospital, his symptoms baffled the doctors. They had no solution for us but to refer us to the Mulago Heart Institute where we started on a course of treatment.

"This went on for three years with no change. At that point I started to pray to God, saying if it is God's will to take him away from us then so be it. I spoke to Alex as well and he was of the same mind. Because the doctors saw that I was poor they feared to tell me about the operation abroad because they knew I could not afford it."
Like many children whose heart conditions go untreated, Alex and his family prepared for the worst. Alex remembers: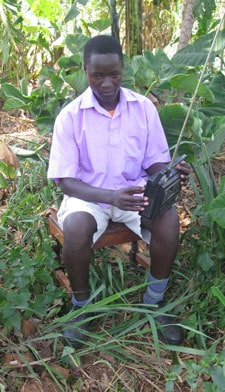 "At first I felt like my life was going to end any time because after going to Mulago Heart Institute, they said they couldn't handle my situation. I saw death at the next door. So I began to seek the face of the Lord. I moved close to God and at that point I asked my daddy to buy me a radio so that I could listen to men praying and lay my hands on the radio, looking at God because He is the one who has the final decision on my life."
All Alex had was his faith. He had been taught at the child development center to believe in a God who could do the impossible.
"I was not afraid. I had confidence in God. I had heard testimonies of people healed by God who were very sick."
Sick children at our child development centers are usually identified by our church partners during the routine health screenings. Information on children with heart defects is then forwarded to our country office. It is here that arrangements are made for the children to be taken for assessment.
For some of the children the journey ends with treatment in Uganda. But for others treatment is not enough and surgery is needed to help them.
However in Uganda, there is no access to "first world" cardiac surgery and catheterization. These cases — cases like Alex's — are referred to India for surgery.
Yona Kapere, the Compassion Uganda health specialist, works closely with the doctors and nurses at the Uganda Heart Institute to arrange for the best doctors in India to treat and look after the children when they are so far from home. The Uganda Heart Institute always arranges for a nurse to accompany the children to and from India.
From 2005 to date, 16 children have gone to India from Uganda for open-heart surgery through our heart surgery intervention program. After surgery in India, the children return to the Uganda Heart Institute for follow-up and monthly review.
All 16 children are alive and have better health since their surgeries. The quality of their lives has improved and they are able to play and take part in the center activities without weakness and illness.
Before Alex's heart surgery, his physical condition kept him from playing football, his favorite hobby. He also had trouble walking long distances and even waking up. Now, he is back to playing football and he says he is able to walk more than 5 km.
Alex's future plan is to become a medical doctor or a pastor. Whether he becomes a pastor or a doctor, God has surely saved this young man for a bright future. And wherever Alex goes, he will be able to share his difficult story, which is summed up best in his own words,
"It has not been easy, but God is faithful."
---
Although the support the Child Sponsorship Program provides is wide-ranging, your $38 monthly sponsorship cannot tackle all the obstacles to healthy development the children you love experience.
The program Alex benefited from was part of our Complementary Interventions activities, a key part of our holistic child development model supporting our three core programs: Child Survival, Child Sponsorship and Leadership Development.
You can learn more about our holistic child development model at compassionmodel.org.