We went, seven Compassion sponsors, flush with excitement, filled with the desire to help, hearts ready to connect. We went to Gladys' modest home in the mountains of Ecuador to learn about her world and the Child Survival Program. We went with the best of intentions. And then we broke her bed.
A steep hike up the dusty hill brought us to single-mom Gladys, her 18-month-old daughter, Nayely, and her two school-aged children. Ecuador's thin air at 11,000 feet left our little group gasping.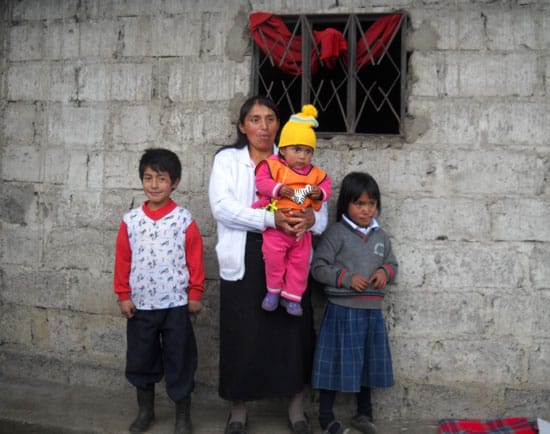 Or maybe my breathlessness stemmed from the poverty, so obvious in the tiny two-room cinderblock building where Gladys lived on borrowed time. She said her uncle might reclaim the house at any time, and she and her children would have nowhere else to go. Maybe that's why their few belongings were crowded into one room.
We were invited to crowd right in too, to see how Child Survival specialist Flor Pacheco conducted her weekly visit ensuring the health and future of little Nayely and her mom.
"Sit. Sit!"
We sat. Three on one bed. Two on the other. A few stood.
In the midst of introductions ("Hello, I'm …") came a loud crack. The bed suddenly slumped. Three startled women jumped up. Surprised. And mortified. Gladys had so little. A near-empty house furnished with only two beds. And we had just broken one of them.
"Sorry! We're so sorry!" One of us reached under the broken frame and lifted, hoping to defy gravity and repair the damage. The frame sagged. Nope.
"Maybe we should take this outside," our translator suggested tactfully.
Gladys forgave us for breaking her bed. Then she demonstrated Nayely's weekly exercises that help the little girl overcome developmental delays resulting from lack of nutrition in her earliest months.
We clapped each time Nayely kicked a green plastic ball. We oohed and aahed over Gladys' workbook, full of lessons to work her way out of illiteracy, her name written a hundred times. We applauded to see the pink poncho drying on the fence, a product of sewing classes Gladys and other CSP moms were taking through the program. We cheered to learn that Gladys' older children both had Compassion sponsors.
After hugs, photos and a fervent prayer, we left. And still felt guilty about that bed.
Grey clouds parted as we walked back to the church that partners with Compassion to help children, moms and babies in the village of Pulingui. My spirits lifted to see sunshine on snow-capped Chimborazo, a looming volcano and point of local pride.
We said goodbyes and shared final hugs. Meanwhile, our trip leader quietly got an estimate on the price of a sturdy bed frame.
How happy we were to chip in! The last-minute collection came to three times the cost of replacing the bed frame, so the Compassion program director would see that Gladys and her kids received even more help from the overflow.
ABOUT THE AUTHOR: Liz Duckworth manages our copywriting and editorial team, the folks who proof our blog posts before we publish them. She recently observed her five-year anniversary at the ministry.