Jesus equipped Himself to wash His disciples' feet: clothing, towel, water, basin. To do what He needed to do, He had the right tools. He had what He needed.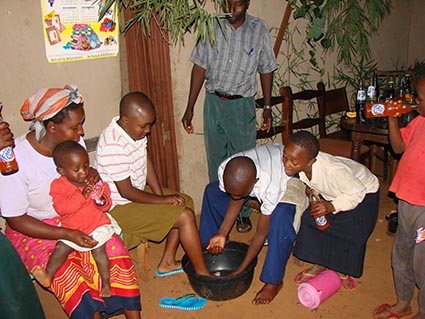 During the supper, Jesus prepared Himself to wash His disciples' feet. He did this because He knew what was coming. He was going to be crucified and needed to affirm the disciples so that they could face the upcoming challenges of spreading the gospel.
With this act of humility, Jesus was preparing them not only to announce the kingdom of God, but for a future with Him, as well.
Jesus also does this with us. He prepares us to face challenges. They could be financial, relational, or family challenges.
We may be in a difficult situation, but we can be sure that He will equip us with everything we need, as He did with His disciples. He didn't only wash their feet to affirm them for the future; He also gave Himself on the cross to save them and to save us.
So he got up from the meal, took off his outer clothing, and wrapped a towel around his waist. After that, he poured water into a basin and began to wash his disciples' feet, drying them with the towel that was wrapped around him. —John 13:4, NIV
Prayer: Wonderful God, we pray that you equip us through your Holy Spirit to be able to face the challenges in our lives. Lord, we want to give you the glory and honor in everything we do, and we need your love and care to keep going. In Jesus' name we pray, amen.
---

ABOUT THE AUTHOR: Maria Jose Silva works as the HR Director for Compassion Nicaragua.
Read all the One in Spirit devotionals.