Unity is an integral part of our day-to-day lives. It makes life good and pleasant. By carrying each other's burdens in love, God bestows His blessings on us.
I praise God for this ministry, which connects God's children around the globe to live as a family. The connection of real family breaks down all barriers and bridges, brings different cultures together, and makes life more meaningful.
In a small, south Indian village called Nattathi, a memorable event took place between two young men whose lives found new meaning because of each other. It began 10 years ago, when Torrey Laffoon, a 10-year-old boy from the state of Michigan, decided to sponsor 8-year-old James from this village.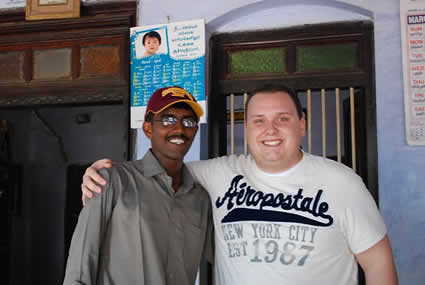 For a decade, they wrote a lot of letters and shared their pleasantries. Then, after 10 years, Torrey Laffoon came to India along with his parents and sister to visit James. The day was filled with joy.
As they sipped tender coconut water, relaxing in the backyard of James's house, a profound statement was made: "Never in our lives did we think we were going to meet each other. But one thing was sure in our minds, that though we are living miles apart in different cultures, we are brothers who love and support each other and pray for each other."
Then, they put their arms around one another and hugged. Both the families — and I, who was listening to them speak — were filled with tears of joy. We left speechless, awestruck with this brotherly love that helped them relate with each other.
Will they meet again? Only time will tell, but they have created a history together.
Behold, how good and pleasant it is when brothers dwell in unity! — Psalm 133:1, ESV
Prayer: Dear Lord Jesus, help us to have a purpose in life and love one another truly so that the world may see us and glorify You. In Jesus' name, amen.
---

ABOUT THE AUTHOR: Benaiah David works as a Partnership Facilitator for Compassion in South India.
Read all the One in Spirit devotionals.