Children all over the world long to experience a loving family, and Compassion Sunday is a time when we have the opportunity to share that love with them.
While we may be far away, linked only by letters and photos, our loving words and smiling faces create a sense of family for a child living in poverty.
You can also view What is the Value of Your Sponsorship? on YouTube.
April 21 is Compassion Sunday and the day churches around the country are helping expand the family of Christ through
child sponsorship
. Not everyone is called to give a presentation at his or her church or to staff a child sponsorship table.
But if you use a computer at all, you can participate in Compassion Sunday this year and help grow Christ's family. Compassion Sunday is an easy way to tell others about the needs of children living in poverty—children looking to be part of the ultimate family – Jesus' family.
And when you create a Compassion Sunday page and get two children sponsored, a $50 family gift will be sent to your sponsored child's family!
So how about it? Will you participate in Compassion Sunday and find a sponsor for a child?
Will you help us welcome new brothers and sisters into Jesus' family? More than 400 first time professions of faith occur in our Child Sponsorship Program each day.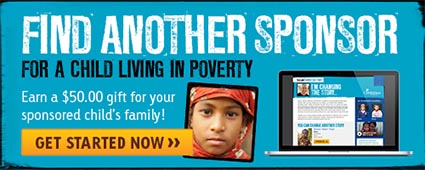 This month we are hosting another link-up for the Compassion Blogger Network. Check out our most recent assignment, post about it and add your URL below.
This is also a blog hop! Below is an option to grab the code for this link-up and to embed the link list into your blog post.
Here's the code: