Children are suffering in conflicts around the world. Your prayers can help.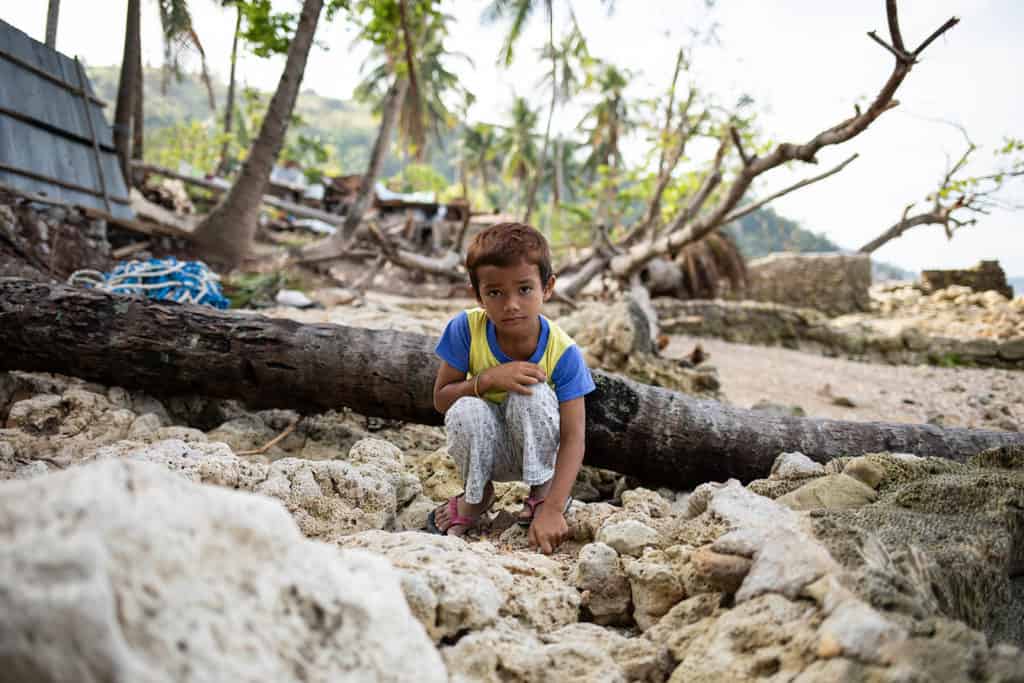 Defend the weak and the fatherless;

uphold the cause of the poor and the oppressed.

Rescue the weak and the needy;

deliver them from the hand of the wicked.

— Psalm 82:3-4, NIV
When crises such as war and natural disasters happen, it's easy to feel helpless. We have no control over the situation. But there is something we can do: We can pray.
As a child-focused and Christ-centered organization, Compassion trusts in the power of prayer to work in the lives of children and those who care for them. Together with our family of sponsors and donors, we pray for vulnerable children struggling in poverty, conflict and other crises around the world. We pray for God to equip and guide his global Church to be a light and place of refuge amid violence and chaos.
If you would like to join us in praying for children in conflict and the global Church, here are some specific prayers, ideas for how to pray and reason for our urgency.
Conflict Threatens Children
Children living in poverty are already among the most vulnerable in the world. Add war, gang violence and other turmoil to their environment, and the danger grows more imminent. Warfare separates many families, making children even more vulnerable to exploitation. Children can be forced to become soldiers, laborers or sex slaves. Conflict can disrupt food and water supply channels, cut off access to medical care, interrupt education, eliminate jobs and tear apart families.
But Jesus was very clear about how we are to respect and protect children of God:
"Whoever causes one of these little ones who believe in Me to sin, it would be better for him if a millstone were hung around his neck, and he were drowned in the depths of the sea."

— Matthew 18:6, NKJV
"See that you do not despise one of these little ones. For I tell you that their angels in heaven always see the face of my Father in heaven." (Matthew 18:10, NIV)
"Let the little children come to me, and do not hinder them, for the kingdom of heaven belongs to such as these." (Matthew 19:14, NIV)
And the Bible also tells us to look after the vulnerable — orphans, widows, the poor and the oppressed (James 1:27, Psalm 82:3, Psalm 41:1).
Conflict, which most deeply affects the well-being of young people and the poor, defies these mandates in Scripture. So what are we to do when situations like violence and natural disasters — things beyond our control — happen, but we want to obey Psalm 82:3-4? We can give to relief and rescue efforts, we can invest in the development of an at-risk child and we can pray for children everywhere to be safe, happy, healthy and protected.
Specific Ways To Pray
"A specific prayer is a serious prayer."

Max Lucado
Being specific can deepen our connection with and empathy for the people we're praying for. It can also enhance our prayer lives by increasing our focus and time spent with the Lord. Here are a few ideas for praying specifically for children in conflict:
Global Conflict Trackers
There are a couple of independent think tanks that track global conflicts online. Interacting with their maps shows the many areas where specific prayers are needed.
The International Crisis Group's conflict tracker is called CrisisWatch. Interacting with its map pulls up summaries of the many conflicts. Council on Foreign Relations also has a tracker, called Global Conflict Tracker, although it tracks only those conflicts that have an impact on U.S. interests (which is a lot). Interacting with its map pulls up summaries of the conflicts, the latest news and statistics such as estimated civilian deaths and refugees fleeing the conflict.
Here are some prayers for current global conflicts affecting children:
Russia-Ukraine War: Father God, we pray for the children and families affected by this war. Please calm and comfort them. Give frightened parents discernment about what steps to take to protect their families. Change the hearts of those who cause suffering, and bring an end to all violence. Thank you for your faithfulness!
Israeli-Palestinian Conflict: Heavenly Father, we pray for you to bring an end to the land disputes, evictions and violence that continue to leave children hurt and displaced. Please equip providers of families in the Gaza Strip where so many people are unemployed.
Conflict in Ethiopia: Lord God, please provide stable homes for the more than 2 million people displaced by the conflict in the Tigray region. We ask you to restore and sustain the health of the children at risk of death from malnutrition because of this conflict. Please equip churches in Ethiopia and guide them in serving your children in need.
War in Afghanistan: O God, comfort those whose loved ones have been killed in the war. Soften the hearts of those who intend harm. Bring peace and protection to your children. Provide health care to the sick and injured.
Civil War in Syria: Lord Jesus Christ, please provide stability and safety to the millions of refugees and displaced people in Syrian war zones. Send your Holy Spirit to comfort children who experience trauma and develop disabilities as a result of the violence.
Rohingya Crisis in Myanmar: Dear God, we ask you to establish stability in Myanmar. Please send provision to displaced children in Myanmar and Bangladesh. We pray for peace in the area and restoration of family members who are suffering.
War in Yemen: Dear Lord, please comfort those whose loved ones have been killed. Please make a way for humanitarian assistance to get through to the children in desperate need. End the fighting and shield every child from harm.
Check out the global conflict trackers to learn more about dozens of other situations in need of prayer.
Monthly Prayer Calendar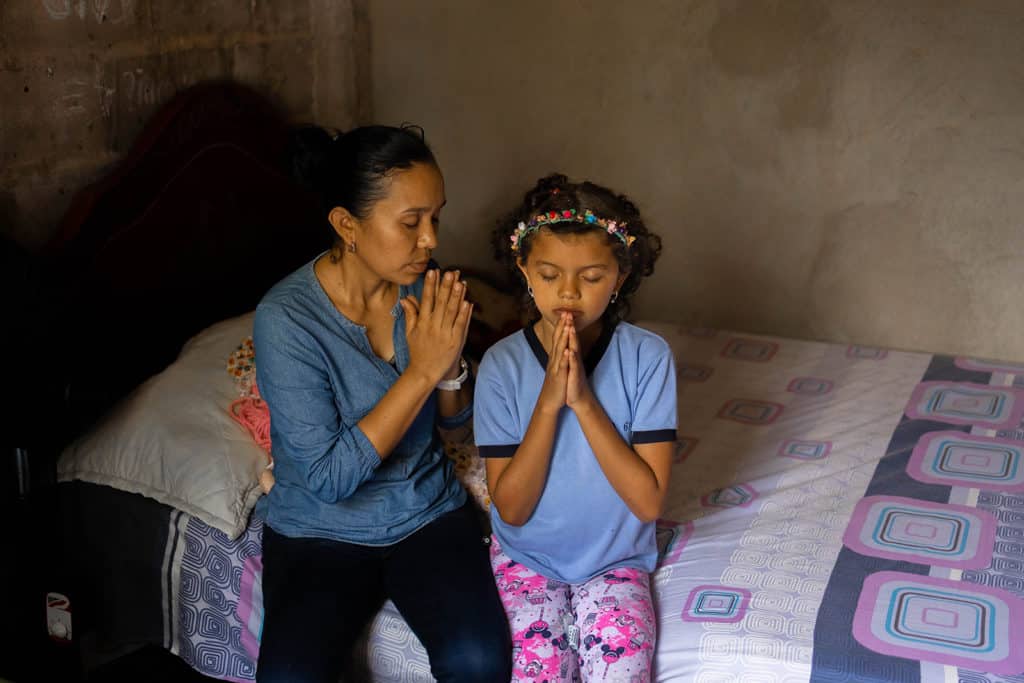 Compassion offers a monthly prayer calendar that outlines daily prayer requests from our neighbors in 25 countries around the world. These neighbors include children in our sponsorship program, the local churches who minister to them and their families, and Compassion staff members. When there are conflicts in the countries where we work, we receive many requests for prayers about peace and protection. You can sign up to receive the monthly prayer calendar to help with these requests.
Prayer Guide for Children in Conflict
This guide provides specific prayers and prayer points for children affected by conflicts such as the Russia-Ukraine war. The guide includes helpful Bible verses and covers topics like access to food and water, wisdom for leaders, children's education and other considerations we might not normally think about.
Helpful Words
Prayer doesn't have to be done with a guide — let your conversation with God flow freely. But if you ever need inspiration for what to ask him to send to children in conflict, here's some language that might help in your prayers:
Provision
Protection
Sustenance
Safety
Health
Happiness
Love
Joy
Peace
Comfort
Growth
Trust
Faith
Hope
A Prayer for Peace
Dear God,
Thank you for being love.
We repent of our sin, which causes endless suffering.
Please repair what is broken in us and in the world.
Bring these wars to an end.
Let no more harm come to your children
But wrap your arms around them
And restore them to fullness.
Remove our desire to harm one another;
Give us your heart of forgiveness.
Let your peace wash over us
And over your entire Earth.
We pray this in the name of your Son, Jesus,
The Prince of Peace.
Amen.
Take Heart
In times of war, it is crucial to remember that God is good always. We don't understand what is happening now, but one day we will.
Compassion works with local churches around the world who dedicate themselves to protecting children. We sincerely thank you for joining us in prayer for children in conflict and the churches that serve them!
Many children living in poverty face conflict nearly every day. Sign up to receive our monthly prayer calendar to keep them in your heart.
---