Several years ago I taught preschool. All my students were wonderful children, with poverty in their lives but not in their hearts.
In the group was a very special boy; his name was Nicholas. He was restless, did not like to perform his duties, and was mischievous with his classmates. For a long time, I couldn't understand him.
Then one day when I yawned, Nicholas asked me, "Teacher, did you have breakfast today?" I said, "No, not today," and continued with my work.
The next day Nicholas came earlier than normal. He invited me to sit down and then opened his lunch box, taking out a piece of half-eaten bread and half a cup of chocolate in a bottle.
He looked at me with his big black eyes, and said, "I know you did not have time for breakfast, so I want to share my breakfast with you." Nicholas did not think too much of it, but I was so moved by that act of love, my heart was shaken. I hugged him and thanked him.
No doubt I was the teacher, but Nicholas, at just 5 years old, was the master.
This act of mercy shook my heart and my mind. I realized that children are the owners of the kingdom of heaven. I understood then the passion for the ministry to free children from poverty in Jesus' name.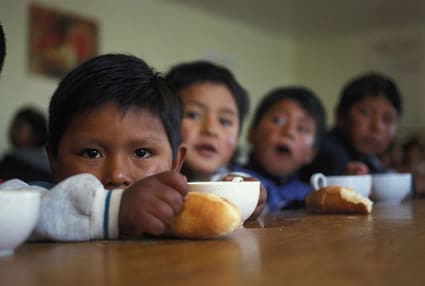 Many may wonder what might become of these children, but I know that the 52,000 children and young people sponsored by our ministry in Colombia will be part of transforming the world. They will bring the good news of the gospel through acts of love.
They will move the hearts, minds and spirits of those around them.
Everyone who heard this wondered about it, asking, "What then is this child going to be?" For the Lord's hand was with him. —Luke 1:66, NIV
Prayer: We pray for the future of our sponsored children and young people, that they will become responsible adults, full of joy, who will take the gospel to the ends of the earth.
---

ABOUT THE AUTHOR: Maria Teresa Arango is a Human Resources Assistant in our Colombian office.
Read all the One in Spirit devotionals.