We believe that kids matter. At the core of what we do is the firm belief in God's potential for every child. While our focus lies with children who find themselves growing up in extreme poverty, we know that every child, regardless of economic status, is in danger of missing God's best for his or her life. Simply said, growing up in prosperity can have its own kind of dangers – self-entitlement, apathy and materialism.
In their new book Small Matters: How Churches & Parents Can Raise Up World-Changing Children, Greg Nettle, President of Stadia Global Church Planting, and Compassion President Jimmy Mellado, explore Christ's command to take care of children, share extraordinary stories of kids they've personally encountered around the world, and offer tips on caring for children in your home, church and community.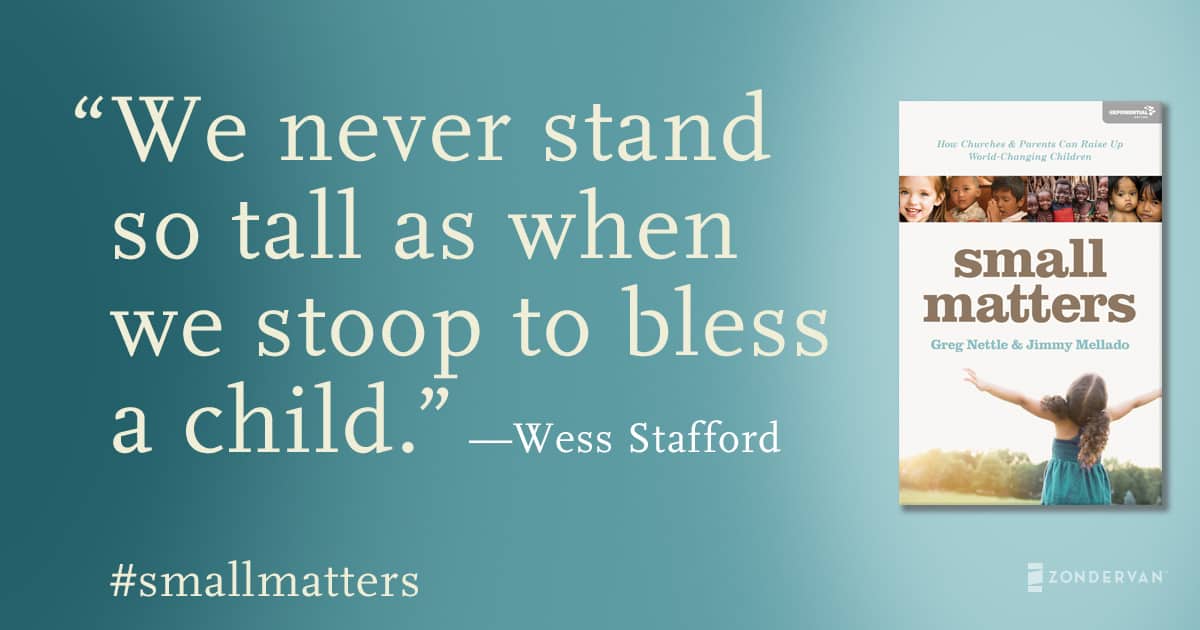 Enjoy this excerpt from the first chapter of Small Matters of one of those stories from Jimmy about when he and his wife, Leanne, made it a priority to introduce their own children to God's work in the world:
Early on, Leanne and I decided our kids didn't need a sermon on gratefulness. Growing up in the United States, they were surrounded by the comforts of our prosperous lifestyle. What they needed was a personal connection to kids who didn't have those comforts, to children with far less. They needed to broaden their social network to include relationships in which they could expand their global view of reality and learn to care to give. Long before I came to work for Compassion International, we decided to involve our kids in the Compassion program. We wanted to link our kids to what God was doing in the lives of other children around the world.

One evening when our kids were in middle school and high school, we sat down as a family to talk about sponsoring a child. Leanne and I explained what it was like to sponsor a child, and we made it clear that if we did this, it would be a family activity. Everyone would be involved. There would be no disinterested spectators. We would fund it, but our kids were to reach out and become friends with their sponsored child.

Leanne and I organized it all. We suggested that each of our children select a child with their same name to help them feel a more personal connection with each child our family was sponsoring. since that family meeting, we've sponsored nine children.

We started by selecting the country of Guatemala and logging on to the Compassion website. The kids went to work. Our youngest, David, chose a young boy named David Nehemiahs. Elisabeth discovered Elisabeth Carolina. And Ester connected with Nayeli Estrellita (Estrellita means "little star"). In the years that followed, each of these relationships became long-distance friendships. Each child benefited the other as they grew in their understanding. For the Mellados, it was a way to see the world through the eyes of children living in poverty. This shift in perspective became one strategic way to help move our children from and attitude of entitlement to one of compassion and understanding. We wanted them to move from taking to giving, from spectating to investing. We knew that the subtle toxic leaks of prosperity can be diluted only in the waters of sharing.

Our daughter, Elisabeth, Or Bizzy as we call her, experienced this shift in perspective in dramatic fashion. Soon after Bizzy began her sponsorship, she received terrible news about her namesake's father in Guatemala. He had fallen from a tree, broken his back and was incapacitated. We had the opportunity to visit the family, and it broke our hearts to see her father restricted to life in bed, his hands frozen and atrophied. We could not forget the deadness in his eyes. Work was impossible. For a family living in extreme poverty, this was devastating.

But things would get worse.

Elisabeth's mother died unexpectedly. This is crushing for the family, and Elisabeth instantly became a twelve-year-old caregiver for her three younger siblings. Her childhood had been taken away from her as she was thrust into the the overwhelming responsibilities of adulthood.

Months later, we were encouraged to hear that Elisabeth's father was slowly healing. Eventually, he was able to work, and found a job. Unfortunately, it was across the border in Mexico, so he was gone for weeks at a time. This transformed Elisabeth into the sole caregiver to her younger siblings.

The government intervened and moved Elisabeth and her siblings out of their community and into institutions in Guatemala City, breaking up the little family. Although Elisabeth's father was doing all he could do to provide for them, Elisabeth and her siblings needed help.

Our Bizzy also needed help. Without her connection to Elisabeth and her family in Guatemala that exposed her to the suffering of the world, Bizzy was in danger of growing up with a sense of entitlement, of mistaking God's blessings for rights and privileges.

By bridging the gap between their two lives – Elisabeth in Guatemala, Bizzy in the U.S. – we were able to shine a small light of understanding to help each girl realize her need for God and find hope through Jesus.
To hear more about Elisabeth's and Bizzy's story and be encouraged in raising up your own world-changers, grab yourself a copy of Small Matters!