For Mother's Day, we asked children in our program to share reasons why they love their mothers. Here are their beautiful answers about the strong, loving women who raised them. "I love you mom, because…"
View Gallery ›
Through life-skills training and microloans, mothers in the Child Survival program are learning that poverty is not their destiny. Meet some of the mompreneurs using their God-given potential and capacity to build a strong future for their children.
Continue Reading ›
At the center of Riaciina village in Kenya lies a semi-permanent house, traditionally constructed. The walls of the house are made of mud and smoothly smeared with cow dung. The roof is thatched with iron sheets. There is a big gap between the mud and iron sheets. Mosquitoes penetrate freely day and night.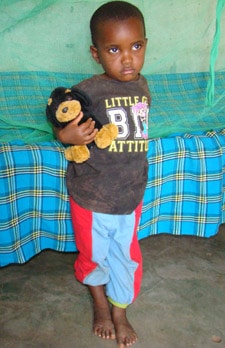 This is the home of Amina, a toddler enrolled in the local Child Survival Program (CSP). At the back of the homestead lies waste from the nearby kitchen. On the other side of the home are thick bushes of indigenous trees.
As the CSP specialist visited the mother, mosquito bites could be noted on the face of the child. Throughout the session, the TEEEE! TEEEE! sound of mosquitoes could be heard.
In some countries, mosquitoes are just nuisance, but in Riaciina, mosquitoes pose a deadly threat. Mosquito-borne malaria is the major killer disease in the area.
Riaciina village lies in the semi-arid part of Kenya on the extreme southern slopes of the largest mountain in Kenya, Mount Kirinyaga. The occupants are mainly the Ambeere and the Akaamba people whose primary work is farming and fishing.
Continue Reading ›