I was born and raised in a Buddhist family. When I was 9 years old, my mom enlisted my brother and me into the Compassion program. This is where my experience with God started.
Through Compassion, I was shaped by God. At the time, I was a shy boy with no self-confidence.
When I joined Compassion, I didn't immediately get a sponsor. It made me sad, disappointed, and envious of my brother. It took almost a year until someone from the U.S. became my sponsor.
I was very proud to finally have a sponsor. But after a couple months, he decided not to sponsor me anymore.
It was a very difficult time for me. I just started to feel that someone cared about me, but it only lasted for some months, and then he was gone. I even thought that probably I was too ugly, not as handsome as my brother, so no one wanted to sponsor me.
I waited for months. Finally, God sent another sponsor from the U.S. They sent many letters.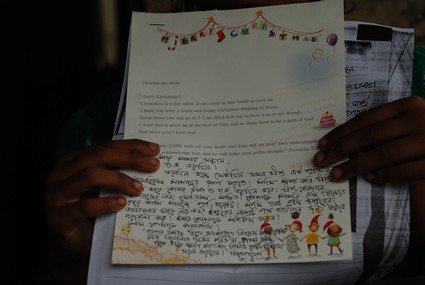 They told me that I was a handsome boy and valuable in God's eyes. They also told me that they put my photo on their refrigerator so they could see me and pray for me. Sometimes their daughters took my photo and kissed it.
When I read that, I felt so special. They motivated and encouraged me.
Through their letters, I grew to become a person who has self-confidence, and through their faith, I accepted Jesus as my Savior. I am grateful to God that now I can be in this place, in this stage of life. I am the fruit of my sponsors' prayers.
God has chosen me and shaped my life and provided me with a future with hope. That's why I want to dedicate my life for God, to keep on serving Him and the children.
A long time ago I got support from Compassion, and now this is the time for me to give back. I was from the poor family, and God brought me out of poverty to serve others.
"You did not choose me, but I chose you and appointed you so that you might go and bear fruit — fruit that will last—and so that whatever you ask in my name the Father will give you. This is my command: Love each other." —John 15:16–17, NIV
Prayer: Brethren, remember that we are here to serve the poor children. Not because of our strength but because of His grace, He has chosen us.
---

ABOUT THE AUTHOR: Erlan Santoso works as a Tour and Visit Team Lead for Compassion Indonesia.
Read all the One in Spirit devotionals.