Today's post is written by Shawn Wallace. He's a bit of a tech gadget/nerd. He has a wife, a daughter, a cat and a dog. We stumbled across him because he links to us – shawnw.org.
---
You know how it goes. Sunday church finishes and we walk out feeling good about ourselves. "Wow, the music was great," or "Pastor was spot on today in his teaching." We feel revived and refreshed.
And, just as quickly as worship began, it's over. We go home, have lunch with the family, maybe mow the lawn, or go to the park, or watch the game.
We stroll into work on Monday and grind out another week. A week just like last week. A week just like any week a year ago or ten years ago, our mind venturing no further than our own tiny sphere of influence.
Friday rolls around and we're glad the week is over. We blow through Saturday with festivals and shopping and movies and relaxing. Before we know it, we're putting on our Sunday best and heading to worship.
Repeat, ad nauseum.
There's a Matt Redman song that goes like this:
Let worship be the fuel for mission's flame
We're going with a passion for Your name
We're going for we care about Your praise
Send us out
But it doesn't end there. Tim Hughes sings this:
We must go
Live to feed the hungry
Stand beside the broken
We must go
Stepping forward
Keep us from just singing
Move us into action
We must go
But what does that mean, "Send us out?" What does "We must go" mean?
It means it's time to live like we sing.
"And if anyone gives even a cup of cold water to one of these little ones because he is my disciple, I tell you the truth, he will certainly not lose his reward." –Matthew 10:42 (NIV)
When Matt Redman says worship, he's talking about worship in church. Singing. Raising hands. Kneeling before God. Beating our chest and groaning to the Creator of the universe and seeking the face of Christ.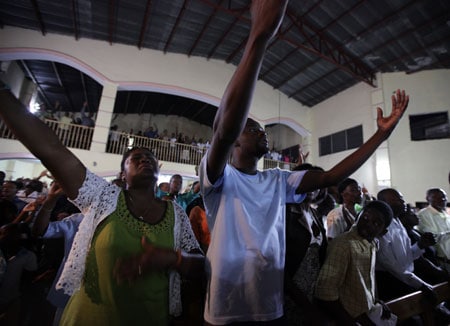 But worship doesn't end with that last up tempo song. Worship doesn't end when you drop your tithe check in the offering basket. Worship doesn't end when you help clean up after the pot luck. Worship doesn't end when you pile the kids in the van to head home.
That's when worship begins.
"Religion that God our Father accepts as pure and faultless is this: to look after orphans and widows in their distress and to keep oneself from being polluted by the world." –James 1:27 (NIV)
"To look after orphans and widows…"
Compassion's mission is to release children from poverty in Jesus' name. And whether we want to admit it or not, the children they help get sponsored have been orphaned. Orphaned by the world. They're the forgotten. Living in slums and shanty towns. Surviving in conditions we'd quickly write off as lethal.
Compassion helps to stir the world's memory, bringing to the surface the forgotten so they become the known. We see faces and names. Their eyes cry out, "don't forget me."
It's time we step out on mission. It's time to go with a passion for His name and to stand beside the broken. It's time to look after widows and orphans. It's time to live like we sing.
---
If you're interested in writing a guest blog post, we are happy to consider publishing it. Read our guest blog post guidelines.