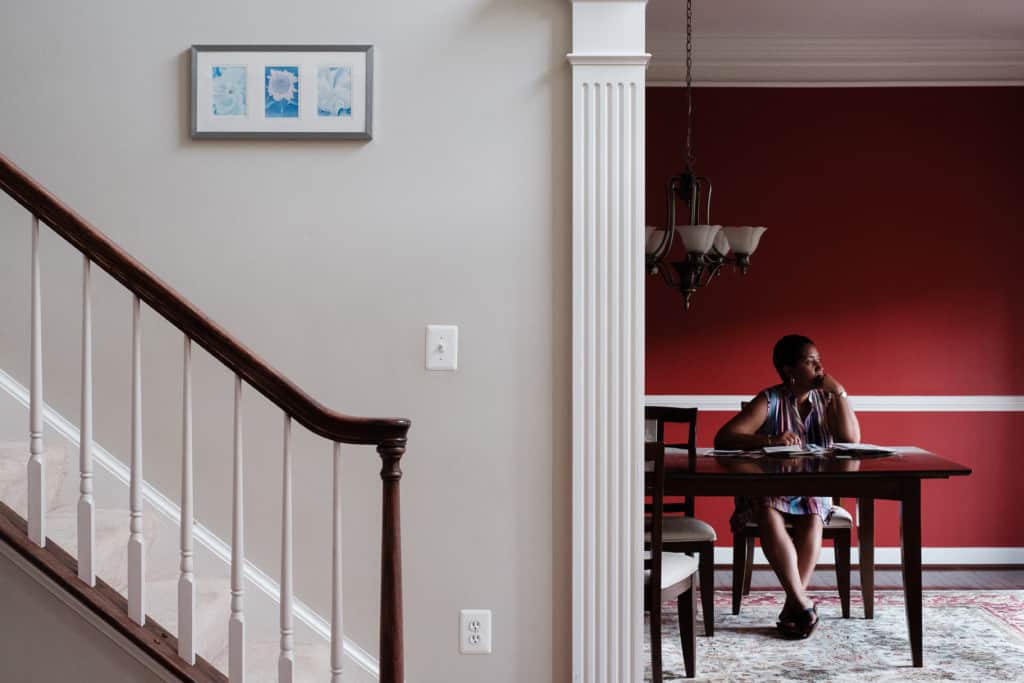 Stacey opens a box and places a stack of papers, photos and cards on the dining room table of her home in a Washington, D.C., suburb.
"I haven't seen these things in years," she says quietly as she rummages through the pile. She pauses and flips open a card.
"This," she says with a laugh, "this is Angie!"
It's a silly birthday card with a handwritten note. Next, Stacey holds up a newspaper with the headline, "Pentagon Attack Claims Local Woman." Angie's obituary is clipped to the side.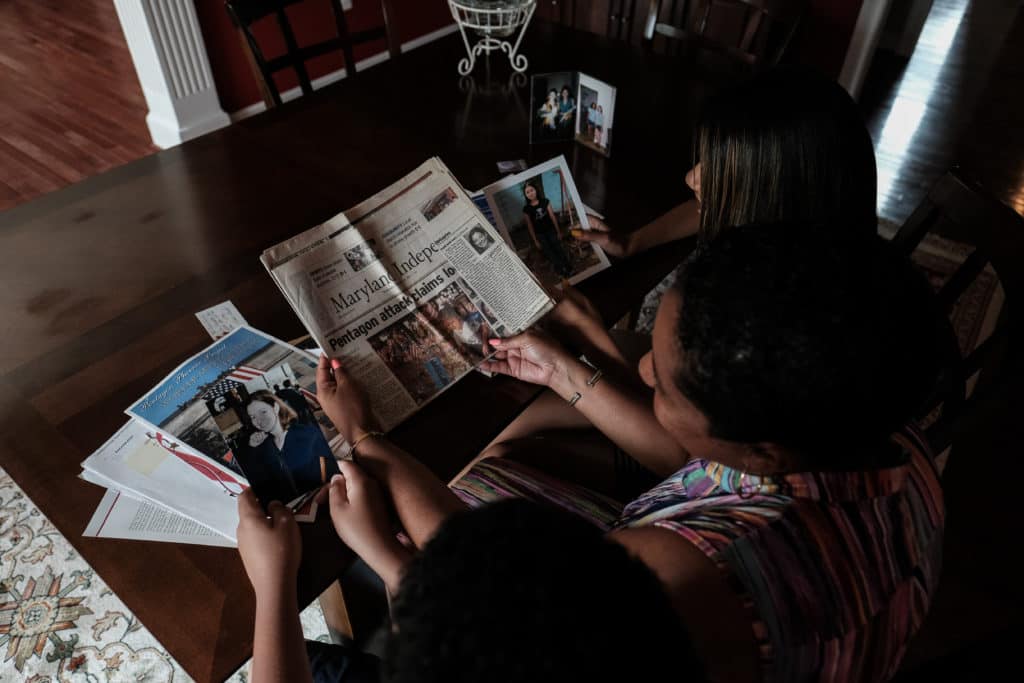 Like most, Stacey says she still remembers the moments she found out about the terrorist attacks. That morning her partner, Stefan, called the Baltimore school where Stacey was working as a psychologist.
"He told me that a plane had hit the Pentagon," says Stacey. "I remember saying, 'Do they think it was terrorists?' And he interrupted me and said, 'What about Angie? Where's Angie?'"
A Lasting Friendship
Angie and Stacey had been best friends since college. Stacey describes her as one of the most loyal, caring people she had ever met. Angie volunteered with the homeless through her church, traveling to dangerous communities to serve.
After graduating, Stacey had gone on to graduate school while Angie began working for the Chief of Naval Operations. Eventually, she would be promoted to a senior analyst at the Pentagon.
In the hours after the attacks, Stacey says she tried to force herself to believe that Angie was okay.
"It was the most beautiful day," remembers Stacey. "Perfectly blue sky. No clouds anywhere. And I just remember thinking, 'You can't take her away from me on a beautiful day like this.'"
By the next day, though, word came that Angie was one of 184 people who died at the Pentagon.
"I think I knew," says Stacey. "From the moment [I got the call], I think I knew."
Stacey grappled with the emotions that accompanied her grief. The most overwhelming one was anger.
"I was just so mad," she remembers. "She was just 27. I was angry that she had never had the chance to be a wife, a mother. Anger was just easier to access than anything else."
Comfort in Honor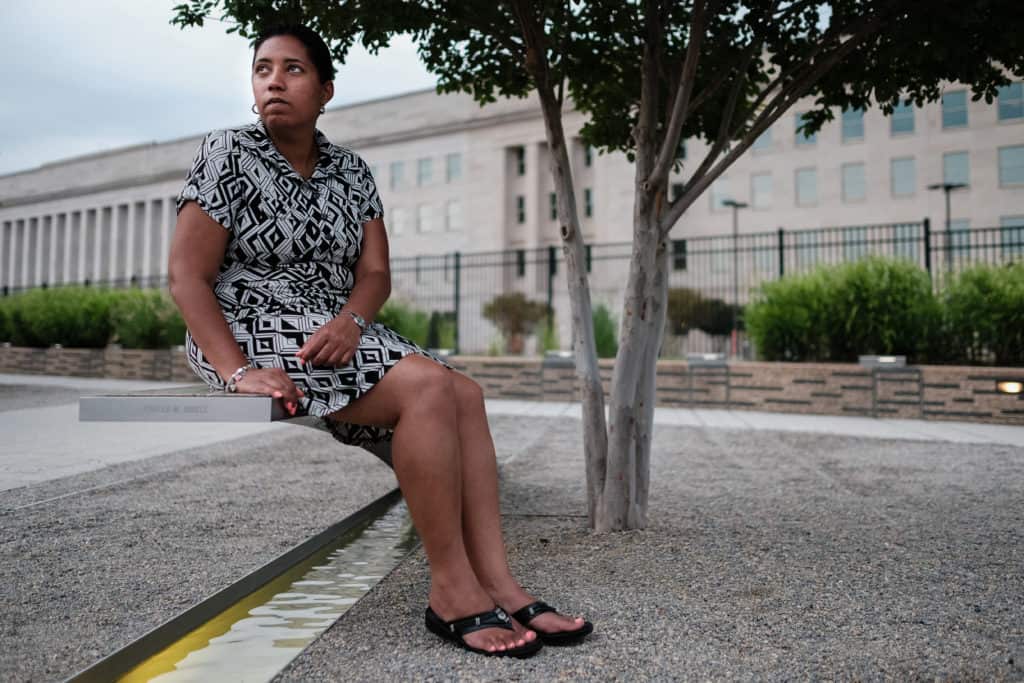 But on the edges of her grief, Stacey found a memory. A month before her death, Angie had traveled with Stacey to Stacey's home country of Jamaica to visit her family. On the plane ride, Angie had talked with Stacey about Johana, the Salvadoran girl she sponsored through Compassion.
"Angie had talked to me about Compassion before," says Stacey. "But this time in particular, I found myself noticing that Angie talked about Johana like she was her own child.
"And for some reason, after Angie died, I kept thinking about that little girl. What would happen to her? Who would tell her what happened to her sponsor?"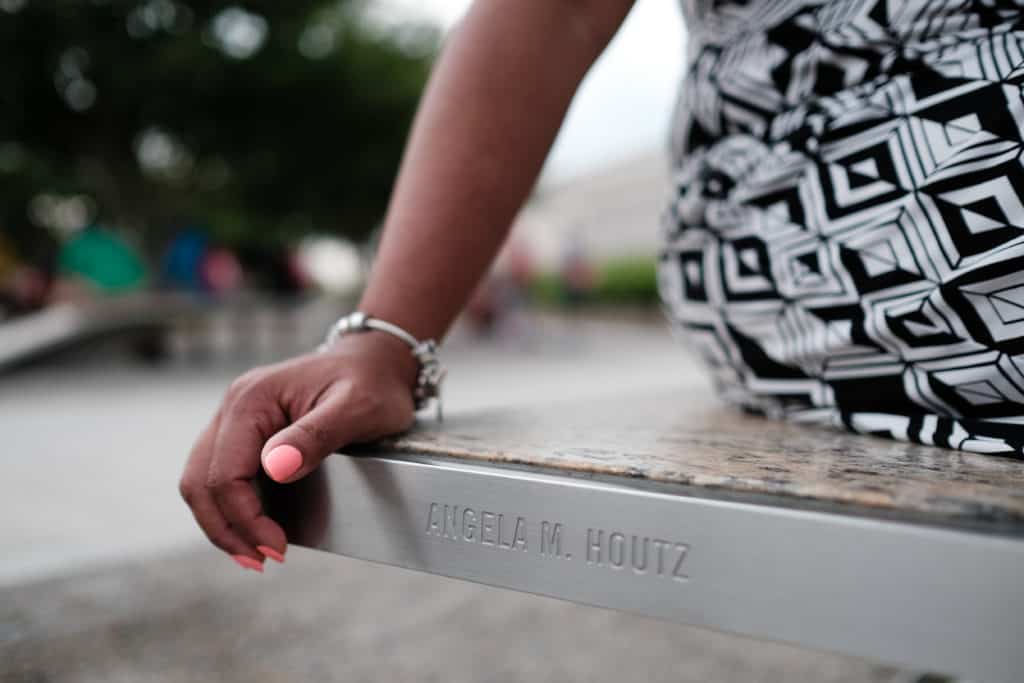 And so Stacey did the one thing that could bring her some comfort. She honored her best friend's legacy by sponsoring Johana.
"It may sound silly," says Stacey. "But I felt like there was a little bit of Angie in Johana. And I needed that little girl to know just how much Angie loved her. I couldn't bear her not knowing that."
That first letter was difficult for Stacey to write. Johana was just 9. But as an inner-city school psychologist, Stacey had experience talking with children about death and trauma.
"I talked to her about Angie," says Stacey simply. "I told her how much Angie loved her. How sad we all were that Angie was gone."
Building a Legacy
Twenty years have passed since Stacey made that decision. In that time, she has had two children of her own — a girl and a boy who have an Aunt Angie they'll never meet.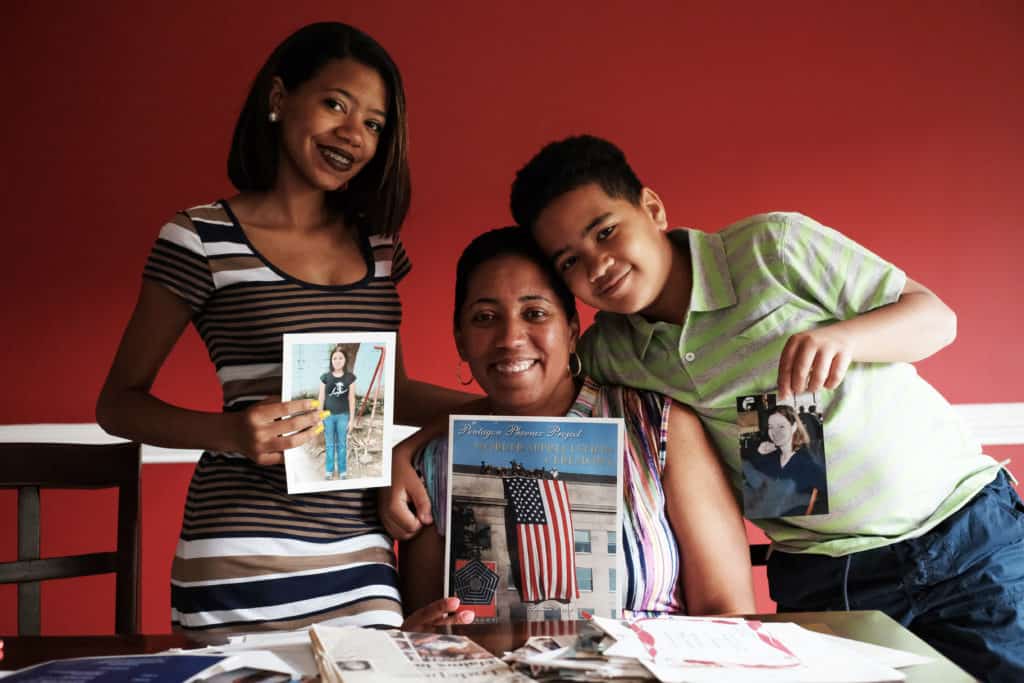 Stacey sponsored Johana until she graduated from the program in 2009, and then began sponsoring Katherine, also from El Salvador.
Stacey and some of Angie's family also helped form a scholarship fund in Angie's name. For years they gathered to read through applications and donated to charities Angie cared about, including Compassion. They searched for students who showed a desire to serve others, finding young men and women who would carry Angie's legacy into a future she would never be a part of.
"That's the thing," says Stacey quietly, gathering the scattered photos, cards and newspaper clippings into a neat pile. "Time keeps marching on. It's terrifying but comforting."
---
Photos by Andrew Huth. This story originally appeared in the fall 2016 issue of Compassion Magazine.