As a pastor in Uganda for more than 13 years, Peter Mugabi deeply understands the plight of the African pastor.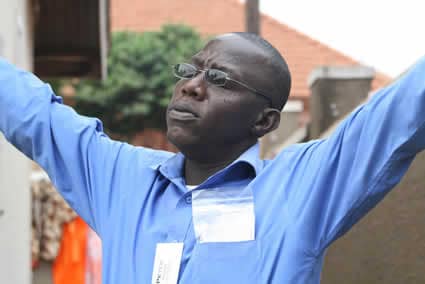 "Pastoring in Uganda is a big call that God puts on one's life. It's a tough calling because many of our churches have quite a number of challenges.

"The expectations for pastors in Uganda go far beyond the spiritual realm. Our people are very needy, and whether the needs are spiritual, economic, social or physical, the church is the place of refuge. People look to the pastor for help."
When asked about the specific challenges faced by the members of his congregation, Mugabi said that people in his congregation have "big" needs ranging from economic empowerment, support for schooling for their children, food supplements and medical assistance.
"Many people are sick with malaria, tropical diseases, AIDS — and they fail to go anywhere because they lack the finances."
Mugabi also says that social needs are abundant. Many people have families that are unstable — and out of the devastation come broken marriages and child abuse.
Though Mugabe has to work outside the church as a teacher and professional counselor to ease the financial burden of his church, he is quick to talk about the blessings he sees as a pastor in Uganda.
"The needs that we have also have been our blessings in a way, because we have learned to trust God in our poverty. We wait on God day by day because we are not sure of tomorrow."
Mugabe says that in Uganda there is tremendous freedom in worship.
"Because of the great need in our community, as a pastor, I can knock on any door and be welcomed. Ugandans will welcome anyone bringing the gospel. They are very open, loving and sincere; people believe that the church has the answers."
When asked about his involvement with Pastors Discipleship Network (PDN), Mugabe breaks into a huge smile. As the childhood pastor of Richmond Wandera, CEO of Pastors Discipleship Network, Mugabe was able to speak into the vision as Wandera first shared God's call.
"There was a great need to impact pastors — to empower, equip and encourage them. Many pastors have been called but very few have any training."
Mugabi says that the resources provided by the Pastors Discipleship Network have been invaluable.
"It's like on-the-job training for various aspects of pastoring."
The Quest Study Bible has been a precious resource for him, Mugabe says, both personally and as he prepares sermons and devotionals for his congregation. And the Network's resource center has opened a world of information, helping him access sermons by Internet as well as numerous books on various aspects of pastoring.
Still, more training is needed.
"I'd like to see training incorporate three major challenges to our people: politics, economy and our culture."
In addition, Mugabe says that management training is critical.
"We're not only pastors, but leaders — and therefore, managers of God's resources.

"The Pastors Discipleship Network has provided an invaluable network for us because, as pastors, there are tough seasons when we are worn — burned out. And as pastors we know that every counselor needs a counselor; we need other pastors to share our frustrations and dreams.

"I'd like to give a Macedonian call like Paul gave in the New Testament. The work here is great, and we pray that the Lord would provide for us. Our spirits are willing but, at times, our pockets are weak. Just as Paul said: 'Come and help us!'"
---
Article courtesy of the Pastors Discipleship Network. Download the latest PDN e- newsletter.