Every time I visit one of the child development centers in the southern cone of Lima, I look in the sea of children's faces for Darwin, a small 5-year-old boy.
When I find him, I touch his hair and give him a big smile. Especially when the center workers tell me that he is one of the first children to finish his food and is on time to the program.
I met Darwin while visiting his home on the hills that decorate the crowded region where he and his family live. The tutor took me, anxiously seeking help for this family who had suffered a fire in their home.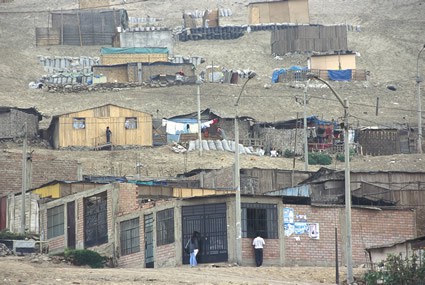 Upon reaching Darwin's house, I found three children sleeping in a small room with no windows or doors. The youngest was in the best spot, an old and dirty baby carriage; his 6-year-old brother was on top of him. I heard the cry of a child alongside his brothers. He was lying on the dirt floor among wet stones. It was Darwin. He was using dirty clothes as a pillow and was crying from pain and cold.
When I saw him I felt his pain, poverty and distress. I couldn't contain myself and I cried. At that moment I felt the pain of a mother, sister and daughter. It was the Holy Spirit who grieved at the scene.
The tutor looked at me, surprised. I held back my tears and hugged Darwin. His mother, a woman who was limited by her poverty, came and shared their needs. At first, her face was hard and suspicious but eventually gave way to a friendliness and hope. Yes, hope despite facing such adversity.
When I see how hard poverty hits those who have the least, my mind is not at peace. I can't not do something. Our good God has not given us a spirit of fear but of power, love and self-control. Dear brothers and sisters, as children of God, let's be His hands, His instruments to bring peace, love and good news to those living in despair.
For the Spirit God gave us does not make us timid, but gives us power, love and self-discipline. — 2 Timothy 1:7, NIV
Prayer: Dear Father, thank You for giving us the opportunity to serve in this wonderful ministry with the members of Your Church. I pray that you would keep pouring out Your grace and Your spirit so that more children will be blessed and touched by You.
---

ABOUT THE AUTHOR: Jessica Arce Huancacuri is a partnership facilitator in our Peru office.
Read all the One in Spirit devotionals.