Light is one of the many metaphors used to describe Christians in the Bible. Jesus calls us to be the light as He is the light of the world.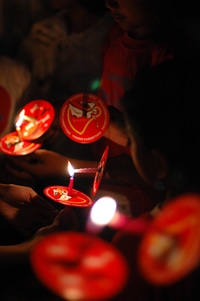 But what does that mean?
We live in a world suffering in the darkness of sins under the domination of the devil. Wickedness is visible all around us.
Jesus came to the world to save lost sinners. Then He conferred to us the power to enlighten the world. As He is, so we are the light of the world.
Being light, we cannot and should not be unseen. Our preaching of the gospel is one way our light shines.
Our light should especially shine through our good works — no matter how small they are.
We can give a ride to a neighbor in need. We can share our meal with a neighbor who is hungry. We can give a shirt to a neighbor who is shirtless. We can enable a child to receive the bread of instruction.
Doing all these things — not for our own credit but for God's credit — shines our Christian light before the world.
Our light can shine by our testimonies, by our words materialized in our deeds and by setting godly examples in our daily lives.
We should be concerned with whether our light shines before our family, our colleagues, our friends, before society, and most of all before ourselves. We are to display the light not only outwardly, but also inwardly, because many times things are happening inside us that only God and us know about.
Let us be a light to our communities, our churches, our nations, and the world. Our light should outshine any spiritual darkness around us. We are instrumental in bringing the lost to Jesus and taking them from the deep darkness to the marvelous light of God.
You are the light of the world. A town built on a hill cannot be hidden. Neither do people light a lamp and put it under a bowl. Instead they put it on its stand, and it gives light to everyone in the house. —Matthew 5:14–15, NIV
Prayer: Keep us connected to our power source, the Holy Spirit, so we can be brighter. Use us to make more impact on the world.
---

ABOUT THE AUTHOR: Elissaint Jean-Jacques is a Disaster Response Coordinator for Compassion Haiti.
Read all the One in Spirit devotionals.