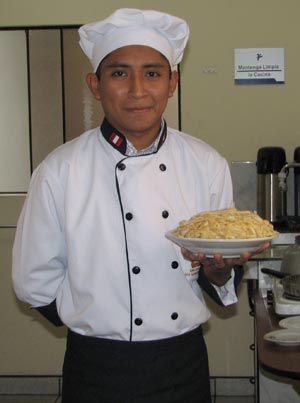 As the kitchen door opens, a young man neatly dressed in a chef outfit emerges carrying a bowl of warm spaghetti and wearing a wide smile of self-confidence. Although he began cooking only six months before, he carries himself like an experienced cook.
"After finishing high school, I was not sure what career to choose, so I decided to write down all the things I like best and found out that the best option for me is tourism and hotel administration," says Waldo, a 21-year old Leadership Development Program (LDP) student who is breaking the cycle of poverty by studying at a university in Lima City.
Waldo comes from a poor family of seven children whose father abandoned them. Waldo is the youngest and lives with his mother and one older brother who is still single. The other siblings are already married and live nearby.
Waldo remembers that in grade school he was a shy boy, and his grades were not the best. But his high school years were different. The turnaround  began with a teacher who gave him some responsibilities, which led to Waldo becoming the brigadier of his school — a special honor because of the responsibility to watch for good behavior and order among the students and to represent his school in special occasions.
During his early school years, Waldo was able to listen to the gospel and receive help with his studies at the summer camps organized by the Compassion program he attended. There also was a library at the child development center where he could do his homework.
And at the beginning of each school year, he and all the sponsored children always received a jogging suit, a school uniform, school supplies, etc. that his schoolmates and neighborhood peers did not have.
Some of the subjects Waldo now studies at university are French and English language, which are quite important for his career; cooking techniques, logistics, marketing, costs and budgets, as well as how to provide quality service to customers.
Six months ago, Waldo began practicing what he learns at school at Pizza Hut, where he applied for a job through the Internet and got hired after 10 months of waiting.
When Waldo was hired, he was eager to begin cooking. He could already imagine preparing pizzas, and even could smell the fresh-baked dish.
"To begin with, the first day I was given a pile of advertising papers to give away on the streets. After two months of doing this simple task, I became totally discouraged and began questioning God why I was out in the streets instead of cooking.

Then one day I changed my attitude and began doing the task while singing and smiling.

Shortly afterward, the administrator decided that I should begin working at the restaurant. But first I had to read the restaurant's manuals, which took some days."
Waldo passed the restaurant manual test of proficiency in order to qualify to cook. He continued waiting with eagerness. But instead, he was assigned  to washing pots and pans!
So he began to be more courteous and kind to all his co-workers, and to perform his job with an even better attitude. A month later he was named as "Best Employee of the Month," and his photo was placed where everybody could see it.
"In LDP I have attended workshops to learn how to handle different situations in life, and I am making use of it at my job by being courteous and showing a wise behavior.

On one occasion one of the managers said to me, 'I have noticed that you don't speak bad words', which was rewarding."
After being named Best Employee of the Month, Waldo was assigned to the kitchen, and two months later he was recognized for the second time as the Best Employee of the Month.
Now that he is celebrating his sixth month at the restaurant, Waldo has been prized as the Best Employee of the Month for the third time, something very few people achieve in such a short time.
When asked about this success, he says, "I have not done anything special, just performed my job in the way it should be done."
Waldo is aware that the Leadership Development Program, besides providing economic support to attend university, also helps shape students into leaders and teaches them values to live a quality life.
"Many of my fellow students and co-workers ask me why I do not drink liquor or go to parties where drugs are consumed. That is the right time for me to talk them about Jesus and the gospel."
Waldo would like to finish his studies with good grades and continue gaining more experience at Pizza Hut. Then he would like to become the manager's assistant, and finally manager of the restaurant he has been assigned to.
"My dream is to apply at a four- or five-star hotel in order to continue gaining more experience, but my real dream is to work on a cruise ship. Then I will be able to visit many countries, to meet many new people, and to learn more about this career with which I am becoming more engaged in."
---
Send a message of encouragement to Waldo.