Ali Anderson, one of our ambassadors to the future,* shared this prayer at our 1 millionth child celebration last Friday. We thought we'd share it with you, along with another video from the celebration.
---
"For nothing is impossible with God." – Luke 1:37 (NIV)
Most Holy King,
We stand before You right now in complete awe. In awe of who You are, of what You have done, and what You are doing.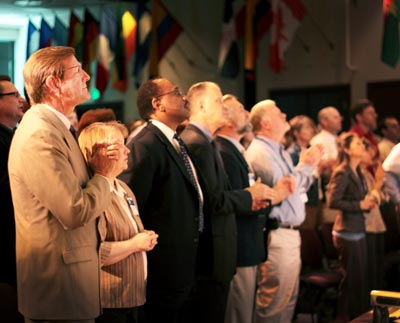 Thank you for being so visibly present in the circumstances of today. We are so humbled by Your greatness and by Your presence in our lives. You are the Creator of the heavens, the orchestrator of the orbits, and the breath of life.
Thank you for being so present in our individual lives. You are so faithful to us and to this ministry. You are faithful to FELLOW, as You are to each of us.
Lord, as You have brought Compassion to this incredible point of growth, we turn it back over to You. This is not our ministry, we do not want to run it our way. Rather we desire Your direction and guidance.
You have brought this ministry so far and have used it to touch so many lives. I ask that You would continue to use it in such a manner.
Jesus, I pray for all of the workers of Compassion as we continue to grow. I ask that You would meet each of us where we are, regardless of country, language, and circumstances.
I ask that You would allow each person to be so individually centered on You that You would inevitably be the core of the ministry.
I lift up to You the children enrolled in the Compassion program. Allow the faith and heart of the employees to influence and teach these children — that every child would inherit a passion for Christ that is continually growing. Give them faith of great warriors that they might penetrate the dark world they live in and be a light for You to everyone around them.
God, You have told us that we do not have because we do not ask, and we do not receive because we don't have right motives. We come boldly before You today and ask this: Please purify our motives that we might honor You in our request.
And we ask that You would bless Compassion International in ways that we have never dreamed of.
Lord, I ask that You would bring us to a point where there are 2 MILLION precious children receiving spiritual and physical healing and growth. Use Compassion to spread Your truth to countless hearts.
You are a Lord of impossibilities. Jesus, You came to Earth fully man and fully God, you have caused miracles to happen on every level, you cause our lungs to draw breath, and you hear the whispered prayer of every tiny child on the face of this planet.
Please make the impossible possible and give Compassion exponential growth, not for our own sake Lord, but rather that your truth and your love would reach every corner and every person on this earth.
You, God, are what makes life worth living. You are the reason for our joy. You are the reason for Compassion's success. Thank you. Thank you for FELLOW, for his new mother and for every sponsor-child relationship.
Lord, this ministry is Yours. I ask that You would remain the core purpose and inspiration of every person here. All glory is Yours for this incredible moment. May You receive all the honor for Compassion International and for its wide-reaching impact.
Thank you for allowing us to be a part of Your story.
In Your Holy and Precious Name, Amen.
Watch Changed Lives and subscribe to Compassion YouTube for more stories.
*Wess talks about our "ambassadors to the future" — Ali Anderson and Amman Beeftu — in our What the Future Holds video.