I work for Compassion USA in the Contact Center. Earlier that week, I had let Sarah know that her precious child had passed away. This particular day I was calling Sarah to see how she was doing or if she had any further questions I could answer.
"This is Bethany with Compassion. Is Sarah there?"
The reply came back, "I am so lost!"
After her unexpected words sank in, I proceeded to ask her if I could help. I then spent the next 15 minutes on Google maps talking her to her destination. She was so thankful for the help. I let her go, saying that we could talk about her sponsorship the next day.
As I was thinking about how we are to be one in spirit, I wondered, do we go that far for our Compassion family? We do whatever it takes to create a "WOW" moment for our sponsors every time we speak to them, even if it's just giving directions.
But what about that co-worker who sits by you but you haven't talked to in a while? Or that feeling that you should e-mail someone just to see how they are doing?
Have you known the joy of receiving a note from a friend, just because they wanted to let you know they were praying for you?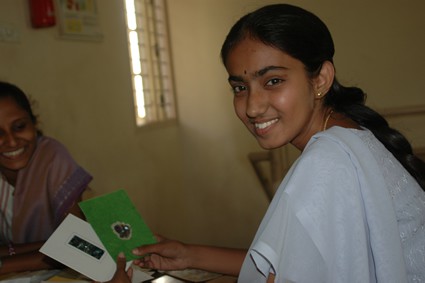 I'm reminded of the scripture, "Carry each other's burdens, and in this way you will fulfill the law of Christ."
The key word here is "law." This isn't an option. This is a command to all. How can we be one in spirit? Carry each other's burdens as commanded.
Leave a note on someone's desk to say you are praying for them. Pick up the phone and ask someone how they're doing. Then actually listen.
What if we all created a WOW moment for one another, especially when no one was expecting it?
Carry each other's burdens, and in this way you will fulfill the law of Christ. —Galatians 6:2, NIV
Prayer: Dear Lord, show us ways to create a WOW moment for those around us.
---

ABOUT THE AUTHOR: Bethany Schmitt works as a Sponsor and Donor Relations Outbound Specialist at the Global Ministry Center in Colorado Springs, Colo.
Read all the One in Spirit devotionals.