Have you ever been in a situation in which somebody who seems really strong and skilled challenges you? Our ministry is in this situation every day all around the world.
Poverty seems like a "Goliath" that will never be destroyed.
The Bible says that every day the Israelite army went out to its battle positions, shouting the war cry, but all the people were paralyzed with fear. Why were they so scared?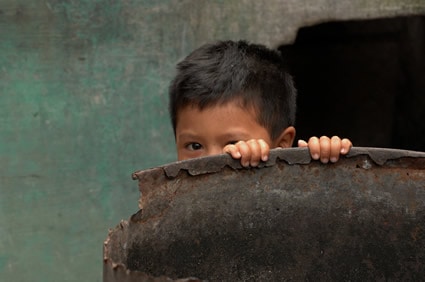 For 40 days the Philistines came forward every morning and evening to challenge the Israelites to fight against Goliath, so the Israelites were listening to the enemy's voice two times every day. And that voice was sending them the wrong message. The enemy was telling them that they were servants of Saul, which was not accurate.
When David heard the enemy for the first time, he discovered this lie and said, "Who is this uncircumcised Philistine that he should defy the armies of the living God?"
Are we like the Israelites? How often are we listening to the Enemy's voice? What kind of message is he sending us?
Here is the truth: Today, we are part of the army of the living God. Stop listening to the Enemy's voice and listen instead every day to the voice of our God. He says He is with us and that with His power, we will fight this battle against the giant.
Goliath stood and shouted to the ranks of Israel, "Why do you come out and line up for battle? Am I not a Philistine, and are you not the servants of Saul?" —1 Samuel 17:8, NIV
Prayer: Heavenly Father, as Compassion, we want to listen to only Your voice every day. We need to be connected with You every day, because without You, we cannot fight this. When we listen to You and follow Your voice, everything will be possible for us.
---

ABOUT THE AUTHOR: Henry Guarín works as a Learning and Support specialist for Compassion Colombia.
Read all the One in Spirit devotionals.