Hagar says these words after the Lord met her in the desert and gave her a prophecy about her son, Ishmael. He said to her, "The Lord has heard of your misery."
I sometimes wonder if God sees me and knows about my problems. Probably everyone feels that way at some time. For our children, feelings of invisibility are likely compounded by poverty.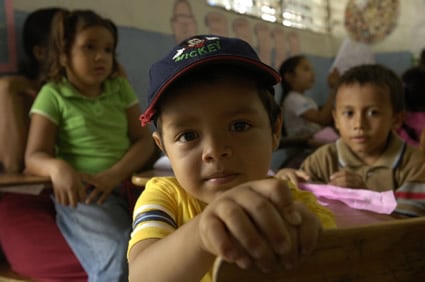 At the Josue Child Development Center, I met a bubbly little girl named Margarita. She found me and "adopted" me, sitting on my lap, holding my hand, hugging me, and never straying too far from where I was.
After our day together, I knelt down to hug her one last time. I could feel her begin to tremble. "She's crying!" I thought, amazed. Then I started crying. We hugged and cried for many minutes. Finally, she let go, and I got on the bus.
I'm still trying to understand my encounter with that little girl. I don't think anyone said to her, "She looks lonely. Go hold her hand and sit in her lap." I don't know why she chose me.
But I know she was the face of Christ to me. Margarita loved on me first. She sought me out when I was in a crowd. She trembled when she held me. I left that child believing that I should never again think of myself as invisible or that I don't matter.
How could I when Jesus, like Margarita, saw me and chose me?
We help both sponsor and child connect to something very deep, very real, inside their hearts. It creates community and relationship where there was a void. We can solve the economic poverty of our world and still be very poor indeed if the relationships we experience are held at bay — if we don't see one another.
She gave this name to the LORD who spoke to her: "You are the God who sees me," for she said, "I have now seen the One who sees me." — Genesis 16:13, NIV
Prayer: God who sees, help us to see those who feel forgotten, deserted, or alone. Remind us that we, Your Body, are privileged to be the hands, feet, and face of Christ to those both near and far who feel invisible.
---

ABOUT THE AUTHOR: Megan Marsh works as a Sponsor Donor Services Projects and Support Specialist at the Global Ministry Center in Colorado Springs, Colo.
Read all the One in Spirit devotionals.