Ten years ago I visited my sponsored child, Josue, in Haiti just before he completed his sponsorship. At that time I began sponsoring his little brother and it was always my hope that I could meet him, too — and perhaps see Josue again.
This special event finally occurred recently while I was in Haiti with a medical mission team. It was thrilling to see Josue again, a young man I had sponsored for 14 years before his completion in 2002. We were immediately in each others' arms again, hugging and laughing.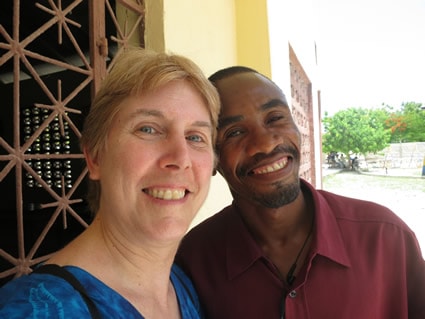 The Compassion program director welcomed Josue and me to the child development center, where we enjoyed a wonderful visit. Then Josue proudly introduced me to his younger brother, Enold, whom I had been sponsoring for 10 years.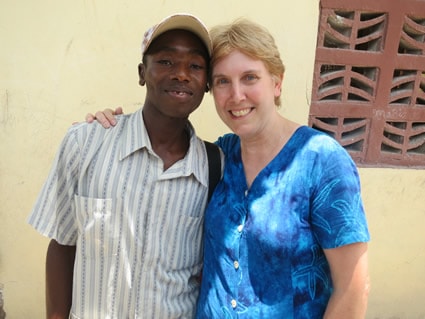 Enold had graduated the program on the weekend before my visit.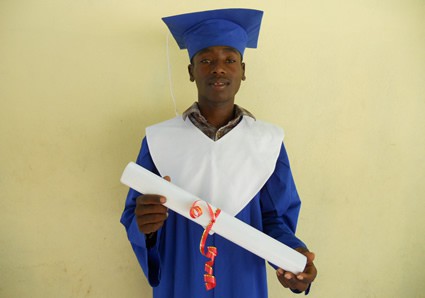 Although Enold is a little shy, we hit it off very well and had plenty to talk about. The development center staff had prepared a delicious lunch for us of freshly broiled fish, beef in cream sauce , plantains, rice and sweet cakes. The visit was all I'd hoped it would be.
This day held three unexpected surprises that will remain in my heart and memory forever.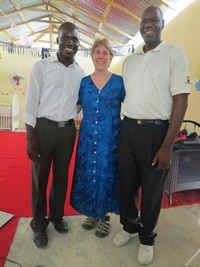 First, it was exciting to meet the pastor and the director of the child development center.
Pastor Senatus had been serving here for 31 years; I had been sponsoring these two boys for a total of 24 years. We expressed our appreciation for one another and to God for our successful partnership.
Jeanto, the program director at the center, is a Compassion alumni as well.
I am so proud of these three young men!
Our next venture was to return to the mountains to visit the boys' childhood home. This moment was something I had hoped for for a long time — meeting their parents.
Josue and Enold's father, William, is an itinerant preacher who travels the mountains for hours at a time to minister to families in their homes.
Their mother helps care for a large extended family.
I had brought a big duffel bag full of gifts for all ages, and many family members were there to receive them.
William was thrilled to accept a small nylon bag to carry his Bible in.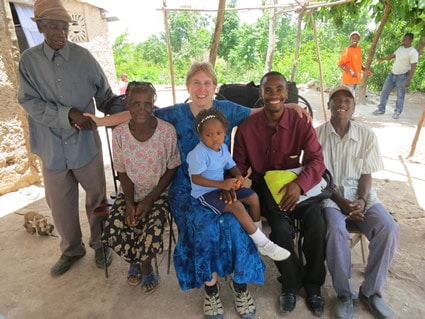 Suddenly, the second surprise of the day occurred here, among family. William spoke a blessing over me, over my life and family, over family that did not even exist yet. It brought me to tears because I felt the power and love of his words.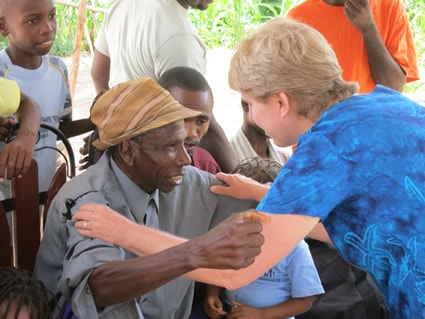 The third surprise of the day was also waiting there for me. Josue has a daughter of his own now, Benji. What a delightful surprise to meet Benji and to hold her in my arms!
We traveled a bit farther to Josue's home, where I realized that conditions are not easy for his family.
Although Josue is qualified to repair the local water system, it is only a voluntary position. But he has his education and is a strong Christian.
I was pleased to see a mosquito bed net and a Water of Life purification system in the home, both provided through Compassion. Benji is healthy and has a promising future!
I dreaded the end of these two sponsorships, in the same way I had dreaded seeing my own children leave for college. But I felt certain that both Josue and Enold were on strong spiritual ground, that they have skills they can use in their future, and that God will take care of them.