Giving back to the community has become chic for many who are in the public eye and have the resources to do so, but for St. Louis Cardinals first baseman Albert Pujols, it isn't about what's fashionable or what looks good. It's about being faithful to a God, Who has given him much, and helping the children he loves in his native Dominican Republic.
As Albert steps off one of Major League Baseball's many well-manicured baseball diamonds, he often finds himself stepping onto the dusty streets of the Dominican Republic. But he's not coming to play baseball, nor is he coming to instill in the children who live the way he once lived a love of the game he is now famous for.
His mission is to provide to those who are less fortunate something we in the United States take for granted – rectangular mattresses to sleep on.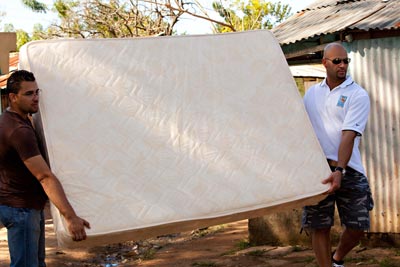 For many of the world's poor in places such as the Dominican Republic, a mattress isn't a necessity: It's a luxury. For Albert, this is a tangible and lasting way to use baseball as a ministry in his homeland. Through his partnership with Compassion, he is able to provide to those less fortunate something that will last for months and years to come.
But it's not just mattresses that Albert is providing to the people of the Dominican Republic. To find out what else he's doing, read his story in the summer issue of Compassion Magazine.