I read two different writings recently on the same theme. They both impacted me deeply. The first was from James 3:18. Getting along with each other is often hard work, but it's vital for having a healthy community that pleases God.
The second was an article by Sam Parker, creator of GiveMore Media. He shared that a world without ego would manifest itself by no toes to step on, feelings to hurt, fair shares to grab, territory to defend, fault to allocate, back to watch, last words to get, ideas to hold back, embarrassment to bear, battles to win, knowledge to prove, entitlement to have, encouragement to withhold, credit to seek, grudges to hold, jealousy to feel, revenge to take, or hidden meanings to construe.
James wrote that a holy life is gentle and reasonable, overflowing with mercy. Mercy is possible only as I have no ego — no inflated sense of my self-significance.
Yes, I am a daughter of the most high King, and in that relationship I have great significance. But in my dealings with others, in my role in the Body of Christ that strives to display harmony and love to the world, I need to have no ego.
The honor and dignity that Christ has given me needs to be what I display to those I work with, interact with, and live with on a daily basis.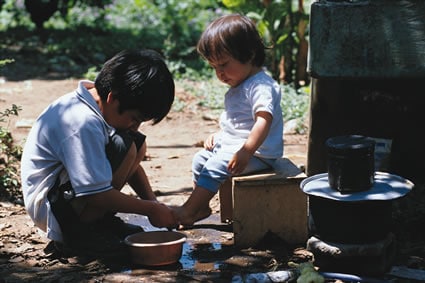 "The one who trusts God to do the putting-everything-right without insisting on having a say in it is one fortunate person" (Romans 4:6, MSG).
Real wisdom, God's wisdom, begins with a holy life and is characterized by getting along with others. It is gentle and reasonable, overflowing with mercy and blessings, not hot one day and cold the next, not two-faced.
You can develop a healthy, robust community that lives right with God and enjoy its results only if you do the hard work of getting along with each other, treating each other with dignity and honor. — James 3:18, MSG
Prayer: Father, help us to have no ego as it relates to our relationships with others. Give us Your strength to treat everyone we see today with dignity and honor. May this community of believers bring glory to Your name. Amen.
---

ABOUT THE AUTHOR: Janna Reynolds works as a Quality Assurance Supervisor at the Global Ministry Center in Colorado Springs, Colo.
Read all the One in Spirit devotionals.