As we came out of the house, David, my boss at that time, and I were speechless. We had asked to visit one of the families who had a child registered at the child development center.
The leader took us on a short walk through fields until we arrived at some dwellings. They were built of bricks in the middle of nowhere.
As we entered the room, we could not believe what we saw: the remains of a fire with a tin on the top in the middle of the room, a mattress in one corner and a small rope in another where a few rags were hanging.
The father and mother looked at us. They had their two boys with them, one of whom came to the school we supported. Their clothing was just barely decent. Just as I started to take a picture, I noticed a small gesture from the lady, trying to straighten her sweater. Dignity is still so important, even in such dire conditions.
Once back in our room, David and I had a time of prayer together, not knowing what to say or just how to react to such a desperate situation. As we were trying to put our words together, a clear thought came to my mind: the nativity.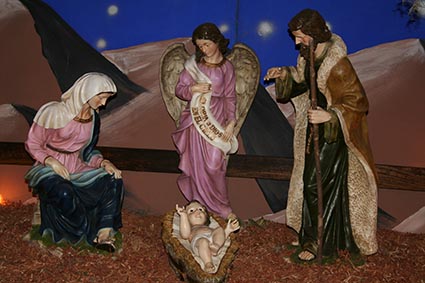 Even though we were there in January, that thought came clearly to me as an answer for these people. Jesus chose to come into the world in this type of dwelling. If He were to come back today, He may choose that particular place.
That meant a lot to me and helped me as we struggled to pray. We had been so embarrassed being among these poverty-stricken people. But I sensed that Jesus did not feel that way.
For you know the grace of our Lord Jesus Christ, that though he was rich, yet for your sake he became poor, so that you through his poverty might become rich. —2 Corinthians 8:9, NIV
Prayer: Dear Lord, you entered this world as poor and reached out to the poor. We pray that we may be ready to become poor in such a way that the people whom we want to reach will feel at ease with us and see you in us.
---

ABOUT THE AUTHOR: Vermes Pascal serves as the Sponsorship Director for Compassion France.
Read all the One in Spirit devotionals.