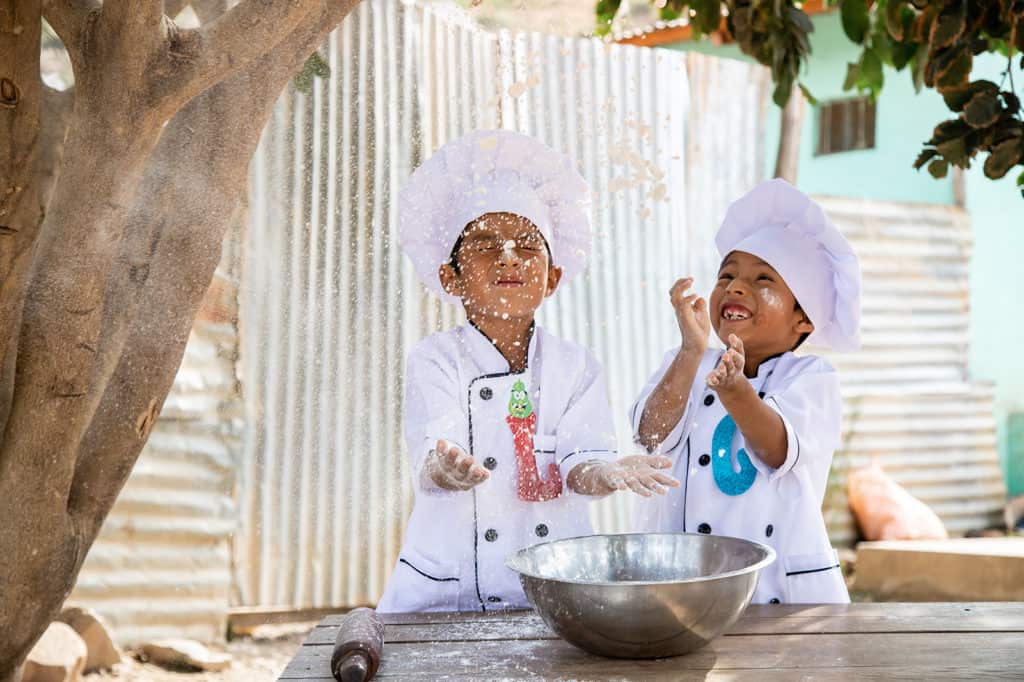 This Good Friday, our friends at Compassion UK put together a beautiful recipe for easy-to-make hot cross buns paired with an Easter devotional.
Once you've made your hot cross buns, settle down to reflect on the Easter message.
A hot cross buns recipe for you
This recipe makes 12 hot cross buns.
Ingredients
For the buns:
3/4 c. milk
1/4 c. butter, diced, plus extra for serving
4 c. white bread flour
1/4 c. fine sugar
1 (1/4 oz.) package active dry yeast
1 tsp. cinnamon
½ tsp. allspice
pinch salt
2 medium eggs, lightly beaten
oil, for greasing
1/3 c. seedless raisins*
1 tsp. orange or lemon zest*
(*But you don't have to stick with fruit buns! Instead you can swap out the raisins for any other dried fruit, or try delicious chocolate chips.)
For the crosses and glaze:
3/4 c. all-purpose flour
2 tbsp. orange marmalade (shredless), for glazing
Directions
Pour the milk into a small pan and heat to just below boiling.
Add the butter to the hot milk.
Remove from heat and leave to cool for 5-10 minutes.
Meanwhile, blend together the white bread flour, fine sugar, active dry yeast, cinnamon and allspice into a mixing bowl with a pinch of salt and stir.
Add the beaten eggs to the cooled milk.
Make a well in the center of your dry ingredients and gradually pour in the milk and egg mixture. Bring together to form a slightly sticky dough.
Tip the dough out onto a floured work surface and knead until smooth and elastic (about 10 minutes). 
Place the dough in a lightly oiled bowl and cover with a clean cloth. Proof in a warm place for 1 hour, or until doubled in size.
Punch down the dough to remove any air bubbles. Add your raisins and zest (or other additions of choice) and knead, on a floured surface, for 5 minutes more.
Roll into a ball and portion into 12 equal pieces.
Shape the pieces into rounds and place onto a baking tray lined with greaseproof paper. Leave a 1.5-inch gap between each bun, cover with a tea towel and set aside to proof for 20-30 minutes.
Preheat oven to 350°F.
Make the crosses: Mix the all-purpose flour with 6 tbsp. water to make a thick paste. Spoon into a piping bag with a round nozzle (or a plastic baggie with a corner cut off). Pipe a cross onto each bun.
Bake for 20 minutes, or until golden brown (the bases should sound hollow when tapped).
To finish, glaze the buns by heating the shredless marmalade and using a pastry brush to coat the tops.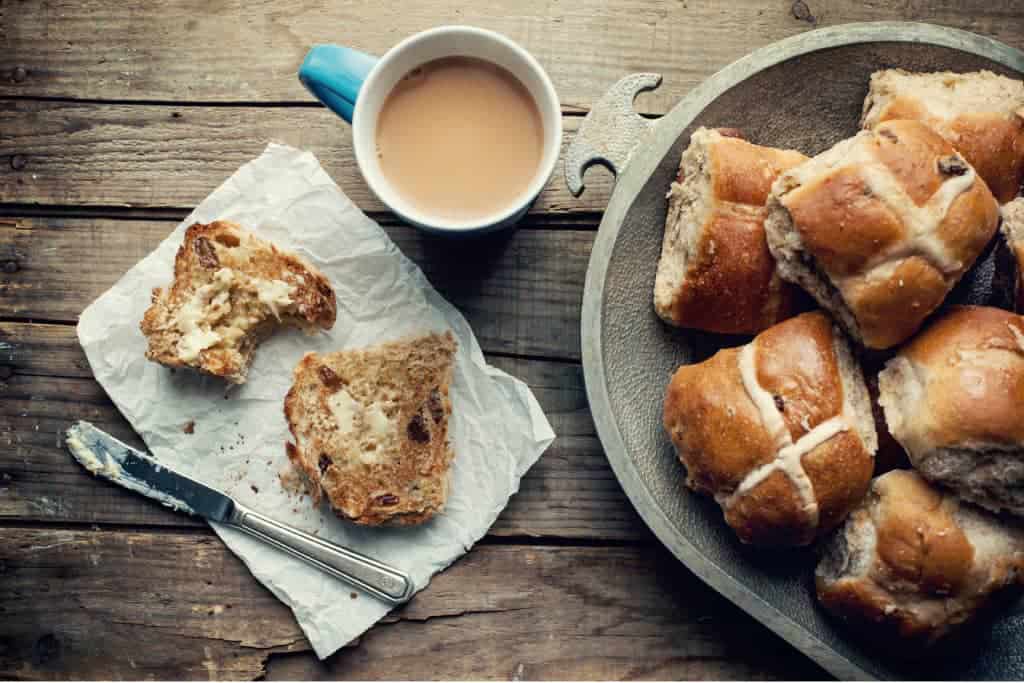 OK, you've made your hot cross buns, so spread some butter, put the kettle on and take a moment to remind yourself what it's all about.
The history of hot cross buns
Hot cross buns … one a penny, two a penny …
Buns with crosses on have been around for a very long time. In pagan times they were made in celebration of spring and the goddess of dawn, Eostre, with the cross symbolizing the four phases of the moon.
Then, according to English folklore, a monk in St. Albans, England, named Thomas Rocliffe developed a recipe for Alban buns, which he distributed to the poor on Good Friday. The buns were said to have "become holy," and in 1592 Queen Elizabeth 1 decreed they must be baked at no other time than on Good Friday or Christmas or for funerals!
The first recorded reference to them, however, was in the early 1700s with the words to this hot cross buns song: "Good Friday comes this month, the old woman runs, with one a penny, two a penny, hot cross buns!"
Tradition has it that if you hung a bun from the rafters in your kitchen it would not go moldy all year. Supposedly it would enhance friendships, prevent fires and if taken on a voyage it would stop that ship from being wrecked!
The Easter cross
But you know what? Brother Thomas Rocliffe had the right idea. He looked at the cross bun and saw another kind of cross — the cross of Jesus.
Into his dough he mixed spices that symbolized the embalming of Jesus' body. We here at Compassion also love the fact that he gave them away to the poor.
We're reminded once again this Easter of the power of the cross, where Jesus took the punishment for the things we've done wrong, and his resurrection and victory over death. This good news is for the poor, the sinner, the disenfranchised, the lonely, the broken, in fact … everyone!
I'm reminded of the words of an Easter hymn by Isaac Watts, for it was "At the cross where I first saw the light and the burden of my heart rolled away, it was there by faith I received my sight."
So, as you enjoy your hot cross bun — toasted or otherwise — contemplate the incredible love of a God who was willing to sacrifice himself for the world and thank him that because he lives, we can also live.
---
This article, which was written by Tim Robertson and Liz Boalch, originally appeared on the Compassion UK blog. Recipe converted for U.S. audience.