Eradicating child poverty across the globe – that sounds like a daunting task.
But what if I told you that, by using what you're already doing in your everyday life, you can play a significant part in achieving that goal?
Others have already started to discover this through Act for Compassion, a new online platform that launched earlier this year with a focus on fundraising for the children of northeast Brazil. ActForCompassion.com exists to help you reduce the grand mission of releasing children from poverty to doing one simple thing – taking one act – that will forever change the lives of children in poverty.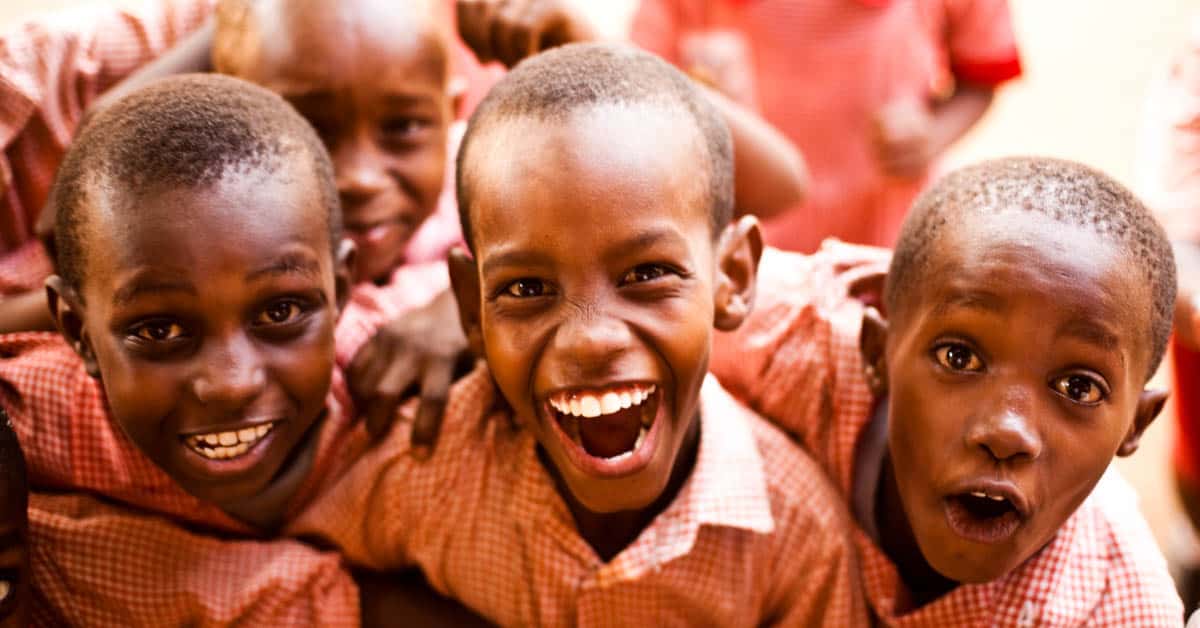 When you use your voice for good, children in some of the world's most poverty-stricken communities are connected with one of our loving local church partners. Through that relationship, they will have access to clean water, nutrition and health care, education, supportive personal relationships, spiritual development and so much more. With your help, they are introduced to a future filled with opportunity.
Here are just a few stories of how others have taken action and made a big difference in Brazil. You'll find it's easy to act and build on these ideas, too!
Donate your big day.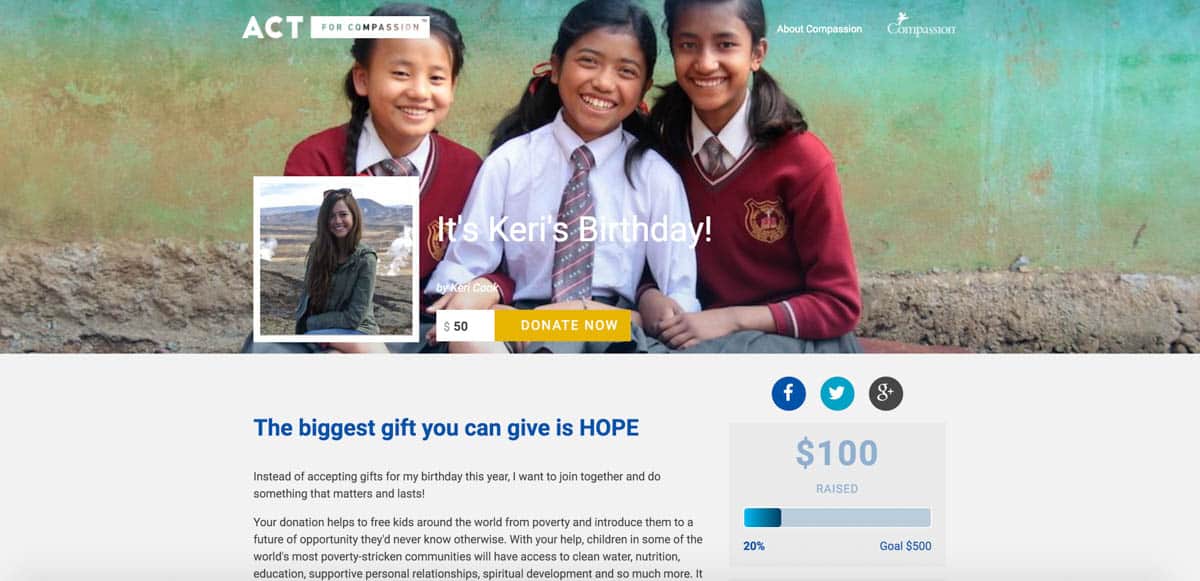 This year, consider giving up birthday gifts and asking your friends to give hope instead by donating to children around the world who need it most.
Or maybe you have another milestone on the horizon. One couple created an online fundraising campaign to celebrate their 30th anniversary, sharing the story of their own journey that began when they sponsored a child the first year they were married. Another couple even created an alternate wedding registry, asking for donations in lieu of wedding presents!
Choose to give instead of get this year – your impact may be greater than you would ever imagine.
Let your everyday interests change a life.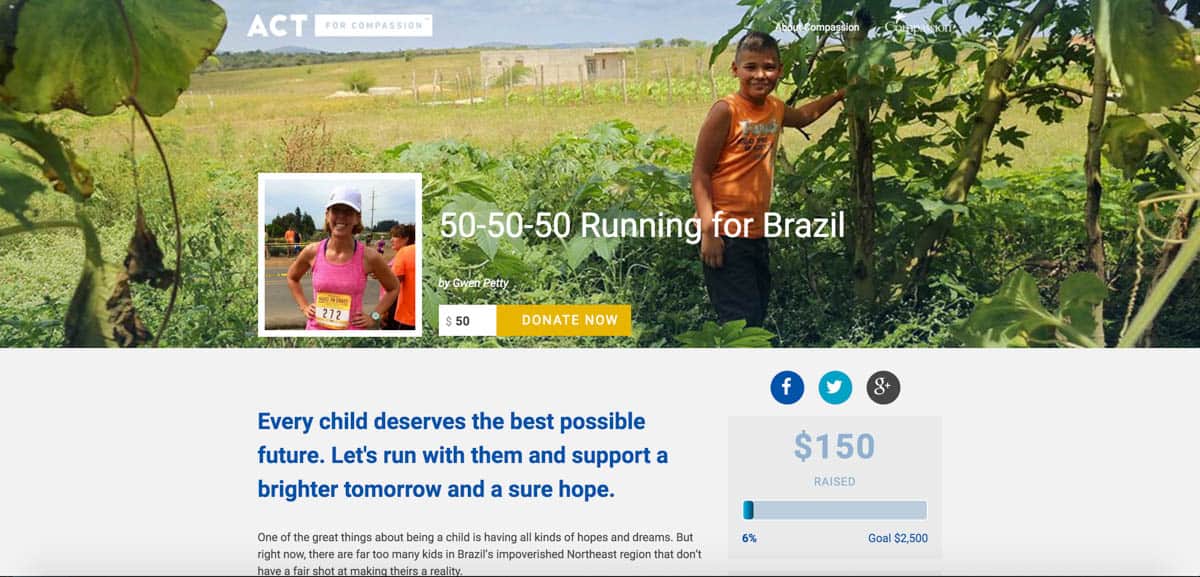 People are finding ways to make a difference through the things they love and are already doing every day!
One running enthusiast challenged her friends to join her by committing to each run 50k and raise $50 for children in need. Another couple set out on a coast-to-coast bicycle trip, aspiring to raise $1 for every mile of their bike ride. Another woman challenged her friends to a bake-off, with all of the proceeds helping to release more children from poverty.
Whatever it is you love to do, you can turn your passion into a life-giving activity.
Celebrate the lives of those you love.
Are you looking for a way to honor and celebrate the life or achievements of a loved one? Creating an online campaign page in their name can be an incredibly meaningful way to do this, with impact that reaches far and wide.
In an incredible act of love, one couple who lost their own little girl made the brave choice to not let her life be forgotten. As they shared their hearts and raised funds in honor of their daughter, God turned their story of heartbreak into a beautiful picture of redemption that reached across continents.
Maybe you're celebrating a loved one's graduation, retirement, promotion, milestone birthday or anniversary. Prayerfully think about the ways that, through you, God can use one life to change another.

Take action based on what YOU care about.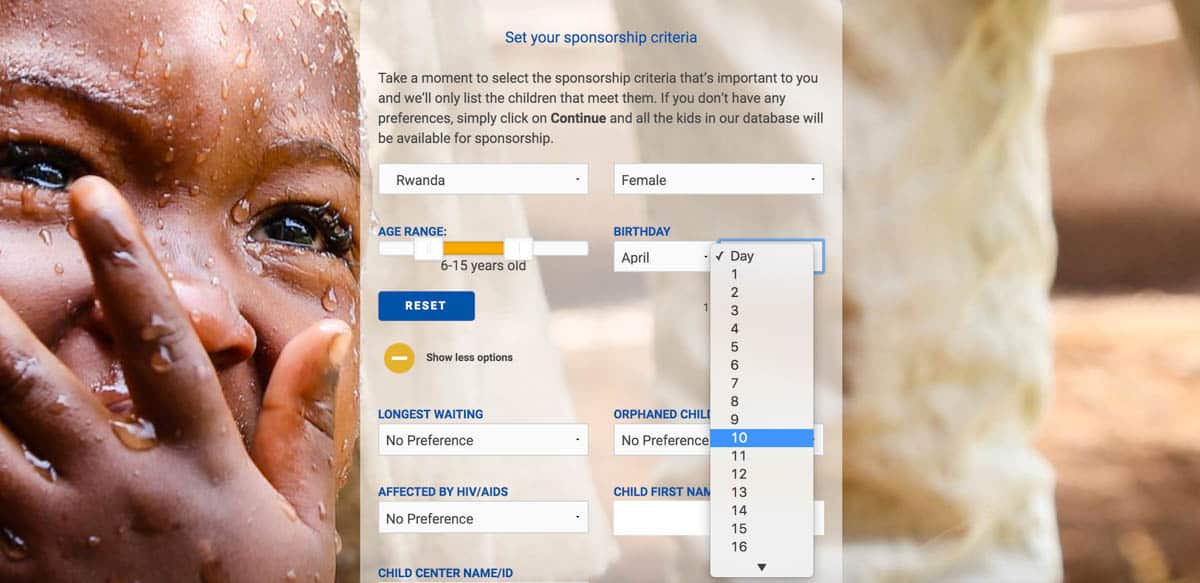 You have even more ways to take action with the brand new version of Act for Compassion. Now, you can:
Start your own online fundraiser
Try out one of the above ideas, or explore ActForCompassion.com for more inspirations, tips & tricks for sharing your own unique story and passion! It's easy to start your own online campaign, and we give you all the tools to make it a success and easily share it with everyone in your life!
Create a sponsorship campaign for waiting children
Challenge your friends and family to sponsor children of their own! You can even focus on a specific part of the world that's on your heart, find sponsors for children of a certain age, or help kids who share your name or birthday.
Discover and share volunteer opportunities
Finds ways to invest your time and talents by volunteering at events, at Compassion headquarters, or through volunteer leadership roles. Get your friends and family connected, too!
It's easier to change a life than you think.
So, what's your next act?